Investment Thesis
Zscaler's (NASDAQ:ZS) best-in-class platform helped rocket the firm to its current leadership position in Cloud Security and grow revenues at a 54% annual clip the last 5 years. Structural tailwinds in enterprise cloud operations, remote work, and most recently AI, are significant undercurrents for Zscaler's forward growth. In addition to a massive market runway, Zscaler's high-margin and scalable business model will enable the firm to drive sizable operating leverage, and thus free cash flow ('FCF'), in years to come. Software companies rarely trade at cheap valuations and ZS is no exception. Nonetheless, Zscaler's first-mover advantages and fundamental strength justify its premium pricing.
Growth Runway
Zscaler and competitors have benefited from the surge in Cloud Security investment over the past half decade.

Businesses of all sizes and industries are increasingly relying on the cloud for critical operations and data flow. Over 90% of businesses use cloud services with nearly 70% of enterprise infrastructure being housed in the cloud. This is in addition to 60% of all corporate data now stored in the Cloud compared to just 30% in 2015, according to Statista. This Cloud ubiquity created massive demand for cloud-native cybersecurity and largely, the obsolescence of traditional on-premise security. From 2016 to 2023, the worldwide Cybersecurity market doubled in size, ballooning from $83B to $166B. And it's not expected to slow.
The global cybersecurity market is projected to reach $425B by 2030, registering a CAGR of nearly 14%. Much of this increased spend will come from small to large enterprises and governmental entities as their cloud reliance grows. In a report conducted by Flexa, cloud security was a top 3 priority for every size of business who uses the cloud. Cloud operations and cyber-attacks have also grown in complexity, underscoring the need for rapid innovation in the security space – with AI at the cutting edge. AI within cybersecurity is expected to grow in the mid 20%'s to keep up with the demand. Innovation has proven to be a key differentiator in the past with disruptors (ZS, CRWD) largely outperforming legacy firms (CSCO, IBM), and will continue to separate winners from losers in my view.
Zscaler's Differentiation
Naturally, a vast and rapidly expanding market like cybersecurity tends to be rife with competition. The goal of the investor is to locate superior quality firms with competitive advantage and buy them at a reasonable price. It is my view that Zscaler checks both these boxes. Starting with competitive advantage, Zscaler exhibits two: product differentiation and first-mover advantages.
Zscaler was founded in 2008 by Jay Chaudhry, who remains at its head. Chaundry grew up in a small village in India that lacked electricity and running water, migrated to the US at the age of 18, then went on to start one of the first internet security companies, SecureIT, in 1996. After several more successful startups, he founded Zscaler. Zscaler was first of its kind in Cloud Security as Chaudhry saw the landscape-shifting potential of the internet and the Cloud on the corporate world. Led by Chaudhry's vision, Zscaler disrupted legacy security players and continues to dominate its market with innovation as its core competency. The company has remained on the cutting edge, specifically within the Secure Service Edge ('SSE') segment. Traditional VPNs were effective in allowing remote workers to connect to a central data hub, but as organizations increasingly adopted more SaaS applications, Secure Access Service Edge ('SASE') began to take its place. SASE improves efficiency and security of the network by distributing to many points-of-presence. SASE is built on a few different key features which you can read about here. SSE, coined by Gartner, is a subset of SASE that removes some of the features needed for SASE to further improve efficacy and cater to customers with no on-premise connectivity requirements. SSE consolidates key security features for the customer's cloud network, to improve security, visibility, and performance.
Zscaler provides both SASE and SSE capabilities but is recognized as SSE by Gartner. Zscaler has been a leader in Gartner's Magic Quadrant for 12 straight years. In 2023, its only contender was private company NetSkope, which has comparable reviews to Zscaler and generated around $300M in revenue vs Zscaler's over $1B in 2022.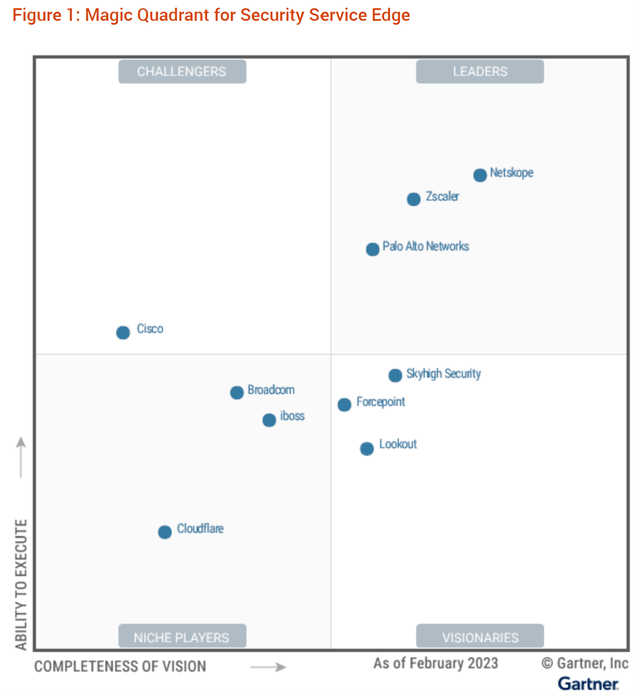 Product differentiation and market leadership comes with its advantages. Zscaler locks down over 40% of the Fortune 500 and 30% of the Global 2000 as customers. In sum, the company has in excess of 7,700 customers with 41M users across major industries and geographies. This scale is an advantage in itself, primarily in the form of data. Leading Cloud Security companies almost all leverage AI/ML models which train on customer logs and instances to perpetually improve performance. Zscaler's models ingest 320 billion internet transactions, block 150 million threats, and perform 250k unique security updates every single day according to their 10k. This astonishing amount of data, 10+ years of industry experience, more than $1B of R&D investment since their founding, and 430 issued and pending patents create a formidable moat. The numbers tell the same story:

Fundamental Strength & Operating Leverage
Zscaler's moat allows it to continue outpacing peers in topline and market share growth. And its highly scalable business model should produce significant operating leverage looking forward. Zscaler's superior growth is without question. The company has churned out an average 54% growth the past 5 years, nearly doubling close competitors. Zscaler's industry leading dollar-based net revenue retention rate ('NRR' above) also highlights the stickiness of this revenue and their ability to internally expand revenue per existing customer. Additionally, 97% of Zscaler's total revenue is recurring through 1-3 year long contracts. They've secured major enterprise customers through direct sales and channel partnerships, even winning contracts with 12 of the 15 U.S. cabinet-level Federal Agencies. Zscaler's topline potential is without much dispute. Analysts are expecting about 20% annual growth for the next decade and management expected 33% growth in the coming year.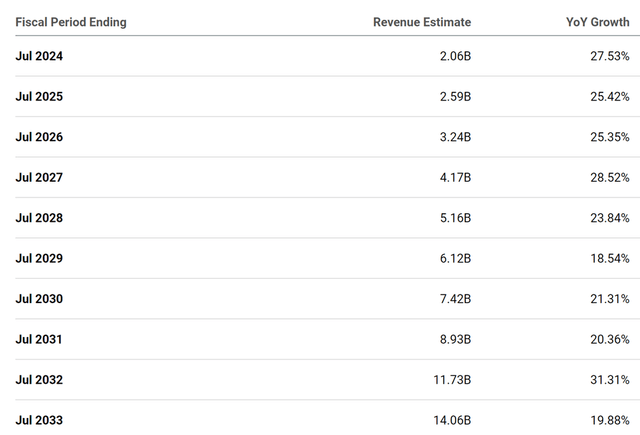 Further down the income statement is where we can gain a clearer picture of how this growth has the potential to generate value for shareholders. Growth isn't useful if it lacks the potential to create the lifeblood of shareholder value, free cash flow. The fallacy of growth at all costs often proves to be costly for investors. Zscaler is clearly in a growth/investment phase, whereby the smartest move is investment in capturing demand and market share, especially in an industry with such attractive economics as cybersecurity.
First, Zscaler has some of the highest gross margins of any software company, expected to reach 80% next year, and has held margins in excess of 78% the past 5 years. Already off to a great start. Moving down the income statement, Zscaler currently runs at an operating loss as they are focused on investment in growth. The company ramped up S&M expense along with R&D expense to capture pandemic-driven demand but have since exercised cost discipline with operating expenses decreasing as a % of revenue. The company expects a 150-basis point improvement in adjusted operating margins as they continue to balance discipline and growth. Forecasting revenue and operating expenses helps give us a clear picture of the firm's forward operating leverage.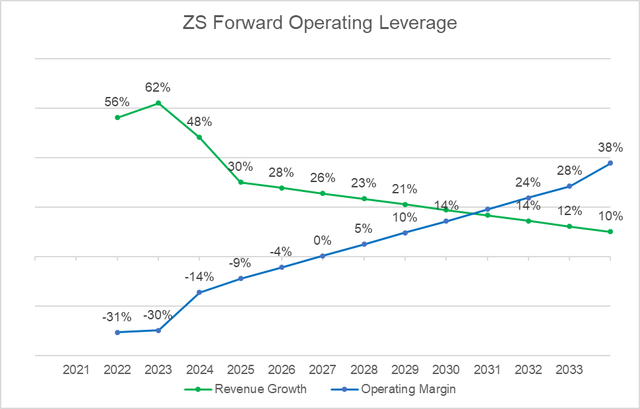 Revenue growth slows as the company matures but operating margins expand significantly. This story is also shown if we look at mature, wide moat software companies like Adobe (ADBE), Microsoft (MSFT), and Oracle (ORCL), who have all churned out operating margins near 30% – and continue to grow. This is no guarantee Zscaler will be the same, but it sure has some of the same signs of a future software stalwart, including a robust balance sheet with nearly $1.5B in cash.
The attractiveness of operating leverage ultimately relies on the ability to use it for free cash flow generation. One of the biggest risks, and current roadblocks, is the company's stock-based compensation ('SBC') which is currently at over 25% of 2023 revenue vs the IT sector median of 6.4% in 2022. Great companies like Zscaler need to invest in talent and management deserves to be rewarded for steering the ship effectively, but should this expense stay elevated, free cash flow will be hindered. Nonetheless, we can use our assumptions of growth and operating margins to forecast the intrinsic value of Zscaler using a DCF model.
Valuation
Zscaler stock trades at a whopping 16.5x price to TTM sales vs a sector average of 2.62x, garnering an overall 'D' rating on valuation per Seeking Alpha's quant ratings. No doubt, ZS is priced at a premium. But looking at its potential for FCF generation, it appears to be close to fair value. My base case DCF model assumptions are as follows:
Revenue CAGR of 20% for 10 years
Operating margins expanding to the mid-30's by 2033
Incremental Capex, D&A, and net working capital matching the historical average for each as % of revenue
Terminal FCF growth rate of 4%
Discount rate ('WACC') of 9%
The result is a fair value of $162 per share. I also ran an upside and downside case by adjusting the above revenue growth and operating margin assumptions upward and downward slightly. Then, I assigned probabilities to each scenario to arrive at a weighted-average. Given Zscaler's high quality underlying business and growth potential, I weighted the upside case at a 40% probability, the base case at 50% probability, and the downside case at a 10% probability. The expected value then comes out to be about $196 per share.

Risks
In addition to the hefty SBC expense, there are a few risks investors should consider. Despite Zscaler's strong moat, competition is always a risk. Larger players and even incumbent startups could present an obstacle for Zscaler's continued market dominance should the company lose it technological edge. While I see this as a low probability risk, Microsoft (MSFT) has recently invested more heavily in its SSE offering and is the biggest competitive threat in my view. Macro is also a risk as enterprises have in recent months been more rigid in their budgets given the uncertain economic environment. Nonetheless, management remains optimistic going forward: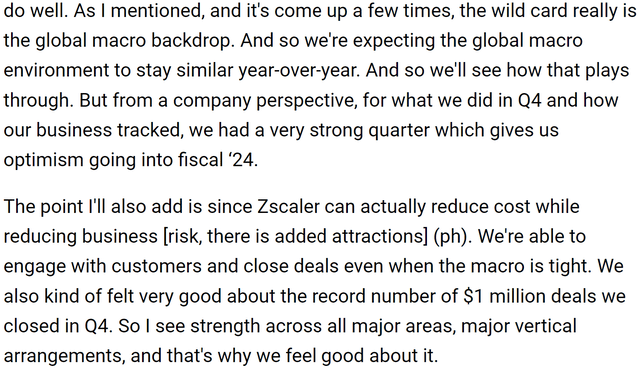 Conclusion
Zscaler is best of breed for Cloud Security companies and is poised to continue its dominance in my view. The company's long growth runway, quality management, and potential to turn topline growth into meaningful free cash flow make it a Buy.