Introduction
Wrap Technologies, Inc. (NASDAQ:WRAP) is dedicated to developing non-lethal restraining technologies for law enforcement, to foster non-lethal interactions between law enforcement and suspects. Over the years, there has been an increase in the number of lethal incidents between law enforcement and suspects. The infamous George Floyd incident in 2020, and more recently, the case of Irvo Otieno who died after he was restrained by law enforcement and hospital employees. In addition to the potential harm to suspects, the pursuit and physical exertion required to apprehend suspects also pose risks to law enforcement, including the possibility of cardiac arrest.
BolaWrap is one of Wrap Technologies' most known products. The handheld device discharges a Kevlar cord, wrapping around an individual and restricting their movement. It is intended to provide an alternative to more aggressive methods of subduing individuals, while minimizing the risk of injury.
This analysis will delve into the market acceptance for and the current adoption rate of BolaWrap and other Wrap Technologies products, the company's new acquisitions and expansion strategies, and a deep dive into the company's financials, especially its newly released financial results for Q3 FY23.
Wrap Technologies Growth Trajectory
Numerous police bodycam recordings have shown the effective deployment of BolaWrap in apprehending suspects. The non-lethal constraint device is gaining some traction among police departments in the US; however, the adoption is still not yet widespread, unlike the widespread use of devices like stun guns and bodycams within law enforcement agencies. This year, the police in Brownwood City police, Springfield police, and Garden City police have begun to adopt the use of BolaWrap. Bodycam recordings seen on YouTube have shown the device in use by the Seattle Police Department, Oklahoma's Lincoln County police, LaGrange police department in Georgia, among several other police departments.
The device has gained some interest among law enforcement outside the US. The company reported its first international order for BolaWrap in 2018. Wrap Technologies has since announced several international orders, with its biggest single international order in October 2021. Market acceptance in global markets is important for Wrap Technologies' sales growth. BolaWrap has been approved for sale in several countries, including Italy where the device was approved for sale in 2021. Recently, Wrap Technologies reported that it had received BolaWrap orders from 11 police departments in Italy.
Wrap Technologies has also sought to make upgrades to the BolaWrap product. The first version of BolaWrap, known as BolaWrap 100 was released in 2017. In 2021, the company unveiled an improved version of the product, known as BolaWrap 150. The improved version boasts higher capabilities like improved battery life, an improved anchoring system for more effective grappling, and an improvement over the mechanical deployment in BolaWrap 100. BolaWrap 150 uses an electronic deployment system.
Wrap Technologies is not resting on the success and growing popularity of the BolaWrap alone. The company has demonstrated a willingness to diversify its portfolio by expanding into the production of additional law enforcement tools. Wrap Technologies announced in August that it had executed a purchase agreement for the acquisition of Intrensic, LLC. through the purchase of 100% of the membership interest for $500,000 in cash and 1,250,000 shares of WRAP common stock. The acquisition gave Wrap Technologies ownership of Intrensic's bodycam and digital evidence management (DEM) products. Some of the products Wrap Technologies now owns, courtesy of the acquisition, include Wrap Intrensic X2 Body Camera, Wrap Intrensic Evidence on Cloud®, and Wrap Intrensic Klick-Fast Mounting.
Financials and Valuation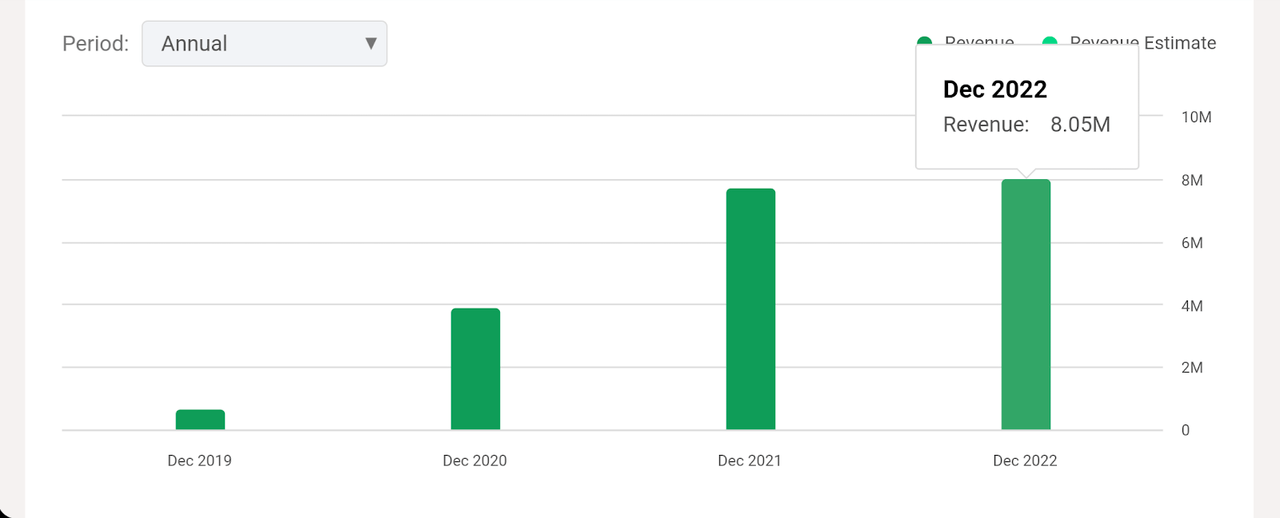 WRAP's annual top line has grown steadily in the last few years. The revenue has shown an impressive 3-year CAGR of 50.43%, suggesting increasing demand for the company's products; especially, its flagship product – BolaWrap. The top-line growth for companies with new proprietary products or technology is essential because the increase in sales serves as a definitive metric to gauge the market acceptance of the product or service.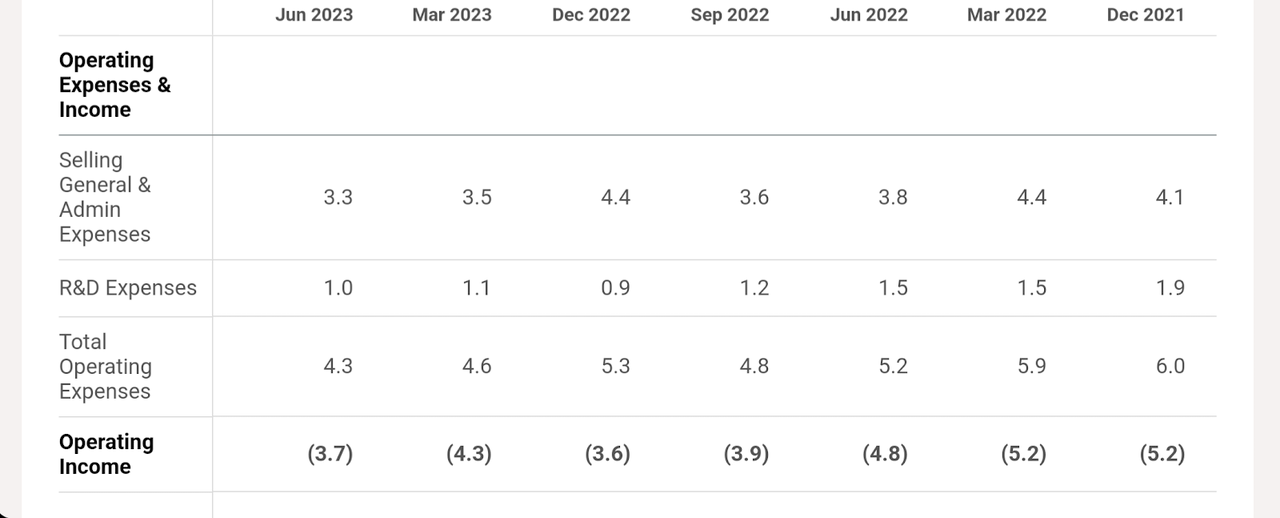 Operating expenses (mainly SG&A) have been high for multiple quarters; hence negative operating income and net losses. OpEx has slightly improved since Q2 last year. Between Q4 FY22 and Q1 FY23, OpEx declined by about 14% from $5.3 million to $4.6 million. OpEx declined further in Q2 FY23 by about 6%, reaching $4.3 million.
Wrap Technologies recently announced its Q3 FY23 financial results. The total revenue recorded in Q3 was $3.63 million, a 114% YoY increase. Wrap Technologies' sales in the global markets have increased significantly in the past year. International sales made up about 63% of the $3.63 million total revenue. International sales are up 940% YoY. On the earnings call, the company management reported that the surge in international sales is largely driven by international orders, particularly from the North African region.
Though Wrap Technologies still reported a net loss in Q3, the gross profit margin has seen slight improvements. In Q2 last year, the gross profit ($0.9 million) was about 53% of total revenue ($1.7 million). In the latest results for Q3 FY23, gross profit is $2.18 million, which makes up 60% of the $3.63 million revenue. This suggests operational improvements in the production of goods and a marginal reduction in the cost of revenue. This can be considered a positive indicator of Wrap Technologies' path to potential profitability. Q3's net loss is $(2.78) million, which is a 28% decrease YoY. This can also be considered an improvement and a positive indicator for Wrap Technologies' path to potential profitability.
Our gross profit for the third quarter increased by 139% from the prior year period, going from $910,000 to $2.18 million. Our efforts to increase production efficiency and manage costs for our BolaWrap 150 product have paid off.

Chris DeAlmeida, CFO
Since Q3 last year, WRAP's cash inflows have exceeded cash outflows, indicating cash generation. The company's cash and equivalents have recorded steady increases since Q2 last year. Total cash and short-term investments for Q3 FY23 amounted to $14.9 million reflecting a decrease from the $19.3 million recorded as of December 31, 2022.

The momentum for WRAP has been strong, recording a 70% YTD price gain and gaining over 100% in the past month. The momentum for WRAP is higher than its sector median momentum. WRAP's 1-year, 6-month, 3-month, and 1-month price performance all show double-digit percentage gains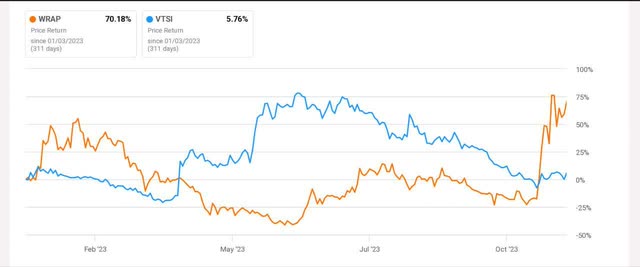 Though WRAP is GICS-categorized under the Electronic Equipment and Instruments industry, a price return comparison to a stock like VirTra (VTSI) in the Aerospace and Defense industry (because they are closely related in terms of products or services they offer) shows that WRAP's year-long momentum could be an isolated case of good market sentiment.
Takeaway
Wrap Technologies' revenue growth, especially its international revenue growth, appears commendable. The acquisition of Intrensic LLC and the expanded product portfolio the acquisition gives WRAP will potentially continue to raise the top line. A hold is a conservative or prudent rating for this stock, considering its already substantial YTD gains, and the recent over 100% one-month price return, which appears to be more casual, lacking a clear influence from any distinct or impactful event. While the stock may sustain its current momentum, a judicious approach is warranted. Notably, the absence of direct competitors to the BolaWrap product contributes to the stock's unique position. This stock could maintain momentum, except in a case where the general market conditions become influenced by broader macroeconomic conditions.