We remain buy-rated on Upwork (NASDAQ:UPWK). Upwork reported great numbers on their 3Q23 earnings call. Total revenue grew by 11% Y/Y to $175.7M in 3Q23, growing 4% QoQ, confirming our expectation that Upwork is now better positioned to reaccelerate top-line growth with the application of its A.I.-based service hub.
We believe Upwork is uniquely positioned with a first-mover advantage to benefit from a growing gig economy that's projecting a 16.18% CAGR by 2027 to reach $873B. We think more and more people want different sources of income, especially amid current macro uncertainty. We think the entire industry is growing with more penetration from enterprise clients. We think the enterprise opportunity will bode well for Upwork as it'll allow for higher gross service volume, or GSV, diversified across clients. Additionally, we're seeing more recovery on the macro level with more money circulated on the platform; GSV exceeded $1B in the quarter. We think this window will allow Upwork to capture more market share against competition like Fiverr (FVRR) and ZipRecruiter (ZIP).
We think revenue growth this quarter shows signs that macro headwinds are stabilizing, and the new take rate is boosting near-term profits. The following graph outlines Upwork's total revenue per quarter as of 3Q23.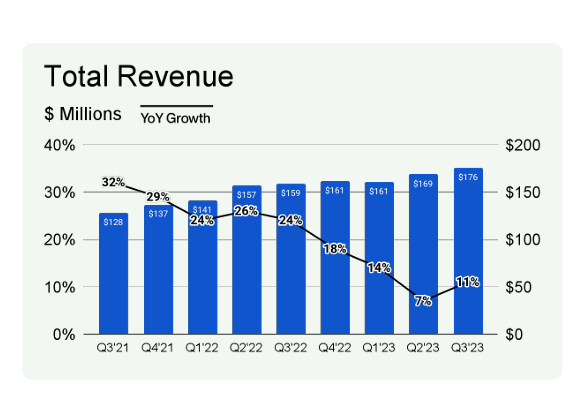 The total take rate in 3Q23 was 17.1%, up from 16.3% and 15.4% in the same quarter of 2022; we attribute this to the simplification of the freelancer pricing structure that was implemented in May 2023. We strongly believe that growth opportunities in A.I. are a tailwind in Upwork's business while also providing new generative tools for its customers. Upwork continued to advance its approach in leveraging its A.I. service hubs in three ways. The first is by providing cutting-edge A.I. services across every category of work; second, empowering "Talent" with the latest A.I. tech to elevate work efficiency and output quality; the third, by providing a one-stop shop for clients to find a comprehensive range of A.I.-enabled talent.
The following graph outlines Upwork's take rate per quarter.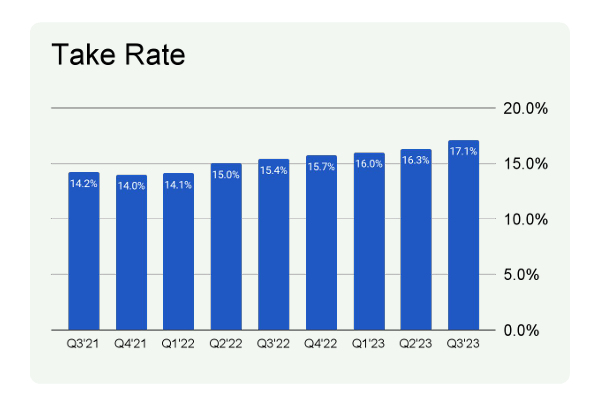 Over the past three months, Upwork stock is down by 5% relatively, with the S&P 500 down 2.49%. The stock is up 71% over the past six months, outperforming the S&P 500 by 65%. We think the moderating outperformance suggests that macro headwinds have been priced in. The stock surged post-earnings, up over 21% over the past five days. Management raised its FY23 outlook again this quarter to 10% Y/Y growth, up from 8% as its marketplace take rate expands; this raised guidance comes after management raised FY23 outlook last quarter to 8% Y/Y ahead of the peer group growth rate at 6-8%.
We don't think the stock is immune to macro headwinds in the back end of the year, but we see an increasingly favorable risk-reward profile for the stock in 2024. We believe that Upwork will outperform through 1H24. The below outlines the chart of Upwork stock against the S&P 500 over the past three months.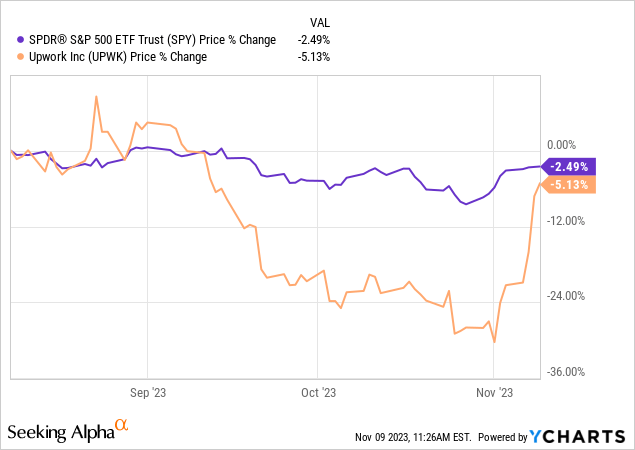 Downside Risks
While we like Upwork's position in the market, we don't think the company is immune to macro headwinds. We think Upwork is exposed to market volatility and the Fed's potential higher-for-longer playbook; if macro conditions worsen, we expect this may place weight on the amount of Talent recruitment happening on the platform and, by extension, the GSV.
Upwork derives the bulk of its money from a handful of its clients; we think the macro headwinds this year definitely weighed on enterprise demand on the freelance work platform. We believe there remains a near-term risk that the macro backdrop worsens and drives more stringent spending cuts and budget tightening.
Valuation
In C2024, Upwork has a Price/Earnings (P/E) ratio of 18.4x and an Enterprise Value to Sales (EV/Sales) ratio of 1.8x, both substantially below the peer group averages of 39.9x and 3.2x, respectively. These figures suggest a more conservative market valuation when compared to its peers, We believe UPWK is a great value play ready to unfold.
The table below outlines Upwork's valuation against the peer group.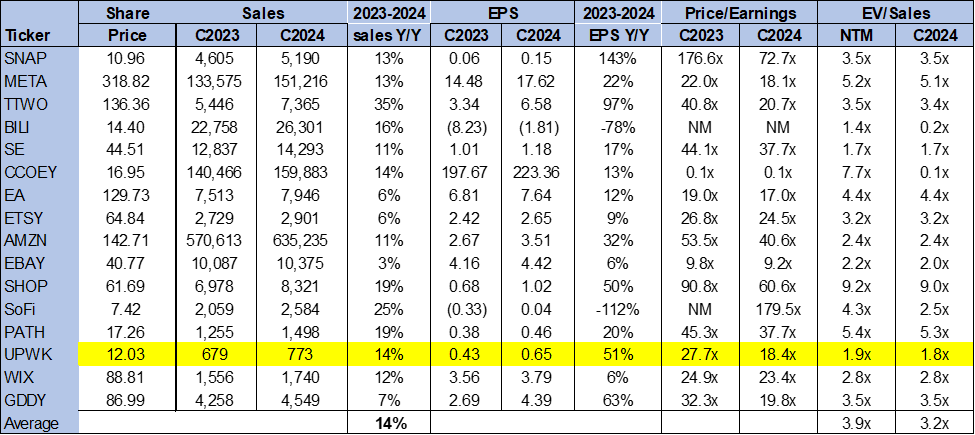 Word on Wall Street
A total of six analysts are buy-rated on Upwork, while none are sell, and five are hold. We think Upwork stock has ample room to grow given the possibility of rerating from HOLD analysts. Both the median and mean price targets for Upwork stand at $16, which, when compared to the current trading price of $12, indicates an upside potential of 33% to 34%, respectively.
The following charts outline Upwork's sell-side ratings and price targets.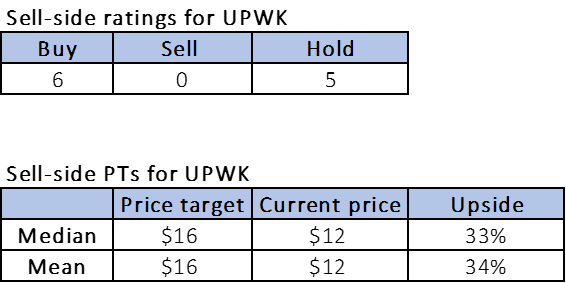 What to do with the stock
We reiterate our buy-rating on Upwork, bolstered by the strong third-quarter results of 2023 and the upward revision of the FY23 guidance— confirming our expectation that Upwork is now better positioned to reaccelerate top-line growth with the application of its A.I.-based service hub. Despite lagging behind the S&P 500 by approximately 14% over the previous quarter, we believe macroeconomic headwinds are already factored into the current valuation. We recommend investors continue to buy the stock opportunistically as we see an upside into 1H24.