Investment thesis
Our current investment thesis is:
THOR (

NYSE:THO

) is a highly attractive business long-term, owing to its strong business model, which positions it defensibly from any competitive threat. This will allow for a continuation of its current trajectory, allowing the

company to enjoy the numerous tailwinds benefiting the industry.

Our only concern is the near-term performance, with macroeconomic conditions inevitably positioned to wreak havoc as demand continues to slow and retailers are defensive with inventory held. We suggest investors remain patient until a clear upside is presented or there is greater visibility as to its trajectory.
Company description
THOR Industries is a leading manufacturer of recreational vehicles (RVs) with a diverse portfolio of brands, including Airstream, Keystone, and Jayco. Founded in 1980 and headquartered in Elkhart, Indiana, THOR designs, manufactures, and sells a wide range of RVs, from motorhomes to travel trailers and fifth wheels, catering to various customer preferences and budgets.
Share price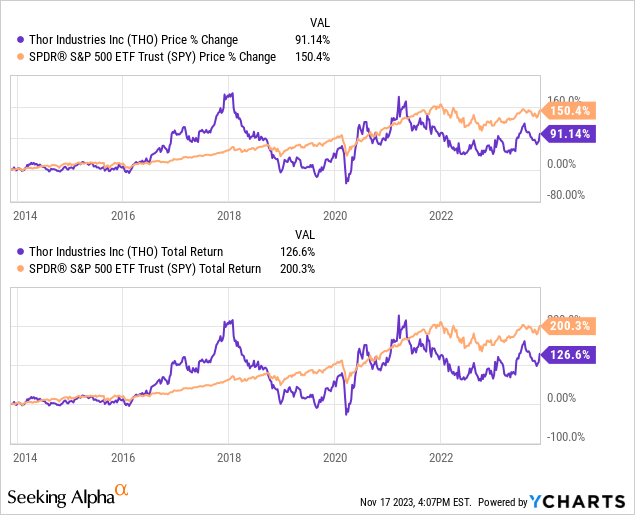 THOR's share price performance has been mild, with ~56% returns compared to over 150% by the S&P 500. This is a reflection of its mediocre financial development and recent decline in performance.
Financial analysis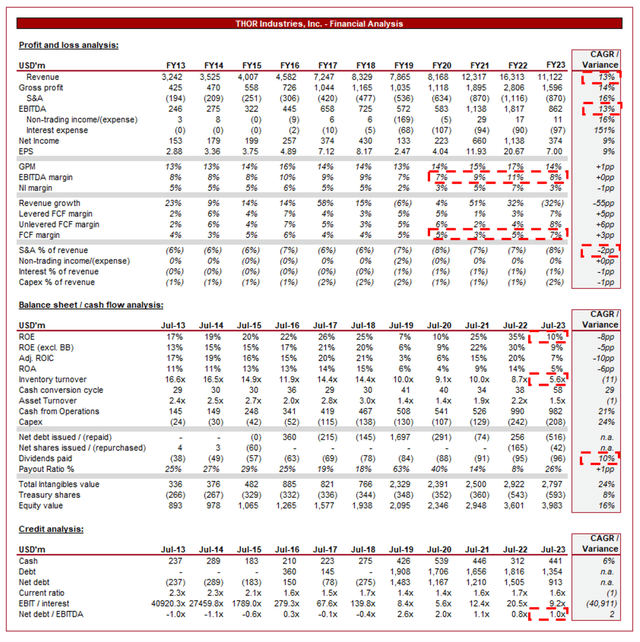 Presented above are THOR's financial results.
Revenue & Commercial Factors
THOR's revenue has grown well during the last decade, with a CAGR of +13%. This growth has been volatile year-on-year, although with a broad upward trajectory.
Business Model
THOR offers a diverse portfolio of RVs, catering to various consumer preferences, budgets, and needs. Its product range includes motorhomes, travel trailers, fifth wheels, and camper vans. This diversity through scale has allowed THOR to capture different segments of the market.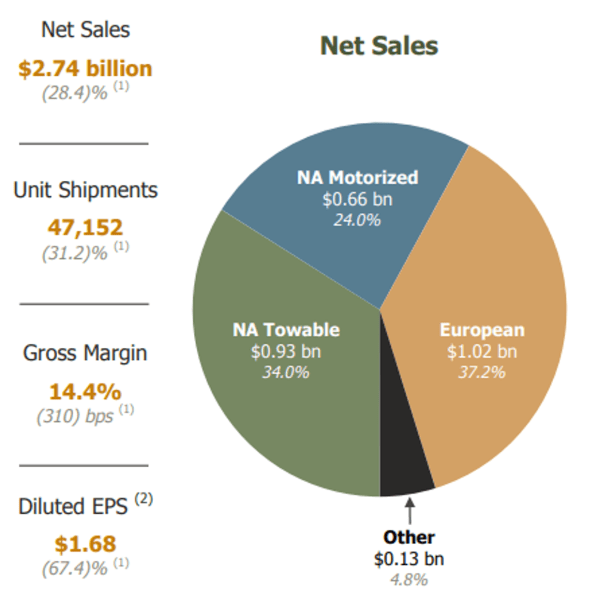 THOR invests well in R&D to incrementally improve the features and attractiveness of RVs. This focus on innovation, including smart home technologies, energy-efficient systems, and ergonomic designs, has contributed to renewed interest in RVs. Through this, THOR has built a strong reputation for quality and durability.
THOR's scale allows it to adjust its product offerings based on demographic trends. As an example, it designs RVs suitable for younger, adventurous travelers as well as luxurious, spacious models for retirees. This adaptability is only possible due to the company's size, ensuring it can meet the evolving needs of its potential customer base.
Another critical component of its competitive positioning is its vast distribution network, including dealerships and retail partners across the country. Given this is a large ticket purchase, highly discretionary, and with friction associated with purchases (hesitancy with purchasing, concerns around maintenance, etc.), reaching customers is fundamentally important to closing sales. The combination of its leading geographical presence and diverse product range contributes to a highly diversified offering.
THOR has strategically acquired well-known RV brands like Airstream, Jayco, and Keystone RV. These acquisitions not only expanded their product range but also helped them tap into established customer bases, enhancing their market presence. Further, the company has pushed beyond this with its acquisition of Airxcel, which is a leading supplier of OEM and Aftermarket RV parts and accessories. This strengthens THOR's supply chain capabilities and access to a new market while being accretive on a financial basis.
Growth drivers
We see the following factors as key growth drivers, creating the potential for HSD growth in our view.
Rising Interest in RV Travel – Over the past decade, there has been a surge in interest in RV travel, driven by a desire for outdoor experiences and flexible travel options. This growth has been spearheaded by Europe, as the following illustrates, although global interest is up.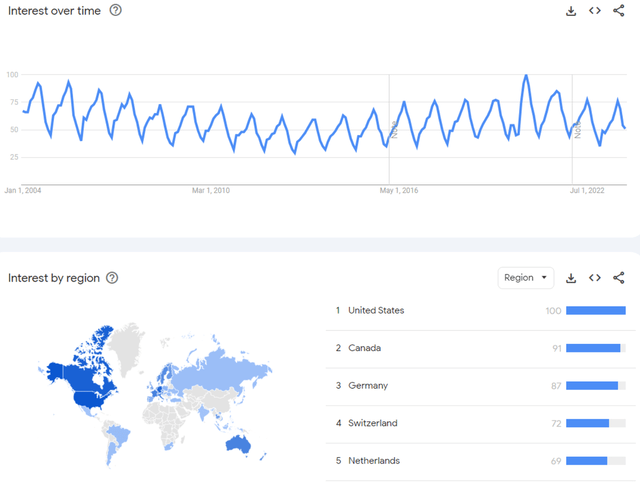 Lifestyle Changes and Remote Work – Lifestyle changes following the pandemic, including remote work and a desire to exit the "rat race", have led many individuals and families to explore RV living. We believe this is another small ripple effect from that period in history. Technological capabilities now mean this is a viable solution.
Environmental Consciousness – With growing environmental awareness, many consumers are opting for RV travel as a more eco-friendly way to explore. Further, this is contributing to an increased importance in the RV segment having an EV-like transition, with THOR already investing to ensure this is a future reality.
Leisure and Retirement Spending – With an aging population across the Western world, leisure and retirement spending will likely increase. Retirees have often invested in RVs for long-term travel and leisure, with this trend positioned to continue.
Digital Integration – Integrating smart technologies within RVs has the potential to enhance their attractiveness and resonate well with a younger audience.
Key competitors of THOR include Winnebago Industries (WGO), Forest River, and REV Group (REVG). This competition limits the scope for material margin improvement and growth, however, the industry is sufficiently large for all to perform well.
Margins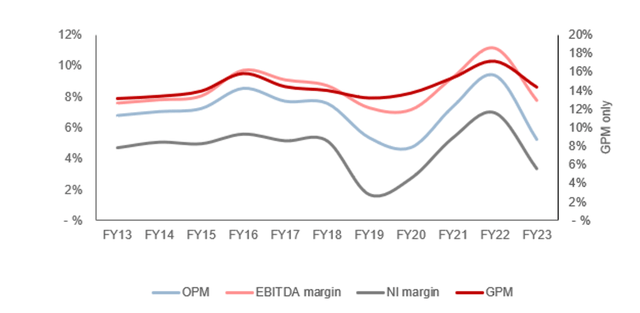 THOR's margins have remained broadly flat over the last decade, despite a substantial increase in revenue. This is a disappointing development in our view, as the scope for economies of scale in production is high. It appears any gains achieved on a unit basis are offset by increased S&A spending relative to revenue, implying growth has become more expensive. This is not what we would expect as its brand develops.
Considering EBITDA-M has broadly reverted back to the 8-9% level, this is likely the company's long-term sustainable position.
Quarterly results
THOR's recent performance has significantly deteriorated, with top-line revenue growth of (21.5)%, (39.4)%, (37.1)%, and (28.4)% in its last four quarters. In conjunction with this, margins have fallen from its FY22 high, with limited visibility as to whether it has normalized.
The decline THOR has faced is twofold. Firstly, and most simply, the company was running hot. Stimulus checks and aggressive economic policy contributed to substantial, unsustainable spending. For this reason, the comparable period was always going to be high.
The second, and most important reason, is the worsening of macroeconomic conditions. With elevated interest rates and inflation, consumers have experienced an attack on finances, contributing to reduced discretionary (and large-ticket) purchases. Given the highly discretionary nature of RVs, consumers have been easily able to forego purchases. This compounded by interest rates pricing may forcibly out.
We expect conditions to remain difficult until expansion policy returns, which currently appear to be mid-to-late 2024, although the stubbornness of inflation and risk of recession make this uncertain.
Key takeaways from its most recent quarter are:
THOR's European segment continues its strong trajectory, with record growth of 26%. This is the most profitable segment of the business, contributing to offsetting easing in other segments.
The North American segment is struggling heavily, with the team naturally transitioning to internal improvements in anticipation of a subsequent market upswing. Management is currently working with its independent dealers to reduce and rebalance channel inventory. This will likely contribute to a significant decline in demand in Q1/Q2. As the following illustrates, inventory levels remain heightened compared to historical levels, at times when demand was far higher than existing.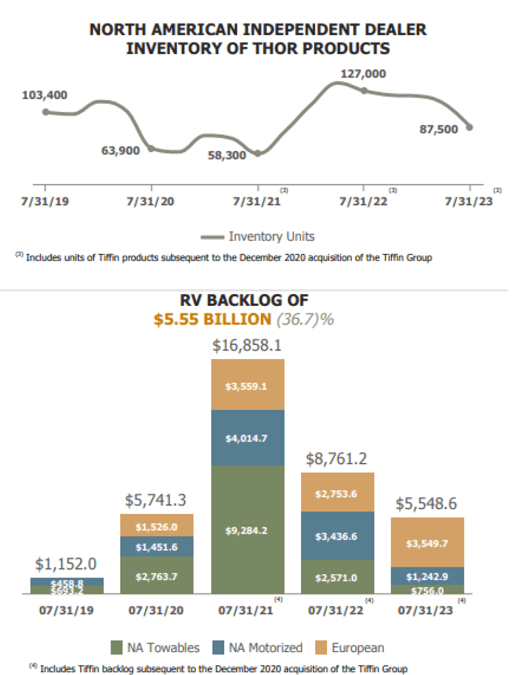 The decline in the coming year is expected to be driven by a fall in average selling prices and lower units sold, offset somewhat by higher wholesale shipments within the North American Towable segment.
Balance sheet & Cash Flows
THOR is conservatively financed, with a ND/EBITDA ratio of 1x. This provides the business sufficient comfort to weather down cycles, as does its FCF generation. Despite the substantial decline in demand, THOR has maintained strong and consistent FCF conversion (even with inventory turnover falling to a record low of 5.6x), allowing for healthy shareholder distributions. The most recent improvement to 7% was driven by inventory unwind, which suggests FCF-M will fall in the coming quarter(s).
During positive cycles, THOR has managed to achieve a good ROE, owing to its respectable working capital management and focus on operational capabilities. Despite being a manufacturing business, the company turns around inventory quickly and keeps its balance sheet as light as possible. Finally, THOR has made several large acquisitions during this period, with ROE implying these are at least value-neutral, if not accretive to the wider business.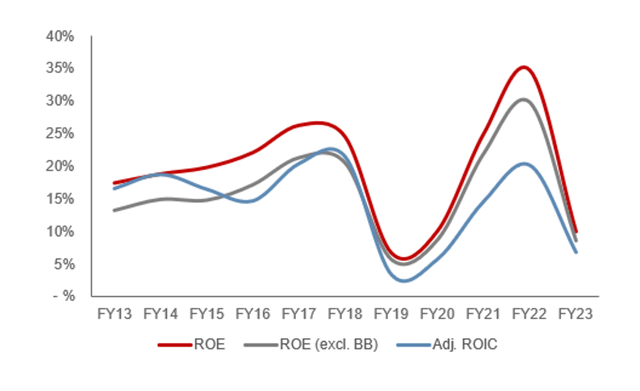 Outlook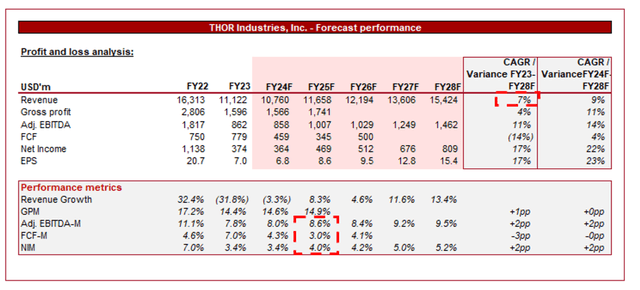 Presented above is Wall Street's consensus view on the coming 5 years.
Analysts are forecasting a reasonable period for the company, with a decline of (3.3)% in FY24F, followed by a CAGR of 9% into FY28F. In conjunction with this, margins are expected to sequentially improve from the existing levels, although remain below FY22.
We are unconvinced by the near-term assumptions. Should THOR only achieve (3.3)% revenue growth, we would consider this a major success. It is likely that its coming quarter or two will likely be difficult, although its inventory management has been better than others in the market. The broader assessment of FY28F does appear reasonable, however.
The improvement in margins also appears reasonable, as, during an upswing period, the company has shown an ability to achieve small, incremental improvements.
Industry analysis

Presented above is a comparison of THOR's growth and profitability to the average of its industry, as defined by Seeking Alpha (15 companies).
THOR is currently underperforming its peers, although nuance is needed with the comparison. THOR's revenue growth has been strong despite the recent decline, although the peer group has soared beyond this to achieve impressive levels. THOR's comparators are primarily automakers, which is an industry that experienced significant growth associated with supply chain issues.
Further, the company operates with subpar margins, with only its FY22 levels being comparable. Despite this, the company has a higher LFCF-M. We attribute its weaker margins purely to underperformance. The company has sufficient scale to achieve more, although the argument will likely be that it must spend more to acquire customers.
Valuation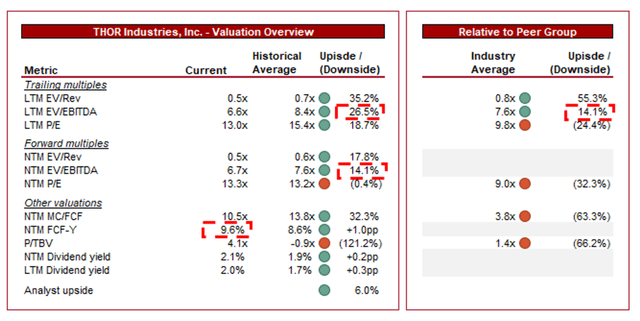 THOR is currently trading at 7x LTM EBITDA and 7x NTM EBITDA. This is a discount to its historical average.
Trading at a discount to its historical average is warranted in our view, owing to the cyclical downturn the company is facing uncertainty as to the financial performance in the coming year. We would suggest a discount in the range of 15-25%, which suggests the business is broadly within its valuation range on an EBITDA basis.
Further, THOR is trading at a premium to its peers on a NTM P/E basis (~32%) but a discount on an LTM basis (~14%). We attribute this misalignment to the differences in the industries, as the automotive industry will have shallower downturns but reduced growth in "the good times".
THOR's valuation has incrementally softened during the historical period as growth has been achieved, with most metrics, including FCF yield, within the vicinity of its last decade. We would suggest further upside needs to be present to consider the stock attractively priced today.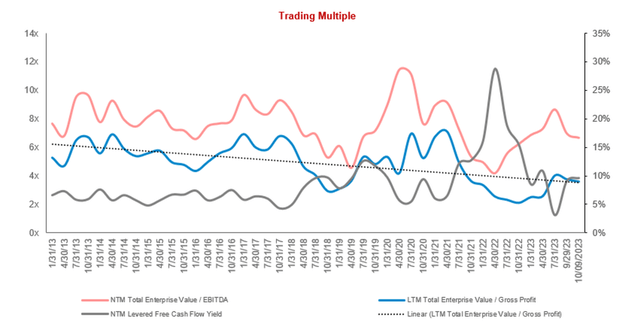 Key risks with our thesis
The risks to our current thesis are:
[Upside] Market expansion into untapped demographics and geographies.
[Upside] Faster than expected economic recovery.
[Downside] Worse than expected economic downturn.
[Downside] Inability to adapt to changing consumer preferences
[Downside] Increased competition based on pricing eroding market share.
Final thoughts
THOR is a great business in our view. The company has developed a strong competitive advantage through scale, with a global presence, a range of well-regarded brands, deep expertise in production, and a strong distributor network. We do not believe this position will be easily challenged.
Further, we see good scope for growth in the coming years, as a number of tailwinds will support MSD/HSD growth. This said the concern is in the near term, with macroeconomic conditions contributing to a likely decline in the coming year.
With its valuation not suggesting a clear upside, we suggest patience.