Since I last wrote about China's automotive services provider SunCar Technology Group (NASDAQ:SDA) in July, its share price is down by 32%. This wasn't unexpected. At the time, its market multiples indicated that it was richly valued, especially in the context of a slowdown risk in China and its mounting expenses, partly on bad debt provisions.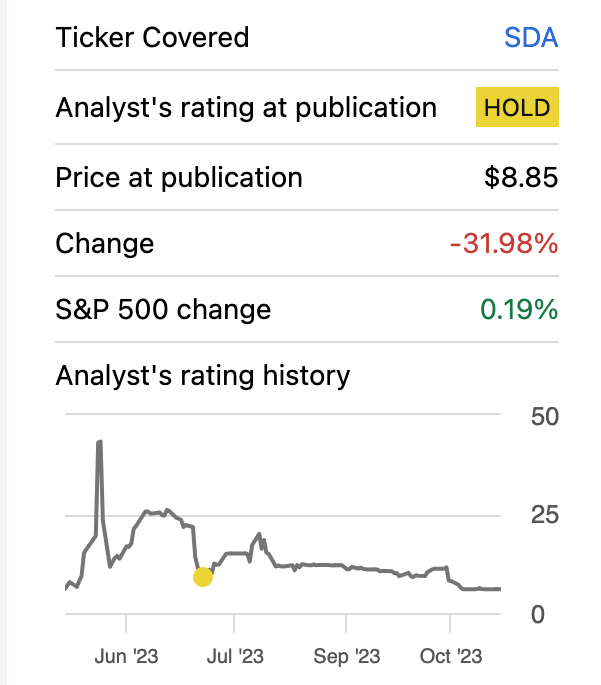 That it was due for a correction was further confirmed as the company's follow-on share offering to institutional investors was made at a relatively low price in October. Its results for the first half (H1 2023) are mixed too. Here I take a closer look at both these and other significant developments to assess if SDA has now corrected enough to make it attractive.
Follow-on offering indicates a lower valuation
At the time I last wrote, the stock's price was at USD 8.85. While it had seen much volatility since its SPAC listing in May this year, at this price, SDA was still comfortably trading at 44.8% above the first closing price. The price inched up even further to USD 11.9 on average from then until the end of October, when the follow-on offering announcement closed at USD 8.18.
It's little wonder then that the price dropped following this announcement. However, at the last close, the stock has dropped considerably from these levels as well, closing at USD 6. This does of course indicate that it has now overcorrected. The question now is, is there anything in the fundamentals and market multiples that indicates it can pick up anytime soon?
Robust revenue rise
The company's sales performance is indeed encouraging. With 28% year-on-year (YoY) revenue growth for H1 2023, it's now closer to historical growth rates (see chart below) after COVID-19-related disruptions resulted in a slower 13% increase for the full year 2022. SunCar Technology has seen an uptick in growth even from H1 2022, when it was at 10%.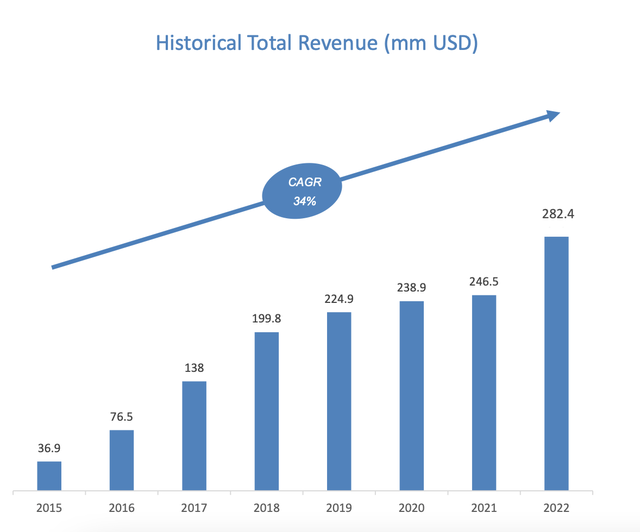 The company's biggest revenue-generating segment, the automotive after-sales service, with a 62% revenue share as of H1 2023, saw a pickup to 10% growth (2022: 6%). But the real increase continued to come from insurance intermediation service and technology service revenues, which grew by 63% and 132% respectively. As smaller segments, it's of course easier for them to show faster growth, but even then, it's clear that they've played their part in pulling up overall growth considerably.
Weaker profit performance on fast-rising costs
Profits, however, didn't quite see the same robustness as sales. The gross margin came in at 13.8%, even with an 11.8% growth. Not only is the margin now lower than the 17.8% seen for the full year 2022 but also declined from the 15.75% levels seen in H1 2022. This is because the cost of revenues showed a sharp 30.8% rise (2022: 9.5%, H1 2022: 10.6%) during H1 2023.
Operating costs had already risen by 23% in 2022, on higher R&D expenses, besides bad debt provisions. They continued to show an accelerated increase in H1 2023 by 33% as well. Trickling down from the gross level, this resulted in an operating profit drop of 81% YoY in H1 2023. Commensurately, the operating profit margin has declined to a small 0.7% from 4.8% in H1 2022.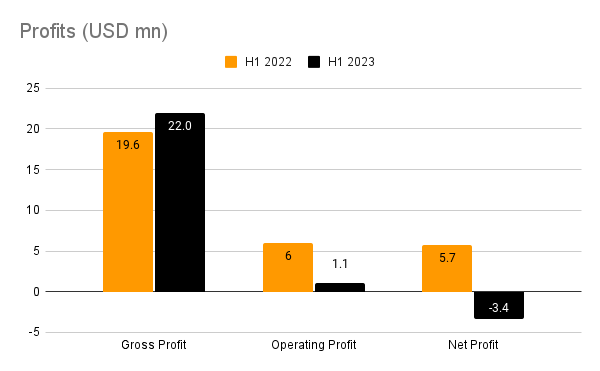 The company also reported a net loss attributable to common shareholders during H1 2023, which is actually a reversal of the trend from the same time last year. If it had managed to sustain its operating profits at last year's level (see table above), this wouldn't be the case. At the same time, it does continue the trend from the full year 2022, when SunCar Technology reported a loss on account of performance weakness in H2 2022.
Positive sales outlook
The profit picture is particularly disappointing considering that China's inflation numbers have been exceptionally muted this year even as the rest of the world is still battling higher than comfortable inflation levels. In fact, in recent months the country has actually tipped into deflation (see chart below).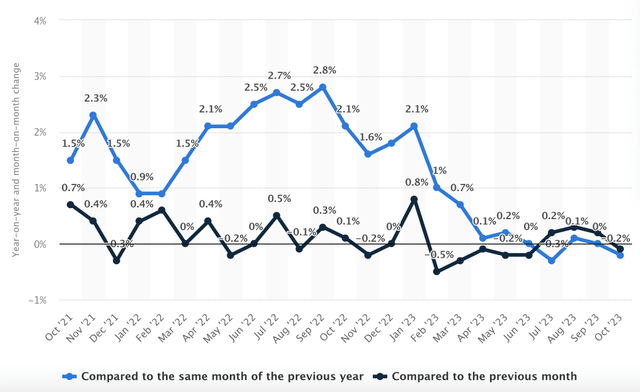 While it's understandable that a growing company like SunCar Technology, has to spend on R&D to develop and maintain a competitive edge for its software and technology services, the fact is that all other expenses, save general and administrative expenses, are growing in double digits too.
This makes a weak case for profit growth in the foreseeable future. Well-spent expenses can continue to support revenue growth, however. And there's already proof of continued expansion for the company. After entering into or renewing contracts for insurance intermediation services with electric vehicle manufacturers like NIO (NIO), JIDU Auto and Li Auto (LI) this year, it also continues to expand into the financial services sector.
For instance, it entered into a three-year driving service agreement with CITIC Bank. It has also renewed contracts with Bank of Communications Limited, which is China's fifth biggest bank, for overseas car pickups covering 213 international airports.
Going by the positive sales outlook, if I assume here that the company's growth in H2 2023 would be at 34%, the historical compounded annual growth rate [CAGR] for 2015-22 (see chart above on Historical Revenues). This results in a 31.2% growth estimate for the full year 2023.
Market multiples are positive
This in turn results in a forward price-to-sales (P/S) ratio of 1.43x, which compares positively to its trailing twelve months [TTM] P/S of 1.67x. But both its ratios are competitive compared to its peer, Autohome (ATHM), which enables automobiles-related transactions in China. Both ATHM's forward and TTM P/S ratios are at 3.36x.
However, there's reason for AHTM to be trading at a premium compared to SDA. It was publicly listed way back in 2013. As a result, it has a longer available track record for performance. Over the past decade, its revenues have grown by a CAGR of 21.2% and its EPS by 16.1%. Notably, it didn't fall into losses even through the extended COVID-19 challenge in China.
This still leaves the question as to what SDA's fair value should be. For this assessment let's also consider the TTM P/S of the consumer discretionary sector at 0.84x and the forward P/S at 0.83x. Clearly, SDA is trading at a higher level than the average consumer discretionary stock. There's a good reason for this, of course. It's in the growing China market, which is also a big automotive market. So there's a case for its rapid expansion, which might not be true of all other consumer discretionary stocks.
To get to SDA's fair value, I've averaged the P/S ratios for ATHM and the median ratios for consumer discretionary stocks. This exercise indicates that there is at least 20-25% upside for SDA right now.
What next?
This does indicate that at least in the short term, SunCar Technology can see a price improvement to the extent indicated above. However, for the medium to long term, it's still best kept on the investment watchlist for now.
This is because its valuations are clearly subject to change, as evident from the follow on offering at lower price. With profit weakness visible this year, albeit on spending that can fuel sales growth, it's also harder to argue a medium-term case for now for it. From this perspective, I'd go with a Hold rating on SDA.
Editor's Note: This article discusses one or more securities that do not trade on a major U.S. exchange. Please be aware of the risks associated with these stocks.