This morning's release of small business sentiment from the NFIB showed optimism fell by less than expected, coming in at 90.7.
That compares to 90.8 in September and leaves the index in the middle of the past several months' range. Although that is not at a new low, current levels are near the lower end of the post-pandemic recession range.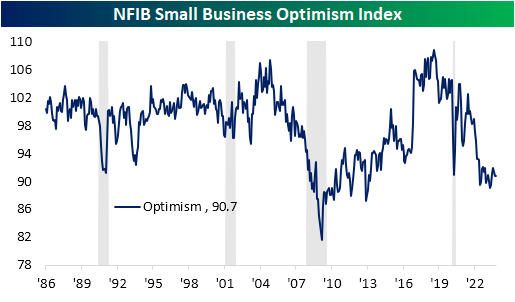 Business outlook was unchanged at a historically low -43, albeit that is off the lows from June of last year. As small businesses remain pessimistic in their evaluation of the economy, there has been a significant deterioration in sales.
Although sales expectations have risen, observed sales changes are down to -17 which outside of April through July 2020 is the weakest reading since September 2010.
That has resulted in actual earnings changes also deteriorating, with current levels very close to post-pandemic lows. In terms of prices, the index of higher realized prices ticked up to 30.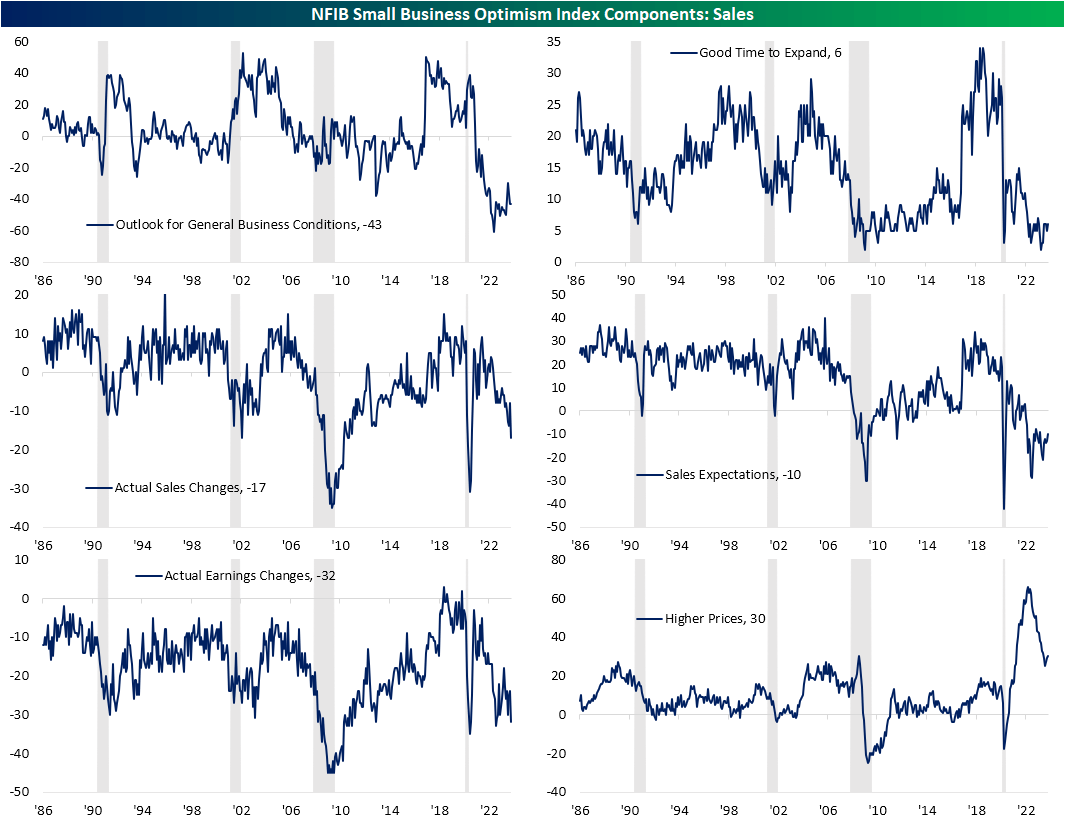 When surveyed on the most important reason for lower expected earnings, the highest share of respondents reported increased costs as the culprit.
Granted, that combines input costs with increases in other aspects like taxes and finances (i.e. interest rates).
While moving higher, the share reporting increased costs as their biggest reason for lower earnings is still below levels from last fall.
On the other hand, the share reporting sales volumes as the reason has been rising steadily to levels not seen since May 2021.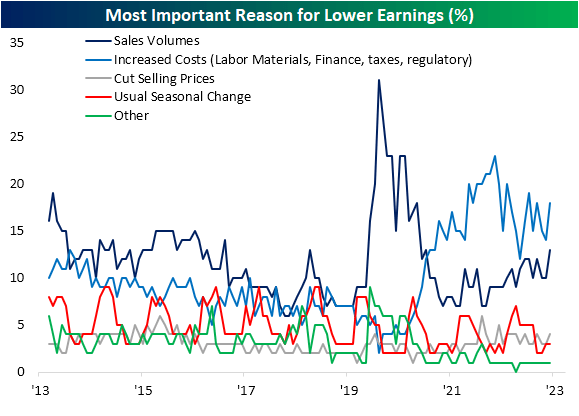 In the table below, we show all categories of the report as well as their month-over-month change and how those readings rank as percentiles of all months in the survey's history.
The headline number's further decline, albeit marginal, still leaves it in the bottom decile of historical readings.
The bulk of the drop was thanks to the deterioration in actual earnings changes, but otherwise, breadth wasn't too bad for the index's inputs.
That being said, the month-over-month drop in earnings changes does rank in the bottom 2% of all months on record, and other non-inputs to the headline number were more mixed.
Again, actual sales changes were notably weak and, like actual earnings changes, recorded a historic month-over-month decile. That also applied to credit conditions for regular borrowers, as interest rates remain elevated.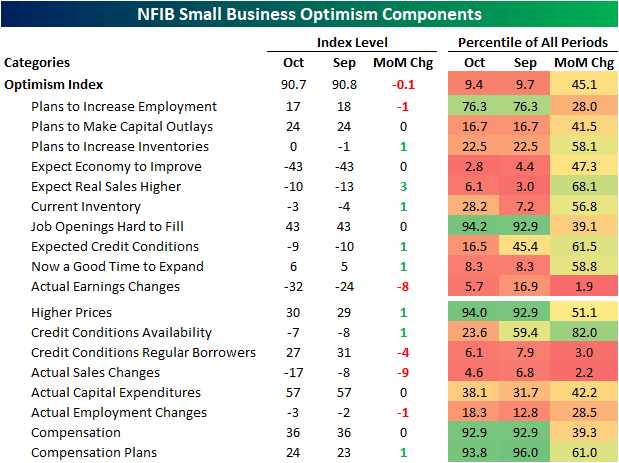 Original Post
Editor's Note: The summary bullets for this article were chosen by Seeking Alpha editors.