Investment Thesis
Zumiez (NASDAQ:ZUMZ), a fashion retailer with a diverse product range, faces temporary challenges in a shifting retail landscape. Despite industry-wide margin pressures, its resilient performance against competitors and strategic acquisitions position it for growth. Insider ownership and recent purchases reflect confidence in the company. Valuation analysis suggests significant upside potential if historical metrics are regained. While exposed to cyclical market trends, Zumiez's financial resilience, with minimal debt and substantial cash, mitigates risks. Despite short-term market focus, Zumiez presents an attractive long-term investment opportunity at its current price level.
The Company
Zumiez Inc., along with its subsidiaries, functions as a specialized retailer catering to the fashion needs of young men and women. The company provides a diverse range of products, including apparel, footwear, accessories, and hardgoods. In addition to fashion items, Zumiez offers hardgoods such as skateboards, snowboards, bindings, components, and other related equipment. Its retail presence spans across the United States, Canada, Europe, and Australia, operating under the following brands Zumiez, Blue Tomato, and Fast Times. The company has also established its online presence through e-commerce websites like zumiez.com, zumiez.ca, Blue Tomato and Fast Times. Founded in 1978, Zumiez Inc. is headquartered in Lynnwood, Washington.
In 2012, Zumiez made a strategic acquisition by purchasing Blue Tomato for $75 million, and in 2016, it expanded its portfolio with the acquisition of Fast Times for a more modest sum. Reflecting the broader industry trend, there's a significant shift towards online sales. According to companies financial statements, in 2008, only 1% of Zumiez's revenues were attributed to their e-commerce business, and this figure has since risen to approximately 20%, amounting to around $236 million in 2022. Apart from this substantial transformation, there appears to be limited noteworthy developments within the industry.
Sales
The majority of the company's sales, accounting for nearly 80%, originate from the United States, where 608 out of the total 758 stores are situated. The year 2012 marked the company's venture into the European market through the acquisition of Blue Tomato, and in 2016, Zumiez further extended its global footprint by entering the Australian market with the acquisition of Fast Times.
Around 20% of the company's sales stem from online channels, with the remaining majority generated through their brick-and-mortar stores. Notably, in the year 2022, 18% of the total sales were attributed to their private label offerings. Zumiez is dedicated to positioning itself as a comprehensive destination, aiming to serve as a one-stop shop for its discerning target customer base.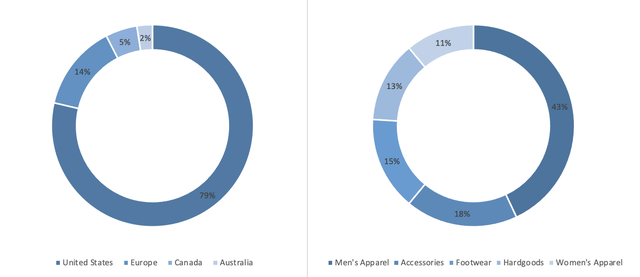 Costs
Regrettably, Zumiez opts for a consolidated approach in reporting its costs, bundling them into two main categories: Costs of Goods Sold and Selling, General, and Administrative Expenses. COGS primarily encompasses expenditures related to purchasing, shipping, and store occupancy, whereas SG&A is predominantly composed of wages and various other store-related costs.
The business model exhibits a degree of "leverage" since numerous operational expenses, such as rent and staff salaries, are either fixed or semi-fixed. Consequently, this dynamic has contributed to the company's Operating Margin shrinking to 0.8% on a Last Twelve Months basis, a notable decline from its 10-year average of 7.8%.
Margins at Zumiez have descended to a 20-year low due to several interrelated factors. The cyclical nature of Zumiez's business renders it sensitive to economic fluctuations. The confluence of increased interest rates and diminished consumer confidence has posed significant challenges for the company. The skate and hip style market often relies on a certain level of cultural and economic vibrancy, and when confidence is low, it can affect the overall enthusiasm for these lifestyle products. Additionally, this demographic may be more discerning in their purchasing decisions, and even discounts might not be as effective if the underlying economic uncertainty is strong.
Moreover, akin to many competitors, Zumiez accumulated substantial inventories during the buying surge following consumer lockdowns prompted by COVID-19. The necessity to realign these inventories with market demand has compelled the company to engage in discounting, adversely impacting margins as they strive to return to optimal levels.
It's crucial to highlight that Zumiez is not isolated in facing margin pressures; rather, this challenge extends across the industry. Competitors, including Tilly's (TLYS), Genesco (GCO), and Foot Locker (FL), are also grappling with similar margin challenges. This broader trend suggests that external market forces or industry dynamics, rather than company-specific factors, may be influencing the overall compression of margins within the retail landscape.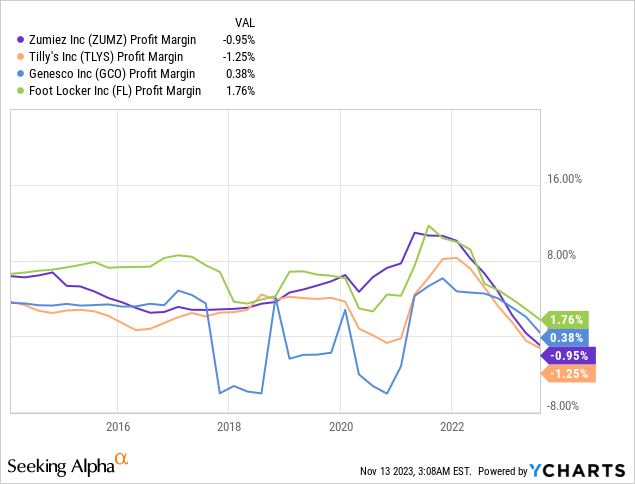 Management
Zumiez boasts a steadfast and experienced leadership team that instills confidence in the company's direction. CEO Richard Brooks, with a tenure since 2000, brings a wealth of knowledge and continuity to the helm. Christopher Work, serving as CFO since 2007, contributes a substantial history with the company. Additionally, Chairman Thomas Campion, a founder, adds a unique perspective, having been a guiding force throughout the business's growth story over the last two decades. This enduring and dedicated management team inspires belief in the company's vision and trajectory.
Ownership
Richard Brooks, the CEO, holds a substantial 13.5% of the outstanding shares, showcasing a significant personal investment in Zumiez. Likewise, Thomas Campion, the Chairman and founder, owns approximately 5% of the outstanding shares, further underlining his commitment to the company.
Insiders Purchases
The fact that three insiders made substantial purchases of approximately 90,000 shares in June, at around $15 each, is indeed noteworthy. These transactions collectively represent an acquisition of almost 0.5% of the outstanding shares. Such significant insider purchases not only underscore the insiders' confidence in Zumiez's future but also serve as a positive indicator for external investors, suggesting a shared belief among those intimately involved in the company's operations.
Growth Potential
Zumiez's consistent 3% revenue Compound Annual Growth Rate over the last decade is indicative of a steady trajectory. Notably, the company has substantially expanded its physical footprint, growing from 500 Zumiez stores in 2013 to 758 at present. In their most recent 10-K report, Zumiez outlined their continued expansion efforts, adding 32 new stores in fiscal 2022. This expansion includes 16 new stores in North America, 12 Blue Tomato stores in Europe, and 4 Fast Times stores in Australia. The company expressed confidence in ongoing international expansion, identifying meaningful opportunities in both existing and untapped markets.
It's a savvy observation that Zumiez may have reached store capacity maturity in North America, prompting a strategic shift towards further expansion in Europe and Australia. A revenue growth model, indicating a potential 2% annual growth based on historical comparisons with similar companies, aligns with a defensive estimate. However, considering the industry's anticipated growth rate of 2.8% from 2023-2028, as projected by Statista, it suggests that 2% might indeed be a conservative estimate.
Additionally, the prospect of leveraging Zumiez's cash position for potential acquisitions adds an intriguing dynamic. Such strategic moves could potentially propel the company beyond the 2% growth estimate, opening avenues for even higher growth in the evolving retail landscape.
Competitors
It's reassuring to note that Zumiez is holding its ground well compared to peers, with only Foot Locker boasting a higher 5-year average Operating Margin and Return on Invested Capital. The fact that Zumiez's challenges are not unique to the company but rather a reflection of industry-wide dynamics provides a context for understanding the current squeeze. In a scenario where competitors are also grappling with similar difficulties, it alleviates concerns that the challenges faced by Zumiez are internally driven. The industry-wide context suggests that external factors are at play, and Zumiez's performance remains resilient in comparison.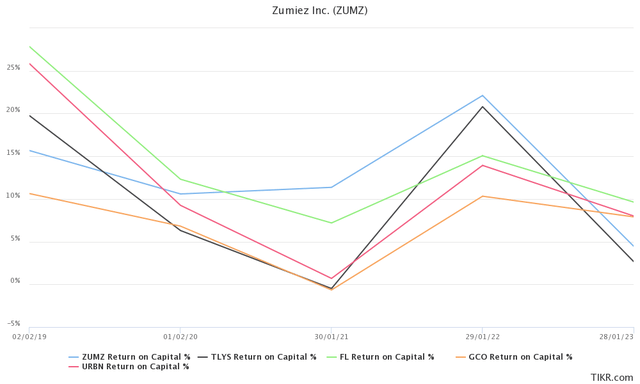 The potential risk of people substituting "hip" clothes for alternative means of self-expression is a valid consideration in the dynamic fashion industry. However, the growing significance of looks, fueled by the influence of social media, adds an interesting counterpoint. In the age of social media, where visual expression is paramount, the demand for fashionable and "hip" clothing may even see an uptick. The visual nature of platforms like Instagram and TikTok suggests that looks are likely to retain, if not increase, their importance as a means of personal expression.
Valuation
If Zumiez can recapture its historical margins, aligning with the 10-year average Operating Margin of 7.8%, and achieve a return to $1 billion in sales, the resulting EV/EBIT at the current market cap would be 5.9. Considering the average EV/EBIT since the implementation of IFRS-16 (from Zumiez's reporting on 5/4/2019 onwards) is 9.2, this implies a potential 55% upside. This assessment provides a clear and optimistic perspective, suggesting a substantial growth opportunity if Zumiez can revert to its historical performance metrics.
DCF
In my analysis, assuming Zumiez can return to the Free Cash Flow levels of previous years and factoring in potential adjustments for industry cyclicality, I arrive at a share price estimate of $96. To refine this further and account for the cyclicality more precisely, I take into consideration the alternating nature of growth and decline in the industry. Consequently, I adjusted the share price by dividing it by 2, resulting in a revised price per share of $48. This adjusted figure represents a 320% increase, providing a more nuanced understanding of how industry cyclicality might impact Zumiez's share performance.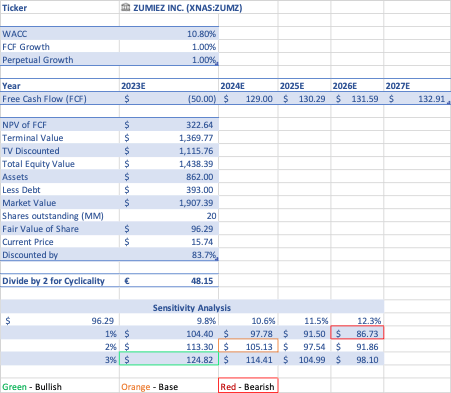 Risks
Regulatory risks appear minimal, with only a slight concern related to minimum wages. Mitigating supplier risks by selling various brands is a smart strategy that prevents dependence on any single entity. While mall locations present challenges in bargaining, they don't pose significant risks. The diversity of Zumiez's customer base is a strength, but the company is exposed to economic downturns due to the expensive and non-essential nature of its products, coupled with cyclical market trends. Despite these challenges, Zumiez exhibits financial resilience with no debt and a substantial cash position, acting as a robust buffer against operational headwinds.
Conclusion
I see Zumiez going through what I believe is a temporary rough patch. It seems to me that the market is focused more on the next quarterly update rather than the company's long-term value. In the retail landscape, competition risk is a significant factor for any player. Yet, Zumiez, with its substantial experience and success, has stood its ground by doubling down on its target audience. Given its 2% growth and the potential for over 50% upside, if profit margins and historical valuations rebound, I find Zumiez to be an attractive investment at its current price level.