PENN Entertainment, Inc. (NASDAQ:PENN) sent shockwaves through the industry by signing a 10-year, $1.5 billion deal to create an ESPN-branded sportsbook in August. Shortly after, I laid out the back-of-the-envelope case for PENN stock to soar from roughly $25 per share to $134 in the coming years. The market resoundingly disagreed, with frustrated investors continuing to dump their PENN stock, driving the shares into the teens. The ESPN Bet sportsbook launched this week, and the numbers are in. ESPN Bet is topping the iOS app charts, with 865,000 downloads in the first ~6 days. Investors are starting to see the light, with PENN quickly surging to $26 per share off of this fall's lows. PENN took a ton of heat from investors over their Barstool deal, but their efforts are now looking like they'll be rewarded.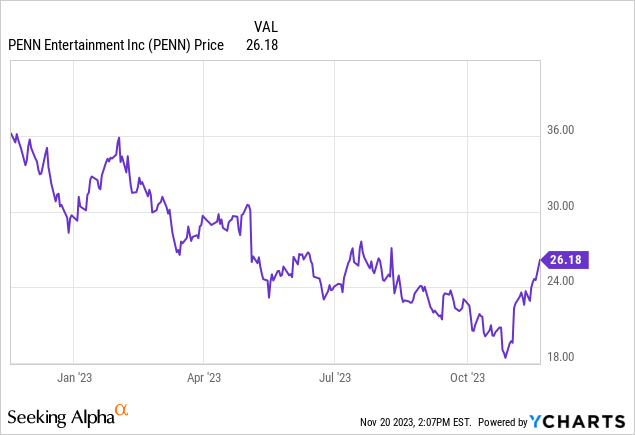 Could Tonight Be The Most-Watched MNF Game In History?
PENN's success came even before tonight's marquee Monday Night Football ("MNF") matchup between the Philadelphia Eagles and the Kansas City Chiefs (KC -2.5), broadcast on ESPN. Penn's launch timing could literally not be any better. I'd expect some big-time promos on tonight's game, which should drive the total signups well over 1 million. As an aside, I expect tonight's Monday Night Football game to match or exceed the all-time viewership record of 22.6 million viewers, set in this year's week 1 matchup between the New York Jets and the Buffalo Bills (the game Aaron Rodgers blew out his knee). 20-25 million viewers for the game plus a signup bonus, and the potential is there for a massive amount of signups tonight and in the coming days, and quite possibly more than 1 million this week.
Much of PENN's public competition is exhausted from spending "free" venture capital money to gain unprofitable market share. PENN, on the other hand, has cash flow from established casinos and can come into the market nearly unopposed with this rebranding. Sports betting has always held promise for investors, but many have been disappointed. The initial signups for ESPN Bet show that this time is for real. ESPN has the potential to bring in many millions of sports betting customers over time for PENN, ranging the entire spectrum from casual bettors to heavy action players.
PENN's Sports Betting Legalization Campaign Is Ongoing
Here's my map of where ESPN Bet would be legal from August.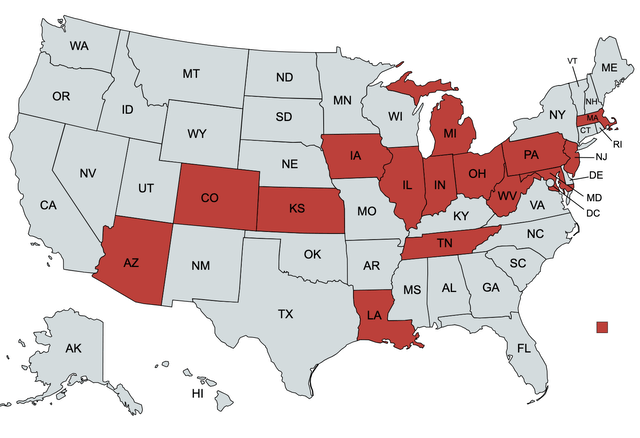 And here's where they're legal now.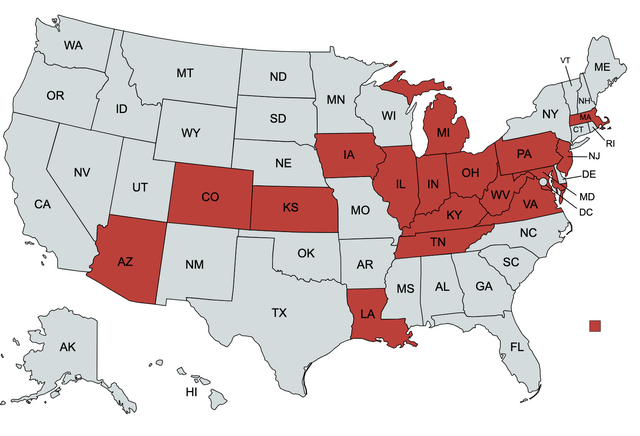 In the past 3 months, PENN has picked up licenses for Kentucky, and Virginia. They're still working on New York and Connecticut– for those states there are several operators that have exited the market, so they'll inevitably sell out eventually. Maine should be live shortly as well. New Hampshire effectively gave DraftKings (DKNG) a monopoly, though that may change. I expect Vermont and North Carolina are expected to go live sometime early next year.
Texas and California combine for close to 1/5 of the total U.S. population, but sports betting is off the table there for political reasons ($$$). Florida gave a monopoly to the Seminole Tribe, spawning endless lawsuits. This may change in the future as well, but will stand for now.
This illustrates the challenge of doing business in the U.S. – each state is its own individual kingdom in many ways. But PENN is doing much better than it looks here– there are over 50 million people who live somewhere between Northern Virginia and Boston. Filling in states in the Midwest and West who are willing to play ball helps as well. When PENN gets New York and Connecticut online, they'll be cruising. While Texas and California will take years to come online, when they eventually do, impatient analysts will have to update their models for another ~70 million people who can bet on ESPN Bet.
Bottom Line: PENN Is In Business
If app signups surge after tonight's MNF game, ESPN Bet may appear to be an overnight success story, but it's underpinned by a ground game of getting legalized in dozens of states. If PENN can continue to execute on the operational/legal side, ESPN Bet has the potential to be a billion-dollar annual business or more. The legal sports betting market is likely to grow, and PENN should be able to grab some market share from competitors like DraftKings and FanDuel (OTCPK:PDYPY). PENN stock had effectively priced the sportsbook at zero, and the company retains heavy interest from short sellers, many of whom might be reconsidering their bets against the company with red-hot consumer interest in sports betting.
In light of these new developments, I reiterate my strong buy call on PENN stock, and my buy call on PENN's spinoff, Gaming and Leisure Properties (GLPI), which owns much of the real estate under PENN's casinos. With ESPN BET likely to be a hit, investors in GLPI have little to fear about PENN's ability to keep paying rent. $134 per share for PENN is my price target, assuming they execute properly and can get 80% or more of U.S. states by population legal in the next 5 years. PENN will need to execute properly to achieve this, but so far the new venture is off to a great start.
Editor's Note: This article discusses one or more securities that do not trade on a major U.S. exchange. Please be aware of the risks associated with these stocks.