Introduction
Digital humans are a new concept that looks likely to become a $200 billion market before the end of the decade. It is a transformative example of a use case for AI and looks set to revolutionize how we connect with companies and service providers. The providers of this technology will share the spoils, and I think the big winner will be Meta Platforms, Inc. (NASDAQ:META). It already has a proven business model for this tech and has invested more money than its competitors to advance its offerings in this field.
AI is developing quickly, and with it comes numerous new business opportunities. It is essential to analyze these opportunities separately and determine what they might mean to individual companies. In this article, I will look at digital humans and what they might mean for Meta.
In a previous article, I examined what AI search might mean for Alphabet (GOOG) and Microsoft (MSFT). I refer to that article several times in this one, and the ideas in that article have since been somewhat verified by a Bank of America research note.
What is a Digital Human?
There is no exact and accepted definition of a Digital Human; for this article, I will use the description from the research firm Gartner, endorsed by UneeQ, one of the potential players in the market. I use Gartner often in my research; if you are interested in disruptive technology, they provide an excellent framework for monitoring progress.
Gartner describes digital humans as follows.
"Digital humans are interactive, AI-driven representations that have some of the characteristics, personality, knowledge, and mindset of a human."
I would add appearance to this list; I think appearance will be essential to develop the use cases as 'the face' of a business. The image below is the digital human on the Uneeq website.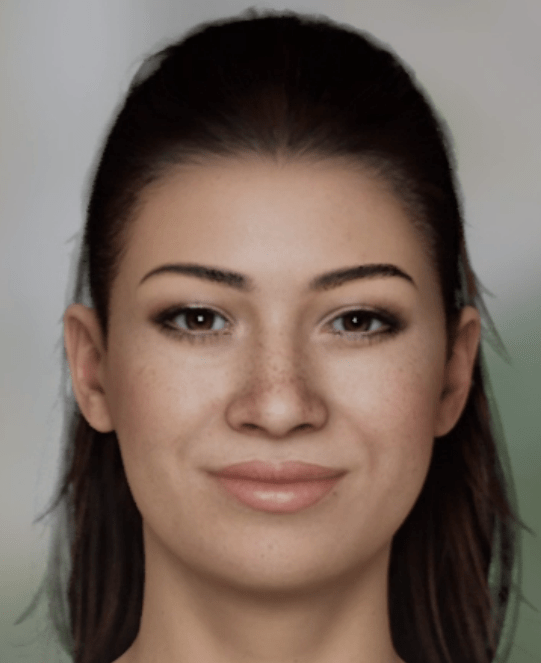 She speaks and moves in a human-like way, moves her head as she talks, flicks her hair, rolls her eyes, and even scratches her nose (I use she and her, but pronouns are becoming a nightmare; perhaps I should use they or it. It looks like a girl and sounds like a girl so I will use her). This version (free to try on the UneeQ website) only reads text but answers with voice; she is pretty convincing and far better than talking with chatbots that pop up at the bottom of websites. You have a dialogue with this person/program rather than receiving a monologue of pre-programmed answers. She uses AI to answer questions and follow the conversation.
The primary use case for this tech is as a contact point; they could be an online receptionist or a brand ambassador on Instagram. They are likely to revolutionize the concept of a sales team as they can spend endless amounts of time with potential customers analyzing their needs, allowing them to make a purchasing decision slowly. The customer will have explored the product in depth with an expert who knows everything there is to know about a product, is constantly up to date, and never makes a human error.
How Big is the Market
Forecasting future market size is best left to experts; it is beyond my skill set. I found nine research companies that have published reports on the future of this market. Their key findings are in this table.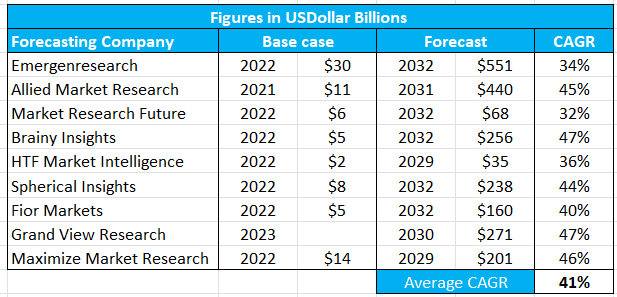 Despite the difference in market size, they have remarkably similar growth rates ranging from 32% to 47% CAGR, averaging 41%. That is a staggeringly high figure. To put the 41% figure into context, cloud computing is forecast to have a CAGR of 17%, and electric vehicles 16%. Digital Humans will likely be the fastest-growing market of the next decade, representing an opportunity of immense size.
The variation in forecasts for market size from $35 billion to $551 billion is primarily explained by the research companies' differing definitions of what a digital human is and what potential markets they have looked at. The very small forecasts are closely related to chatbots, and the more extensive forecasts see the technology entering various markets, including health care and government services.
The same relative difference shows up for the base case year.
The average market size forecast is $246 billion. In context, the current market for the sale of mobile phones worldwide is around $209 billion, and only three companies (Apple $274b, Toyota $256b, and Volkswagen $253b) had a turnover of more than this in 2022, it is twice the size of Meta's 2022 revenue. It will be an astonishingly large business by the turn of the next decade, and as a result, some companies will make huge gains.
The Competition
The same nine research companies I used to estimate the market size also presented a list of the key competitors in this field. I have highlighted Microsoft and Meta in yellow.

The table has a few points that I want to highlight.
Meta and Microsoft appear 14 times.
Google (GOOG) appears only once in the list. The previous article discusses how Google appears to have missed out on the early development of AI, putting its search revenue at risk. A similar story seems to be playing out here.
Apple (AAPL) and Amazon (AMZN) are absent from the list, this is a surprise.
Two names you may not have heard of Soul Machines and Uneeq are worth a mention; they appear 12 times on the list. Both companies are private start-ups based in New Zealand, a country not known for its IT dominance. Soul Machines series B funding round received investments from Liberty Capital, Salesforce (CRM), and SoftBank (OTCPK:SFTBY), raising $100 million. Uneeq raised $10 million from three venture capital firms. They are apparent takeover targets for the big names on the list if they progress or a good investment if they come to the markets.
Microsoft and Meta appear 14 times in total and will likely capture the lion's market share. I believe Meta will capture more of this market than Microsoft and become the market leader.
Why Meta?
In the latest earnings report (Q3 2023), Meta discussed its ongoing and substantial investment in the Metaverse and related business use cases. I think the investment and the business cases give Meta a significant advantage in the digital human space, allowing it to capture a substantial share of this $200 billion market and make it the market leader for digital humans. First-mover advantage is always valuable as is proven technology and an existing market, Meta has all of this and then some.
The CEO discussed the market and use case in his prepared remarks. He said:
Business messaging also continues to grow across our services and I believe will be the next major pillar of our business. There are more than 600 million conversations between people and businesses every day on our platforms. To give you a sense of what this could look like when it's scaled globally, every week now, more than 60% of people on WhatsApp in India message a business app account. Revenue from click to message ads in India has doubled year-over-year.
The discussion between people and business is a crucial use case for digital humans, and with 600 million conversations a year already taking place, the cost savings of using digital humans to have these conversations will become a clear future business driver.
The Meta CEO also said, "But in lots of parts of the world, the cost of labor is too expensive for this to be viable"
If 60% of WhatsApp users were to message a business in the US, that would represent messages from 58 million people weekly. That is a colossal figure and well beyond the capacity of physical humans. Those 58 million people will continue to message the business from which they get a prompt, knowledgeable reply. A digital human would provide a near-perfect response promptly and look like an actual human in a voice chat.
Digital humans will bring the digital and physical worlds closer and enable a new type of business interaction. Zuckerberg imagines that this will happen in the Metaverse. If you imagine the Metaverse as a loose connection of people and organizations more like WhatsApp than a new gaming world, I think he could be right.
An example of this loose Metaverse would be calling your local plumber, doctor, florist, or mechanic and conversing with a human who resolves your query. Whether that human is digital or physical will probably not matter as long as the question is dealt with correctly, which is more likely if the human is digital because they don't make human errors. Digital Humans can't fix your car, but they can book a time for you to bring it into the garage and ensure they have the parts and mechanics on site when you arrive. They could call you to make sure the time is still okay and check back sometime later to ensure you are happy.
Instagram, Facebook, and WhatsApp will be enormous users (or homes) for Digital Humans; companies can have a digital brand ambassador, a digital receptionist, a technician, an accounts clerk, and an advisor.
The Impact on Meta
I believe it is likely that Meta will capture more than 25% of this market, an additional $61 billion in revenue. Meta has a turnover of $126 billion, implying that this new market represents a 50% increase for Meta in the next six years.
Meta currently delivers its digital products with a gross margin of 80%, suggesting an additional $49 billion in gross margin and $14 billion in net profit annually. A PE ratio of 28.4 (Meta 2022) increases equity by $397 billion. (that's nearly 50% in 6 years just from this new revenue stream alone)
The Cost of R and D
This article covers one element of the potential rewards from Meta's investment in the Metaverse. In the latest earnings call, the CFO detailed this investment. Meta calls this segment Reality Labs, and Spending in this area was $4 billion last quarter, but the actual costs of this are not clear as there is an obvious crossover between the other areas of Meta.
In the Q and A section, the CFO said:
Now as you alluded to, Reality Labs is working to build the future of online interactions. And we do expect you'll see some interesting ways that translate into work with the Family of Apps in the near term. For example, with avatars, you've already seen 1 billion avatars created so far.
Avatars are a basic example of digital humans. They are already beginning to drive revenue in the Family of Apps segment, and there must be additional spending in that area to deliver the product.
The CEO said that Meta was redeploying people from the non-AI segment to the AI segment, and because of the pivot towards this area, they have a hiring backlog, so we can expect to see further cost increases related to the AI push.
Conclusion
The market for digital humans has a forecast CAGR of over 40%, making it one of the fastest-growing markets in the world.
By 2030, the market is expected to be larger than the current market for mobile phones and very similar to the current demand for Web Services.
Meta is investing a lot of money in this area, probably more than any other company. Meta has already developed a significant business use case and is pivoting its R&D towards AI as time progresses. Some other leading IT companies appear not to be making significant inroads into this market, reducing the likely competition for META.
This market will likely increase Meta's revenue by 50% and increase the value of Meta by nearly $400 billion.
AI will change commerce forever, and some companies seem better placed than others to make the most of this opportunity.
I have recently reduced my holding of Apple and bought additional shares in Meta.