Investment Summary
Liberty Latin America (NASDAQ:LILA) posted its Q3 numbers last week with mixed results at the top and bottom lines. The land and subsea telecommunications provider saw revenues shrink ~7.5% YoY and but grew pre-tax earnings by 10% over the year. Management made no changes to guidance and outlined its intention to strengthen the balance sheet and free cash flow going forward. Based on the critical facts, the investment facts pattern is as follows:
LILA is investing in key areas, including strategic/distressed assets to bolster its balance sheet and earnings quality,
The company's Q3 numbers were mixed, with headwinds at the top line,
This was balanced by performance in core segments,
Valuations are cheap but I question whether (i) these represent a statistical discount, or (ii) represent a low valuation on the company's core assets.
Net-net, my judgement on LILA is mixed at this point. There are identifiable catalysts on the horizon, and I would prefer to let these play out before pulling the trigger on this name, to potentially capture the valuation re-rating. In that vein, I rate LILA a hold across all 3 investment horizons.
Figure 1. LILA long-term price evolution, breaking '23 trend line since September.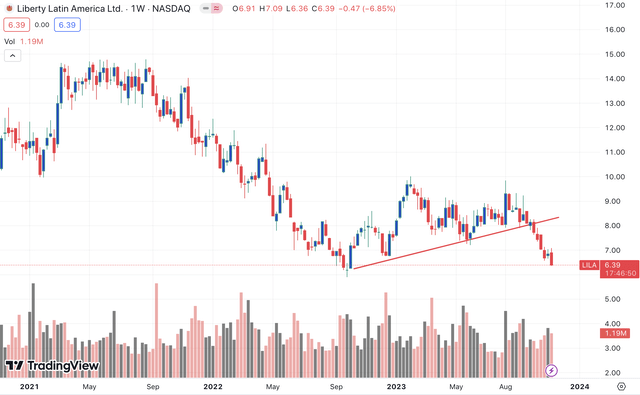 Q3 earnings insights
Breakdown of core financials
Results were mixed for LILA given it had de-consolidated reporting segments from 2022 into 2023. Still, it put up top-line sales of $1.13Bn, down ~7.5% YoY, on adj. OIBDA of $428mm (up 10%) and operating income of $163mm, also up 7%. Operating growth was underscored by a number of factors, including:
Adding 52,000 subscribers to its broadband and postpaid mobile base,
Integration to Panama and Puerto Rico advancing, with LILA migrating 35,000 customers or 25% of the base in Puerto Rico,
Growth of 8% and 7% in its fixed and business to business ("B2B") divisions in Panama.
LIL continued its investment in core infrastructure during the quarter as well. CapEx as a percentage of revenue came to ~15%, in line with the target of ~16%. It upgraded 94,000 homes during the quarter on a $192mm P&E investment. After all investment, it booked FCF of $31mm net of distributions to its non-controlling partners (it printed $72mm in FCF gross of said distributions).
The company also repurchased $132mm of its stock and convertible notes during the period, bringing total stock repurchases alone for the YTD to $82mm. It left the quarter with $8Bn in debt on the balance sheet, with just over $600mm in cash and another $1Bn in liquidity, producing 4.3x leverage. I'd also note that 95% of its debt is set to mature in 2027 and is locked at fixed at 6.5%, so there's no major debt to retire in the next 2 years.
Divisional growth shared amongst segments
As to the divisional takeouts, there were many across LILA's core operations. To name a few:
It's Caribbean segment did $60mm of business in Q3, flat YoY, on adj. OIBDA of $150mm. Operating growth was underlined by residential mobile sales, helped by lower programming and other direct costs. It added 20,000 internet and postpaid subscriptions during the quarter.
The cable + wireless business in Panama booked 10% growth in sales to $190mm on a 25% YoY growth in OIBDA to c.$58mm. B2B and fixed residential customers were the major levers in this segment as mentioned earlier, and were bolstered by the firm's Claro Panama integration.
It put up $112mm of revenues in its Liberty Networks division, up 9% YoY. It clipped 9% OIBDA growth on this to $64mm. Growth was underscored by the performance of its enterprise connectivity. OIBDA margins were at ~60% for the quarter, and it printed FCF at 50% of segment sales as well—both healthy cash flow numbers. In Puerto Rico, it has also added 29,000 subscribers in the last 12 months, and migrated around 225,000 customers to its LPR IT platform.
Finally, its Costa Rica operations were up 23% to c.$135mm in sales and $50mm OIBDA. This stemmed from lower ARPU and FX headwind.
Figure 2. LILA APRU per customer relationship, Sequential Q2—Q3 2023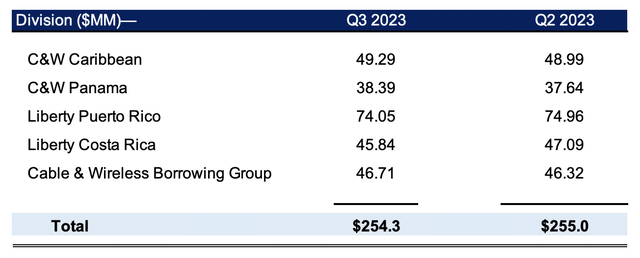 Management retained its guidance of "mid-to-high single digit rebased growth" of OIBDA and is targeting around $300mm in FCF before distributions. This would come after a tangible investment of ~16% of revenues, in line with prior estimates.
Critically, however, the company did note that migration delays in its Puerto Rico operations may impact OpEx and ancillary costs, ultimately reducing working capital as the company will need to "carry significantly higher mobile handset inventory in order to drive sales across both the AT&T systems and our new systems". I would be watching the company's operating lines very closely at its FY'23 numbers to gauge what impact this will have. We don't want a situation where the inventories on hand aren't carried through to additional sales/cash flows, plus, we don't want the $300mm FCF estimate to be impacted either. So watch this line closely in the next set of numbers.
Catalysts to watch out for moving forward
There are a few notable catalysts to keep an eye on for the remainder of this year and early into next.
One, the company's integration + migration of mobile subscribers in Puerto Rico and the USVI. As mentioned earlier, it has already migrated around 225,000 subscribers. However, it has also launched pre-paid products, which is a bullish fact. I would now be looking to post-paid, which management said is starting to ratchet up with iPhone 15 sales ~50% above iPhone 14 shipments already. My estimate is that it will sell a bundled package next year, based on language on the call, so the fixed services revenue growth is laying the bedrock for this.
Two, LILA is set to acquire 100MHz of spectrum assets in Puerto Rico and the USVI, along with c.120,000 Boost subscribers, from DISH Network, which is set to lay off >500 employees in Colorado, as the company took a nearly $1Bn hit to revenues and 66% haircut to earnings in the 12 months to Q3 '23. This could be a strategic move taking advantage of distressed assets with high quality cash flows attached.
I would be watching the impact of these two factors very closely for the remainder of the year and into '24 as mentioned. The purchase of DISH Network's spectrum assets + subscribers could be a meaningful catalyst to the company's operating lines going forward should they be integrated successfully. This would add further momentum to its Puerto Rico footprint and could prove to be the difference between LILA and other telecom providers in the region.
Valuation and conclusion
Despite a sharp selloff H2 '23, the company still sells at 17.4x forward EBIT and 34x forward earnings. These are premiums of 13.5% and 120% to the sector, respectively.
As a balancing factor, the company also sells at 0.75x its book value. That means, for its trailing ROE of ~11%, the investor ROE is 15%, which is quite attractive in this current environment. That also means we get a decent share of the balance sheet at a very respectable price:
TTM earnings of ~$270mm, Q3 shareholder equity at $2.43Bn
ROE therefore 11.1% (270/2,428 = 11.1%)
Investors paying 0.75x (75% of) book value or (2,428×0.75 = $1,821)
Therefore, investor ROE = (270/1,821 = 12.83%).
We are also getting a 58% cash flow yield in buying LILA as I write given the compressed market values. Hence there is scope for the company to be priced higher over the coming 12 months. The problem being that, when weighing in all the factors, the prospects of this occurring may be limited. The quant system supports this view by objectively rating LILA on a composite of factors (Figure 3).
Figure 3.

In short, there are mixed economic factors in the LILA investment debate that suggest it is a hold for now. For one, the growth outlook is flat for the company, given a combination of setbacks and macroeconomic hurdles. But LILA is investing in key areas, and using capital wisely to acquire strategic/distressed assets to bolster its balance sheet. Valuations are also cheap, but I question whether this is a statistical discount or if the market's view is correct. Q3 numbers were equally as mixed, and I would prefer to wait on the catalysts discussed to eventuate before making my final judgement. In that vein, I rate LILA a hold.
Editor's Note: This article discusses one or more securities that do not trade on a major U.S. exchange. Please be aware of the risks associated with these stocks.