Despite beating both revenue and non-GAAP EPS expectations in the third quarter of 2023 (Q3), Lattice Semiconductor (NASDAQ:LSCC) shares fell by nearly $13 in the immediate aftermath of the result announcement as pictured below. This adverse market reaction comes despite revenues growing by 11.4% YoY to $192.17 million.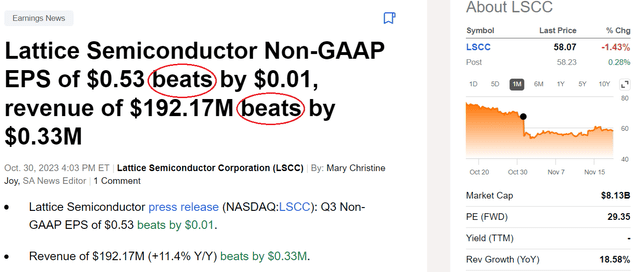 As to the main reason for the drop, it was the lower topline guidance for the fourth quarter (Q4) of $176 million (mid-point), or much lower than the consensus of $195.66 million estimated by analysts. Thus, the objective of this thesis is to dig deeper into the reasons for this downside with the intent of assessing whether the stock which now trades at a Price-to-Sales multiple discount of 12% relative to its the five year average constitute a long term buying opportunity.
I start by highlighting the pain points it is currently facing.
Growth over a Longer Period
First, looking at the historical perspective in the chart below, its revenue while having expanded by double-digit figures in Q4, is growing at a pace that is far below the 2021-2022 highs of above 30%.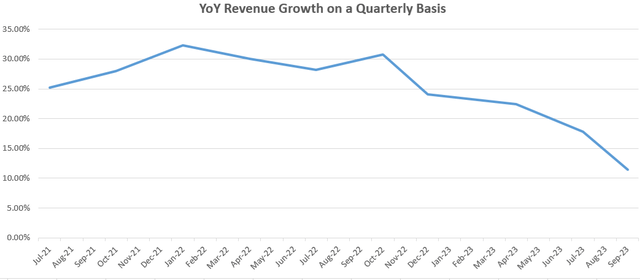 Now, when a company's revenues expand successively for a number of years as is the case with Lattice, it means that it is still gaining market share, but at a more moderate pace, which could be because the market itself is not expanding as before. This is actually the case with both the automotive and industrial sectors suffering from a softening of demand, especially in Asia from where the company derived 60% of its revenues for the first nine months of this year as shown in the table below.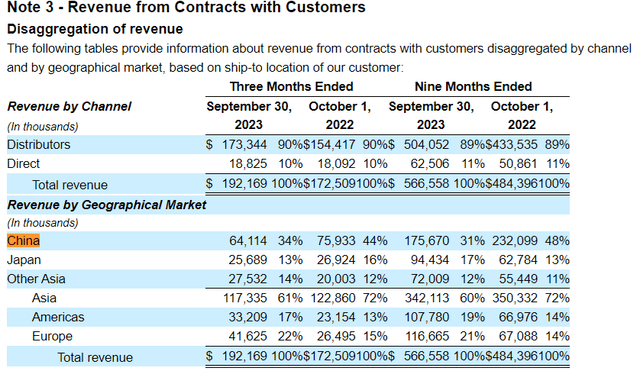 This 60% is further split between China (31%), Japan (17%), and other Asian countries (12%). Now, there is been a slight pickup in industrial activity in China for October, but Japan's growth remains much weaker than expected. On top, Europe where the company had a 21% exposure is facing the prospects of a regression in industrial production, and, as per the CEO, the expectation is for the demand weakness to extend into the old continent as well.
Switching to the communications and computing businesses, while sales were up sequentially, they still suffered on a YoY basis, again due to unfavorable macros. There are some prospects with utilization of the company's products in data center servers, namely for AI-optimized applications. This is in addition to more general-purpose use cases but as per the management, these will be offset by weaker 5G-related demand.
Therefore, amid this rather gloomy outlook, the next step is to look into product strength for this pure play FPGA (Field Programmable Gate Array) company while not forgetting the competitive landscape.
The FPGA Product and Competition
For investors, FPGAs are semiconductors but differentiate themselves from normal microchips with their ability to be programmed in the field or at the client's premises, instead of being manufactured for some specific applications in the factory. They are typically used by customers who do not have enough volume requirements to justify the production of ASIC (application-specific integrated circuit) chips. Moreover, FPGAs can be particularly appealing to non-tech businesses as they can be more easily reprogrammed over and over using software tools.
However, Lattice faces competition as evidenced by the YoY growth of its gross profits which have been trending lower as shown in the orange chart below. This shows that the company had to cut pricing, in view of weaker macros as detailed earlier and tends to show that Lattice does not necessarily benefit from an economic moat. Consequently, it has to provide discounts to make sure revenues keeps growing and customers do not switch to the competition.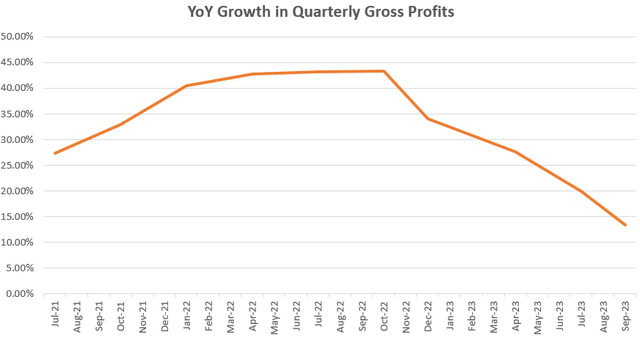 Looking at the industry, it faces competition from a number of companies. Out of these, two pure-play FPGA competitors, namely Xilinx and Altera have been acquired by Advanced Micro Devices (AMD) and Intel (INTC) respectively. Thus, after acquiring Altera back in 2015, Intel integrated and phased out the Altera brand, a move that did not work as intended and sales underperformed. More recently, Intel's CEO, Pat Gelsinger has opted to spin out the company, which means that it could be a stronger competitor to Lattice.
As for AMD, after completing the Xilinx acquisition in Feb 2022, it is in a strong position to drive FPGA growth as part of the AMD brand and its considerably larger scale of operations. For this purpose, if they have choice, customers may prefer to opt for AMD since they can buy a wider range of products including microprocessors, GPUs and FPGA, thereby increasing their chances of benefiting from volume discounts. Thus, in a context of inflationary pressures increasing the cost of doing business, companies can be willing to sacrifice some advanced product features in favor of a better price.
Uncertainty Prevails with further Downside Risks
Therefore, together with macroeconomic uncertainties, there is also competition to contend with. These may be the two factors analysts have based themselves when revising both revenue and EPS estimates downwards as illustrated below, on nine occasions during the last three months.

Moreover, the latest $742.83 million estimate for full year 2023's sales represents a downgrade from the $744.33 million estimated earlier. This implies that when Q4's results are announced around February 15 next year, the likelihood for Lattice to beat topline estimates is less. Worst, Q4's sales guidance of $176 million, if it materializes would represent zero growth compared to the same period last year.
Therefore, even if the Price-to-Sales of 10.76x is lower than the five year average by 12%, Lattice is not a buy currently as it could fall to its support level of $50, last reached in October and May last year. Thus, it is not the appropriate moment to invest. To further justify my pessimistic outlook, momentum indicators point to further downside. Thus, while the 10-Day moving average of $58.07 is higher than stock price ($57) could be pointing to a potential upside, this may only be temporary. The reason is that the 50-day and 100-day moving averages at $73 and $82 respectively are both much higher than the share price which tends to point to a downside.
Consequently, after the above-15% drop, some may be tempted to buy the dip but, there are demand issues both in Asia into Europe which signifies a high degree of uncertainty. In addition, for the Americas (including the U.S.) which accounted for 19% of the company's sales in the first nine months of 2023, there could be a pullback in Capex related to higher cost of capital.
Could be a Long-Term Buy at $50
Still, this remains a highly profitable stock whose balance sheet boasts more cash than debt. Moreover, looking at gross margins, these expanded to 70.6% for Q3-2023 on non-GAAP basis, and it is expected to reach 70.5%, plus or minus 1% in Q4. Now, in case Lattice is able to attain the high end of the estimate, this will mean margins of 71.5% again on a non-GAAP basis. This translates into a 0.9% sequential increase, which is entirely feasible given the steady progress made in quarterly gross margins since the July 2021 quarter as charted below. As per the management, this is thanks to a higher dose of software in the overall product mix, in addition to sales expansion. Thus, as a result of more cost efficiencies, the company could beat earnings estimates for the third quarter, but this is conditional to at least attaining the $176 million (mid-point) of sales guidance.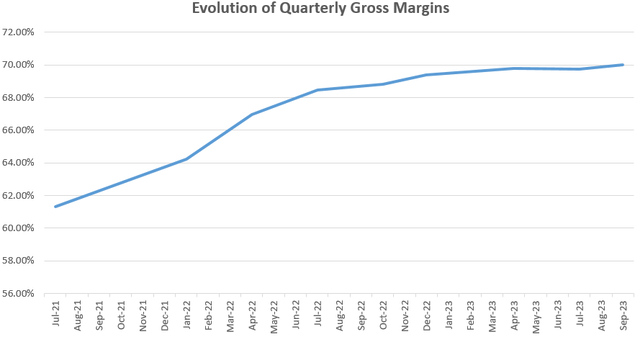 Now, the $50 level may constitute an opportunity for those wanting to position themselves for the longer term or adding to their existing investment through doing dollar cost averaging. In this respect, the launch of the Avant series encapsulating mid-range FPGAs now complements the company's existing Nexus product line.

This new line up has a larger footprint compared to Nexus, aims to bringing Lattice's power efficiency technology to a wider and more general purpose market. However, the revenue ramp is expected to start at year end, which would rather benefit full year 2024's income statement, a fact which is further reinforced by this product being launched amid economic uncertainty. To this end, an update as to Avant's pipeline can be obtained during the Lattice Developers Conference in December 5-7.
In conclusion, by going through demand and competition factors, this thesis has shown that Lattice's stock can drop further, especially when Q4's financial results are announced in February 2024. The main reason for this is the eventuality of facing zero growth or a stagnation of revenues. Therefore, the dip seen up to now does not constitute an opportunistic buy. On the other hand, depending on how the company is able to position its Avant product line in the FPGA market, long term investors on the lookout for a profitable stock with a healthy balance sheet can envisage an entry point around the $50 resistance level.