September 9th ended up being a rather unfortunate day for shareholders of satellite company Iridium Communications (NASDAQ:IRDM). After the market closed, shares of the business dropped over 7% in response to news that Qualcomm Technologies, a subsidiary of Qualcomm (QCOM) had decided to terminate its partnership with Iridium Communications involving what the management team at Iridium Communications describes as its D2D initiative. Shares ultimately ended up closing down on November 10th less than 4%, but this is a net negative for the company and one that will weigh on its long-term financial performance. But this does not stop the company, management said, from achieving rather significant growth throughout the rest of this decade. All things considered, Iridium Communications is still a very healthy company with attractive prospects. But even with shares falling in response to this development, I don't believe that now is a great time to buy into the firm.
A painful setback
In early January of this year, the management team at Iridium Communications issued a press release wherein it stated that the company had entered into an agreement with Qualcomm in order to enable satellite messaging and emergency services in smartphones moving forward. This technology would be powered by Snapdragon Mobile Platforms and would allow Qualcomm to support satellite services across a variety of smartphone brands. Conceptually, this idea is monumental since it would allow the company to provide its services across many different smartphone brands as opposed to having to partner up with individual smartphone producers.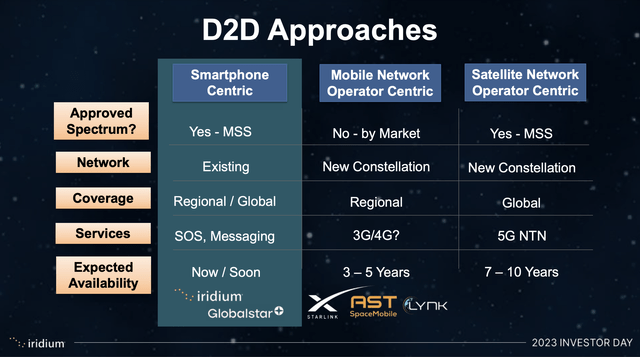 The ultimate goal behind this maneuver was to facilitate a move into the D2D, or direct-to-device, space. This market opportunity would allow smartphone connectivity from virtually any place on the planet. As opposed to exploring other avenues to make this work, partnering up with a company like Qualcomm would not require the production and launch of a new constellation of satellites. And it would only require a short window of time for development as opposed to the three to 10 years expected from other initiatives that would have the same end goal. Naturally, this would open up the door to significant additional revenue potential for the company and would support it as it aims to generate $1 billion a year in service revenue by 2030. To put that in perspective, last year, service revenue came in at $534.7 million and should hit $588 million this year.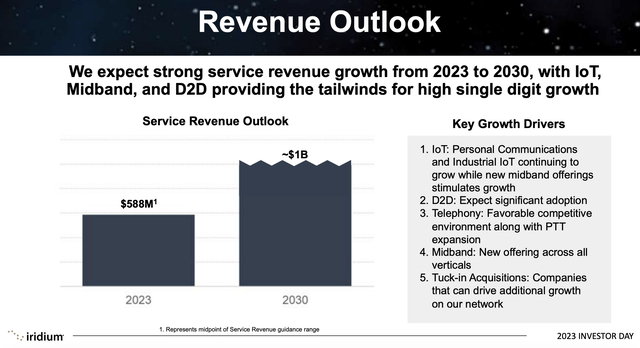 The press release issued on November 9th made clear that while Qualcomm decided not to go through with this partnership, the two companies had successfully developed and demonstrated that the technology could work. But current smartphone manufacturers have not included the technology in their devices and it remains to be seen if or when they ultimately will. More likely than not, the decision by companies not to include this is a cost one.
Beyond any doubt, the decision by Qualcomm not to proceed with the transaction is a net negative for Iridium Communications. But management is not deterred. In the same press release announcing that the deal had fallen through, management clarified that this would allow the firm to directly approach smartphone OEMs, chip makers, and smartphone operating system developers whom the company had previously been collaborating with. It also will look at pursuing new relationships with other such firms.

Most importantly, management does not believe that this will impact the company's targets, neither for this year nor for 2030. This year continues to see rather attractive performance. Consider the quarterly data just released by management. During the first nine months of the 2023 fiscal year, overall revenue came in at $596 million. That's 13.1% higher than the $527.2 million generated one year earlier. It is true that net profits went from positive $9.5 million to negative $22.6 million. And operating cash flow declined from $254.5 million to $227.1 million. On the other hand, other profitability metrics improved year over year. On an adjusted basis, operating cash flow expanded from $272.5 million to $277.2 million, while EBITDA for the company increased from $317 million to $349 million.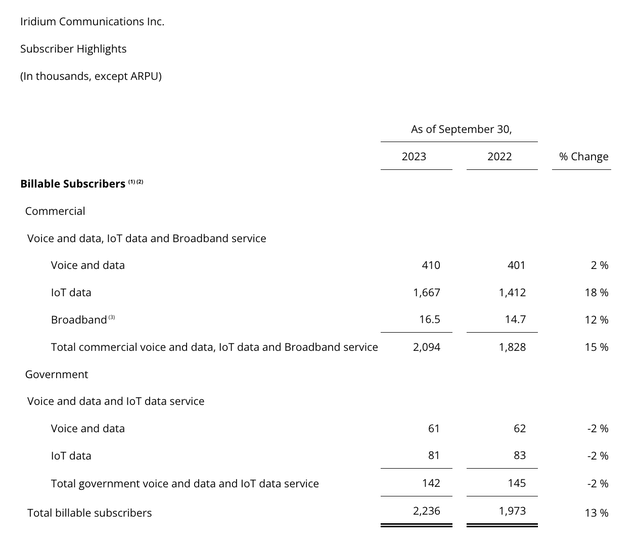 The company's growth has been driven by a couple of different factors. For instance, the total number of commercial voice and data, IoT data, and broadband service subscribers grew to 2.09 million by the end of the third quarter of this year. That is 14.6% higher than the 1.83 million reported at the same time last year. Because of a decline in government subscribers, total subscribers grew more modestly from 1.97 million to 2.24 million. That's a gain of 13.3%. Meanwhile, the firm has continued to benefit from an increase in ARPU. For the first nine months of this year, broadband ARPU came in at $305 per month. That's up from the $297 reported one year earlier. Although IoT data ARPU dropped from $7.92 to $7.49, voice and data ARPU increased from $41 to $45. Similar year-over-year changes can be seen when focused just on the third quarter alone as well.

For this year as a whole, management remains optimistic. Current guidance calls for service revenue to grow by around 10% year over year. When we factor in other sources of revenue, the company should handily surpass the $721 million in sales generated last year. When it comes to profitability, the expectation is for EBITDA of between $460 million and $465 million. That's up from the $424 million reported in the 2022 fiscal year. No other guidance was offered that was of a substantive nature. But based on my own estimates, we should see operating cash flow rise from $356 million last year to $381 million this year.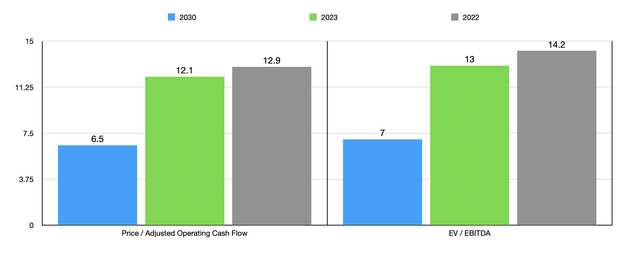 As I mentioned earlier in this article, management expects service revenue to grow to at least $1 billion by 2030. Estimates were not provided when it comes to other sources of revenue such as subscriber equipment sales and engineering and support services revenue. But if we assume that they will increase at the same rate that services revenue does, this would imply total revenue by 2030 of $1.35 billion. Assuming margins remain unchanged from last year, this would result in operating cash flow of $712.5 million and EBITDA totaling $865.9 million. This is great in and of itself and it implies a price to operating cash flow multiple for the company of 6.5 and an EV to EBITDA multiple of 7. By comparison, on a forward basis for this year, these multiples are 12.1 and 13, respectively.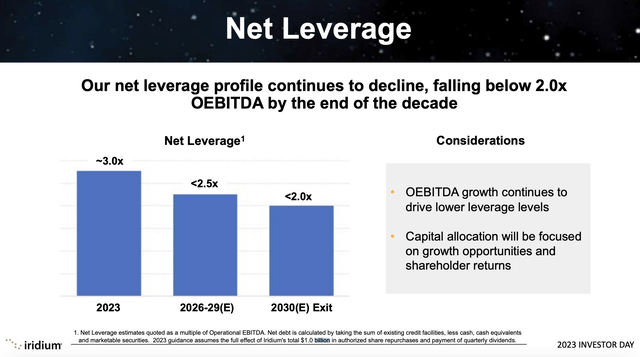 Naturally, if the company does achieve these targets, upside potential for shareholders can be material in the aggregate. However, I don't believe that now is an ideal time to invest. Let's assume that these estimates are correct and that management does not pay down debt any further. While the latter side of this assumption might seem unlikely given the extra cash flows the company is bringing in, management only indicated that the net leverage ratio of the business would be less than 2 by the end of 2030. We don't know what 'less than' truly means. But a reading of 1.9 would actually indicate a rise in net debt from current levels of $213 million. So it's clear that management will prioritize returning cash to shareholders instead.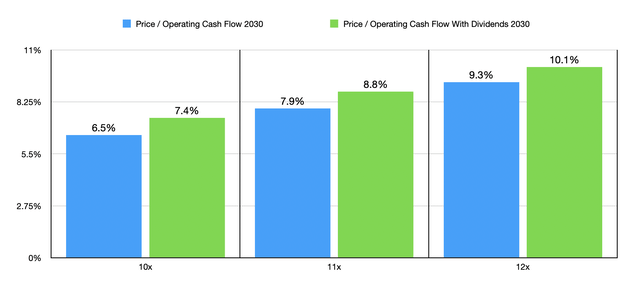 We don't truly know what fair value free company like this is. But we do know that the current valuation of the company is factoring in growth. Once that growth is achieved, it's unclear whether the market will continue to forecast additional growth for the enterprise. To be conservative, I would argue that we should assume a fair value of the company translating to price to operating cash flow multiples and EV to EBITDA multiples of between 10 and 12. In the chart above, you can see the implied annual upside that shares should experience between now and the end of 2030 if the company trades at those multiples at that time under the price to operating cash flow scenario, while the chart below shows the same thing for the EV to EBITDA scenario. With the business paying out a quarterly distribution of $0.13, that implies an additional $3.64 in payouts between now and then for an additional total return of 9.8%. At the upper end of the range, this upside is nice, but it doesn't even match what the broader market is likely to experience over the same window of time.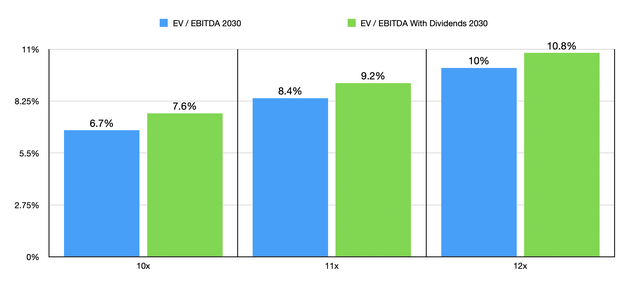 Takeaway
Conceptually, I am a big fan of Iridium Communications and what the company is trying to achieve. I have been writing about it on this platform since July of 2015. For most of that time, I was bullish about the company and from the 'buy' rating I labeled for the company all those years ago, shares are up 344.1% compared to the 108.8% seen by the S&P 500. Long term, I suspect that the company will continue to grow. But in my opinion, the market has gotten a bit over-excited about the company and its prospects. Shares were already looking a bit lofty prior to the recent decline that they have experienced. And even with that drop, achieving the targets set by management would result in upside that is likely inferior to what the broader market should see over the same window of time. Because of this, I have decided to keep the company rated a 'hold'. But if the stock drops further from here, I could change my mind.