Elevator Pitch
I still award a Buy rating to CSL Limited (OTCQX:CSLLY) [CSL:AU] shares. My earlier article written on September 4, 2023 touched on the possibility of CSL Limited delivering above-expectations results in the future.
In this latest write-up, I share my positive view of CSL Limited's future shareholder capital return and bottom line expansion. CSL Limited is likely to initiate a new share repurchase plan in the near future when it achieves its deleveraging target. On the other hand, CSL Limited is guiding for double-digit earnings growth for the intermediate term, as the company continues to invest in R&D (Research & Development) to strengthen its product portfolio. Therefore, I have chosen to keep my existing Buy rating for CSL Limited intact.
Readers should pay attention to the fact that CSL Limited's shares can be traded on the Over-The-Counter market and in Australia. CSL Limited's shares listed on the Australian Securities Exchange and the OTC market boast average daily trading values of $130 million and $8 million (source: S&P Capital IQ), respectively, for the last three months. There are stockbrokers in the US that allow investors to trade in the Australian stock market such as Interactive Brokers.
Insider Buying
In the later part of last month, CSL Limited filed an announcement disclosing that its independent non-executive director, Dr Megan Clark AC, had bought the company's shares.
Megan Clark has served on CSL's board for a reasonably long period of time, having first become a director in February 2016. Clark's latest insider share purchases send a positive signal about CSL's prospects, even though the actual amount spent on the recent acquisition of shares was modest at A$49,940 or $32,290.
The timing of Clark's share purchases is noteworthy. She bought shares in CSL Limited on October 20, 2023, which came after the company's Annual General Meeting and Capital Markets Day on October 11 and October 16, respectively. It would be reasonable to assume that CSL Limited shared key insights with shareholders and analysts at these two investor events that could have impressed Clark.
In the subsequent sections, I outline important takeaways from CSL Limited's 2023 Capital Markets Day and Annual General Meeting.
Shareholder Capital Return
CSL Limited has historically paid out between 40% and 45% of its earnings as dividends to the company's shareholders every year. Looking ahead, CSL appeared to have hinted at a potential increase in the amount of capital distributed to shareholders through share buybacks at the company's recent investor meetings.
At the 2023 Annual General Meeting (event transcript sourced from S&P Capital IQ) on October 11, CSL Limited emphasized that "we have always understood capital return is valuable to shareholders." Specifically, the company mentioned at its recent Annual General Meeting that if "we can achieve the excess capital we hope for" when "our balance sheet returns back to where we're comfortable", the company will consider returning capital to shareholders.
In its Capital Markets Day presentation slides, CSL indicated that it has set a goal to lower its net debt-to-EBITDA metric from the current 2.5 times to 2.0x by the end of fiscal 2024 (YE June 30). It is likely that CSL Limited could think of initiating a new share buyback plan when it achieves its targeted net leverage ratio.
Separately, CSL also stressed at its Capital Markets Day (event transcript taken from S&P Capital IQ) that "we regularly review our overall capital structure in line with our growth ambitions". The company also reminded attendees at this investor event that it previously had a "10-year program of share buybacks."
In 2015, CSL Limited had initiated its ninth share repurchase plan in the past decade (2006-2015). CSL Limited's management commentary at the recent Capital Markets Day suggests that there is a decent chance of CSL embarking on a new share buyback program in time to come.
Improved shareholder capital return via share repurchases might be a positive re-rating catalyst for CSL in the short to medium term.
Mid-Term Growth Expectations And Current Valuations
At the company's Capital Markets Day on October 16, CSL Limited guided that it "expects to deliver annual double-digit earnings (growth) over the medium term."
Key Drivers Of CSL Limited's Double-Digit Bottom Line Expansion For The Intermediate Term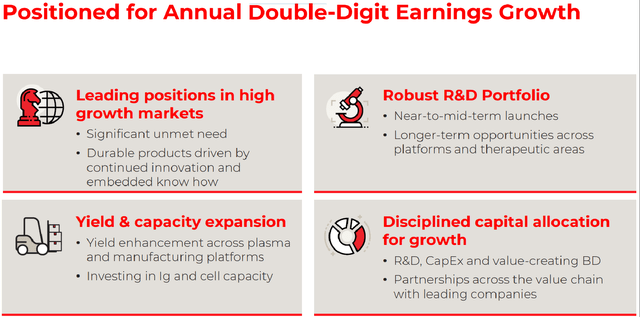 As indicated in the chart above, CSL has highlighted a number of drivers that will support its target of achieving a double-digit percentage increase in its yearly earnings going forward. In my opinion, it is CSL's commitment to R&D investment that will be the major factor that boosts its future bottom line. In specific terms, CSL reiterated at the Capital Markets Day that the company will continue to have annual R&D spending that is equivalent to 10%-11% of its top line.
As per historical financial data taken from S&P Capital IQ, CSL Limited's normalized EPS CAGR for the FY 2010-2023 was +9.4%. This implies that CSL should witness positive valuation re-rating, assuming that it manages to grow its earnings by a superior double-digit annualized rate in the intermediate term based on its Capital Markets Day target.
There is a lack of alignment between CSL's mid-term growth outlook and its current valuation metrics.
CSL Limited is now valued by the market at 27.2 times (source: S&P Capital IQ) consensus forward next twelve months' normalized P/E, which is -25% below its five-year mean P/E multiple of 36.6 times. In contrast, CSL is targeting to achieve a double-digit bottom line expansion rate for the mid-term, which is better than the company's historical FY 2010-2023 earnings CAGR as mentioned above.
Concluding Thoughts
A Buy rating for CSL Limited is maintained. I have favorable expectations of the company's future earnings growth and capital return, which aren't fully incorporated into the stock's below historical average valuations.
Editor's Note: This article discusses one or more securities that do not trade on a major U.S. exchange. Please be aware of the risks associated with these stocks.