Back in April, I placed a "Buy" on Chord (NASDAQ:CHRD), saying the stock was too cheap to ignore. I followed that up in August, saying the company still remained undervalued was an attractive oil-related investment. The stock has generated an over 23% return since my initial write-up, compared to a 10% gain for the S&P 500. With the company having reported Q2 results earlier this month, let's catch up on the name.
Q3 Results
For its most-recent quarter, CHRD recorded revenue of $1.2 billion, down -5.9% from a year ago. Oil, NGL, and gas revenue fell -20% to $840.6 million. Crude oil revenue dipped -6% to $776.0 million, while natural gas revenues fell from $125.7 million to $23.6 million. NGL revenues were $41.0 million versus $106.2 million a year ago.
Adjusted EBITDA came in at $469.1 million, down -17% from $564.6 million. Adjusted EPS was $5.04 versus $7.20 a year ago.
Total production rose 2% to 176.0 MBoe/d from 172.5 MBoe/d a year ago and was up 4% sequentially. That was ahead of the 167-172 MBoe/d forecast the company had given earlier. Oil volumes rose over 5% to 101.4 MBo/d, compared to guidance of 95.5-98.5 MBo/d.
NGL volumes came in above expectations at 36.0 MBl/d, versus a forecast of 34.5-35.5 Mbl/d, while price realizations as a percentage of WTI were 15% versus expectations for 10-15%. Natural gas volume was 231.7 MMcf/p versus expectations of 222-228 MMcf/d.
The company placed 45 wells online in the quarter, compared to 37 in the first half of the year.
CHRD ended the quarter with $400 million in long-term debt and $265 million in cash on its balance sheet. As a result, leverage is de minimus.
Operating cash flow for the quarter was $399.5 million and adjusted free cash flow was $207.4 million. The company bought back $112.3 million worth of shares at an average price of $159.57 in the quarter. It also initiated a new $750 million buyback program, representing about 10% of its shares. It paid out a $2.50 dividend in the quarter. As a reminder, it is looking to pay out a yearly base dividend of $5.00 a share, and return 75%+ of FCF to shareholders if leverage is below 0.5x.
Looking forward, CHRD guided for Q4 total volumes of between 174.8-179.8 MBoe/d, with oil volumes of between 102.0-105.0 MBO/d. NGL volumes are projected to be 35.5-36.5 Mbl/d, with a net realization of WTI of 13-23%. Nat gas volumes are forecast to be 224.0-230.0 MMcf/d.
For the full year, CHRD forecast total volumes of between 171.1-172.5 MBoe/d versus prior guidance of 168.7-171.7 MBoe/d. Oil volumes are now expected to be between 98.7-99.5 MBO/d compared to a prior forecast of 95.5-98.5 MBO/d. NGL volumes are projected to be 35.1-35.3 Mbl/d, with a net realization of WTI of 16-19%. That compares to prior guidance of 34.7-35.2 Mbl/d, with a net realization of WTI of 13-23%. Nat gas volumes are forecast to be 224.0-226.0 MMcf/d versus 222.0-225.0 MMcf/d
For the full year, it is projecting $1.73 billion in EBITDA and $800 million if adjusted free cash flow.
On its Q3 earnings call, CFO Michael Lou said:
"Turning our attention briefly to 2024, given the strong growth in oil production in the second half of 2023, as we look into 2024, our corporate annual decline rate increases slightly. As we start to see the benefits of the shallower declines associated with our growing proportion of producing 3-mile wells, we expect this increase in decline to reverse towards the end of 2024 and into 2025. Overall, for 2024, we're expecting a maintenance capital program with full year volumes flat to 2023. On a pro forma basis, this is around 99,000 barrels of oil per day with expected capital a little over $900 million. Additionally, activity is expected to remain concentrated in the spring and summer months next year. This means that TILs will be focused towards the second half of the year and that 2024 volume should follow a similar pattern to 2023 with the second half of the year higher than the first half."
Overall, it was a very good quarter from CHRD, with volumes well ahead of expectations, due to strong well performance and the company bringing more wells online. This volume growth outperformance will flow into Q4 as well. The company's three-mile wells have been outperforming, and it's also been able to reduce the drilling time for these wells as well.
Moving forward, the company should see less wells come online over the next two quarters, as it looks to focus on drilling and completions in the spring and summer months. Harsh winters can interfere with drilling and completion work in the Bakken, so staggering its wells this way helps avoid any potential weather issues.
Valuation
CHRD trades at 3.8x EBITDA based on 2023 analyst estimates of $1.77 billion. Based on the 2024 consensus of $2.23 billion, the stock trades at a 3x multiple. Of course, the price of oil, NGLs, and natural gas can change the actual results immensely.
CHRD is valued in the low-end of the pack compared to other independent E&Ps, despite it being nearly debt free and under-earning because of its hedge book. Being tied solely to the Bakken could play a role, as Bakken E&P Enerplus (ERF) also trades at a discount.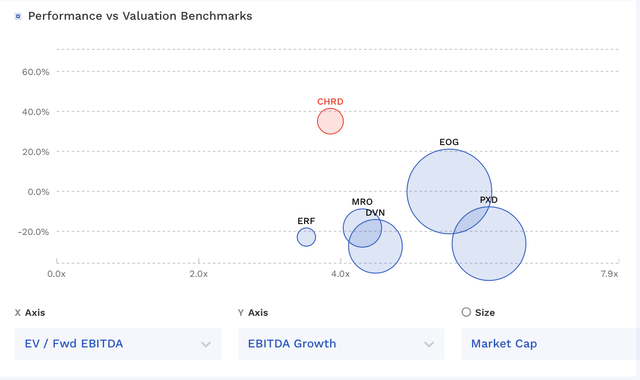 Conclusion
CHRD continues to perform well operationally, raising its volumes forecast once again. At the same time, the last of its unfavorable hedges should roll off after next quarter, setting the company up well if oil prices remain around current levels or push higher next year. For example, the company still had fixed price oil swaps at $50 in Q4 on nearly 1.3 million barrels, which is still around 14% of its quarterly production.
Despite some unfavorable oil hedges, CHRD continues to generate strong free cash flow, which it is using to buy back stock and pay supplemental dividends. Give its cheap stock price, this is a nice way to return value to shareholders.
All in all, I continue to like the set-up for CHRD next year. Meanwhile, there has also been some recent consolidation in the space, and CHRD could be both an acquisition target, as well as a potential acquirer. The biggest risk to the stock would be a decline in oil prices, which could stem from a more difficult macro environment. However, I remain bullish on oil with two wars raging, a low U.S. strategic reserve, China still re-opening, and OPEC+ being more in unison.
As such, I continue to rate CHRD a "Buy." My target is $265, which is a 4.5x multiple on 2024 EBITDA and reducing its number of shares to 38 million over the next year through buybacks.