The crypto crowd is hyperventilating, as is their wont, with the prospect of one and indeed several Bitcoin (BTC-USD) ETFs getting the green light soon. Even a skeptic like me, with doubts on the benign impact of institutions on assets lashed to their derivatives, can't deny the clear, strong bullish trend this is creating.
The recent breakout up from near-term highs continues to produce the sort of vertical price movement we have come to expect from BTC, one of the spiciest assets on the block.
When news of BlackRock's application for an Ethereum ETF broke, up went ETH in the same ballistic manner. While the cryptocurrency denizens search for the next crypto to get the ETF treatment, I remain looking not for tokens to pre-empt the long-promised takeoff to the moon of the whole crypto ecosystem, but for an analogue I can hold that won't have to be secured by either a painful self-custody situation or an – almost as uncomfortable – third-party relationship with some nebulous corp, enmeshed in the sort of volatile emergent financial environment of shocks constantly featured in the blockchain media. What I need is an instrument with a pedigree, operating under close regulation, which is liquid, easy to handle and that will go lunar if Bitcoin etc go on the big 'God candle.'
It is tough, but I think I've found what I'm looking for: it's an equity. Hurrah!
I don't often write about single stocks because big trends are what I focus on; I let that pick out the stocks for me, which generally go into a portfolio where the win/lose ratio does the work rather than a single win from a great single stock selection. However, now and again, up pops something I want to hold because it ticks all the boxes, and it is too interesting not to write up.
First, I do believe that in the long term, the crypto industry alongside its assets will be even bigger than it is today, probably much bigger. Blockchain and crypto is not going away. After the regulators have rounded up the cowboys what will remain is a landscape where blockchain and crypto is driving a wide range of revolutionary business, financial and economic systems. There is a core sensitivity however, something at the heart of all assets and a problem that to this day after the passage of history remains unsolved: security.
For a hope at security, you need custody and custody is everywhere in finance. Custody is, for example, the fundamental reason banks even exist. Custody is what makes the bond and equity markets go round. Custody is one of those functions 'pros' obsess about, but many retail investors don't even realize is a big deal.
It is particularly a big issue in crypto because if you lose your crypto, through any of the multitude of ways available, it's gone and gone for good. If you burn a British £20 note, you can take the ash to the Bank of England and they will replace it, but nope that's not happening with your Bitcoin.
So, a stock that can go vertical, alongside Bitcoin is the place for me. Stocks are very secure to hold. The stock in question is called Bakkt (NYSE:BKKT). I actually bumped into them at this year's Bitcoin show in Miami. They are not 'Bored Ape' types (I hope that doesn't offend them). They are a spinout from ICE, the Intercontinental Exchange. The stock has had a hard time, but it has been jumping in the last couple of days because their latest quarterlies are out.
This is where a lot of people will want all sorts of number crunching facts about income and revenue, P/L, ratios etc and I understand that want. While that is what I do myself in a large portfolio of value investments, for this kind of single stock, a single idea investment, I try to boil it down to a one floor elevator pitch.
Crypto to the moon = NYSE-listed crypto institution to the moon.
So, to annoy the outsourcers, the fundamentalist number crunchers some more, here is the chart.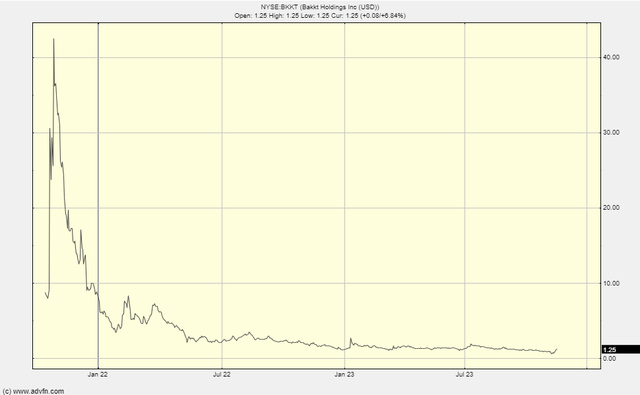 Many will find this weird, but I love this chart. For a pink sheet stock this chart pattern is poison, but for a solid emergent business in a deeply out-of-fashion segment it is golden.
The company is expecting to be EBITDA neutral by the end of 2024 but care not.
If Bitcoin keeps on rallying BKKT will do likewise but quite likely with even more rocketry. If Bitcoin doesn't do the crypto vertical thing, then it won't.
Yes, I do own.