All sorrows are less with bread. "― Miguel de Cervantes Saavedra.
Bread Financial Holdings, Inc. (NYSE:BFH) was first highlighted on these pages back at the end of the second quarter of this year. The conclusion of that article is that the stock merited a small "watch item" holding preferably within covered call positions. The shares of this interesting financial name have declined slightly since the initial piece on the company. Third quarter earnings were posted late in October. An updated analysis follows in the paragraphs below.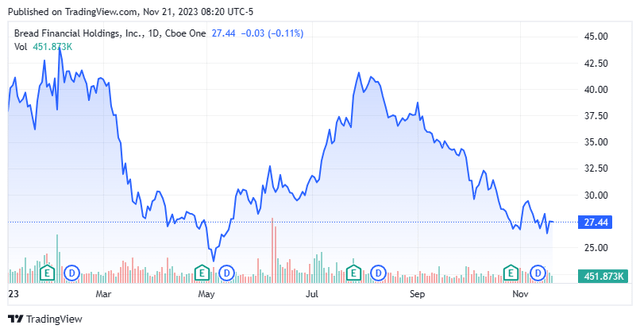 Company Overview:
Bread Financial is based in Columbus, OH. The company describes itself as:
"a tech-forward financial services company providing simple, personalized payment, lending and saving solutions driven by a digital-first approach, data insights and white-label technology."
Bread is focused on providing payment, lending, and savings solutions to consumers, primarily through its ~100 credit card partners. The stock currently trades just under $28.00 a share and sports an approximate market capitalization of $1.35 billion.
Third Quarter Results: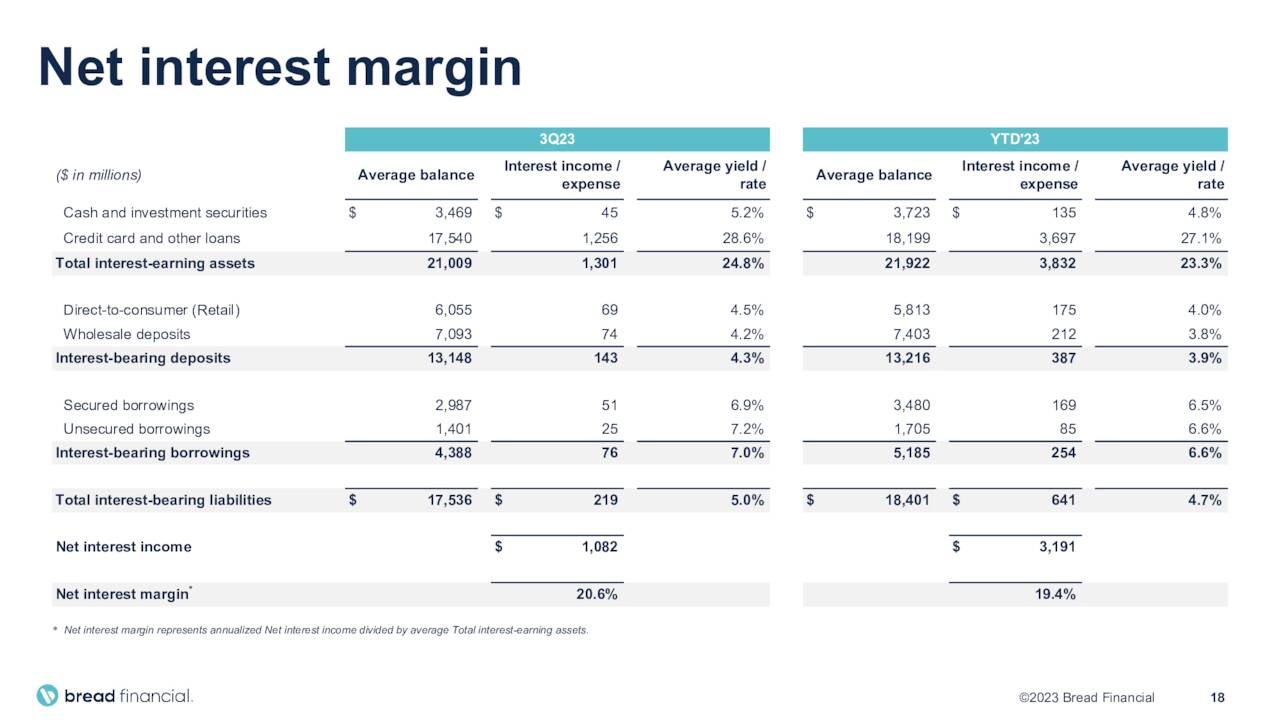 Bread Financial posted its third quarter numbers on October 26th. The company delivered GAAP earnings per share of $3.46, more than a buck a share over expectations. Income from continuing operations increased 29% from the same period a year ago to $39 million. Return on equity for the quarter was 25%, and book value ended the quarter at $42.45 a share.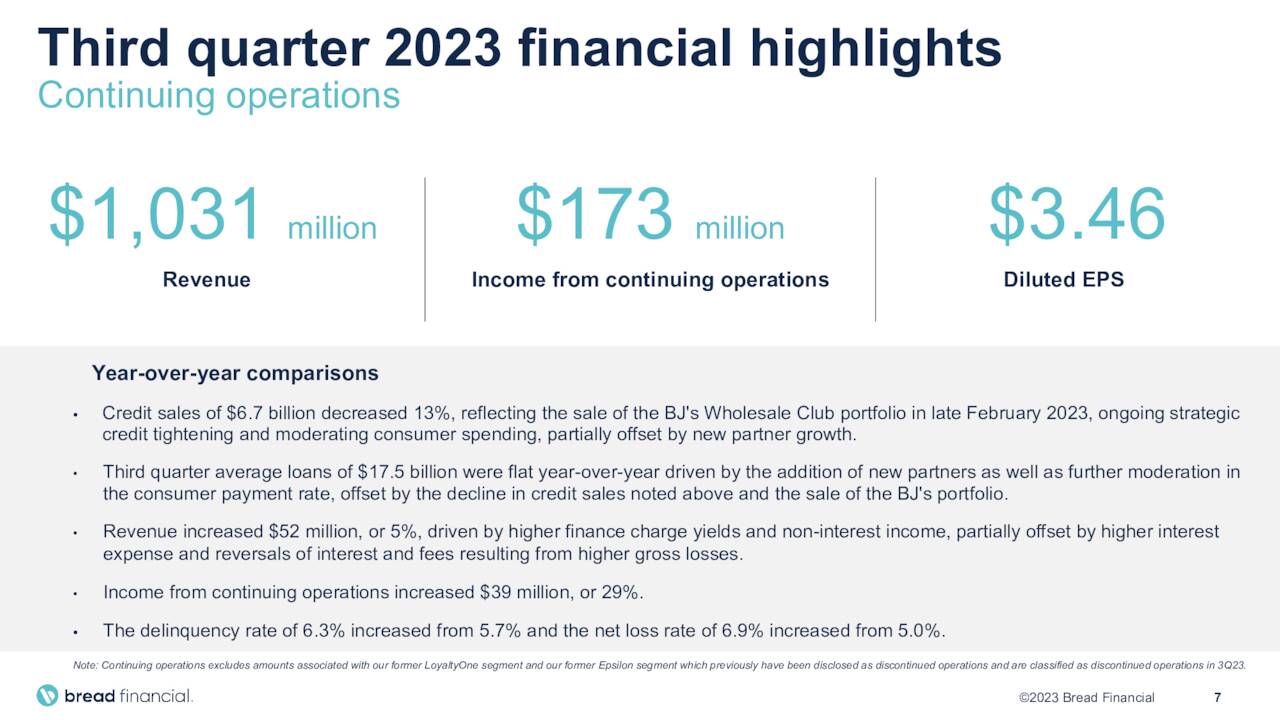 Sales rose just over five percent on a year-over-year basis to $1.03 billion, more than $35 million north of the consensus. The average interest rate on its loans outstanding increase 140bps from the third quarter of last year. The main challenge the company is facing is the flagging health of the U.S. consumer. As management noted on its third quarter conference call:
The economic environment, remains challenging, and consumers contend with numerous headwinds including the compounding effect of persistent inflation relative to wage growth, high interest rates, the resumption of student loan payments, and gas volatility. Broadly speaking, these factors are weighing on consumers and in part led to the reduction in our credit sales in the third quarter, particularly within our retail and home industry verticals. For moderate to low-income Americans, who have depleted much of their excess pandemic era savings, we noted a reduction in travel and entertainment spending, as these consumers focus more on non-discretionary purchases."
Leadership also noted that the "CFPB's final rule on credit card late fees, could have significant impact on our business if unmitigated." Bread's delinquency rate rose to 6.3% in the quarter compared to 5.7% in 3Q2022. The net loss rate rose to 6.9% from 5.0%. Net loss rate was down from 8.0% in the second quarter of this year. The company expects net loss rates to average north of seven percent for FY2023.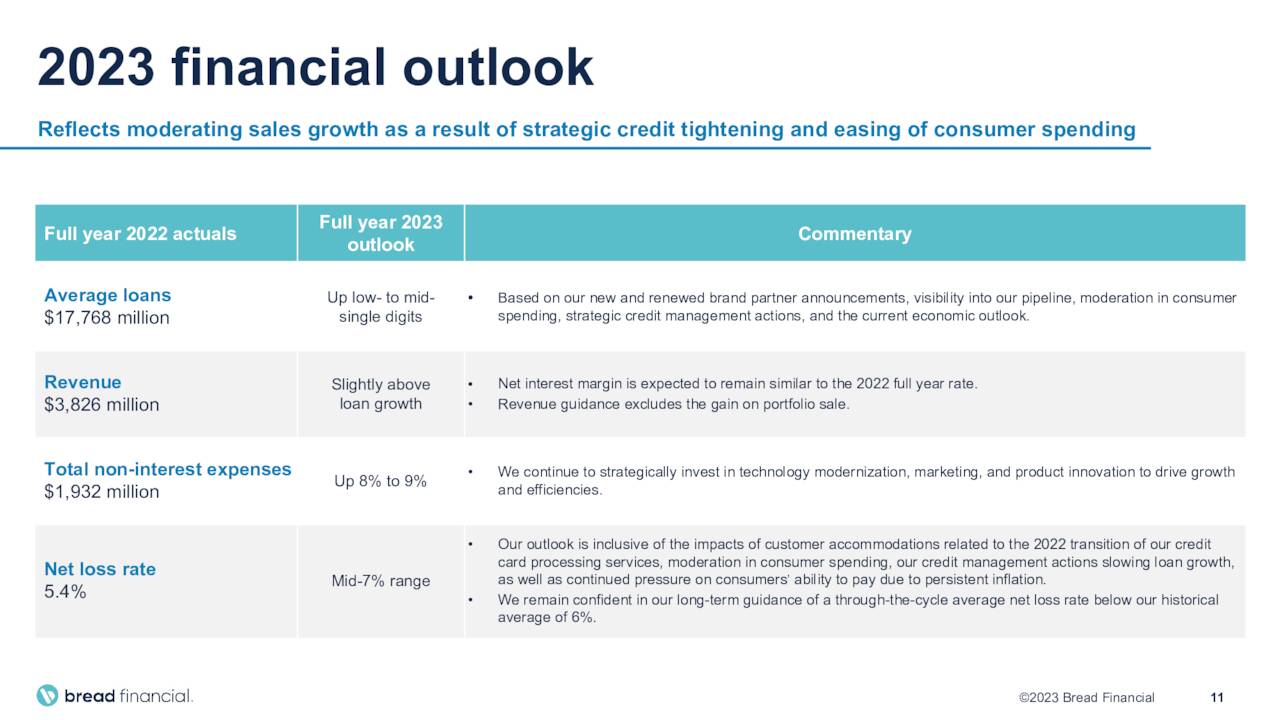 Analyst Commentary & Balance Sheet:
Despite standout bottom line Q3 earnings, the analyst community is mostly negative on Bread's current prospects. Since third quarter numbers were posted, seven analyst firms including Bank of America and Morgan Stanley have placed Hold/Sell ratings on the stock. Price targets proffered range from $24 to $34 a share. Goldman Sachs ($27 price target), JP Morgan ($42 price target) and Stephens ($53 price target) have maintained Buy ratings on the equity. Approximately 10% of the outstanding float in the shares is currently held short. A director purchased $100,000 worth of equity in late July. That is the only insider activity in the stock since we first took a look at the company on June 21st.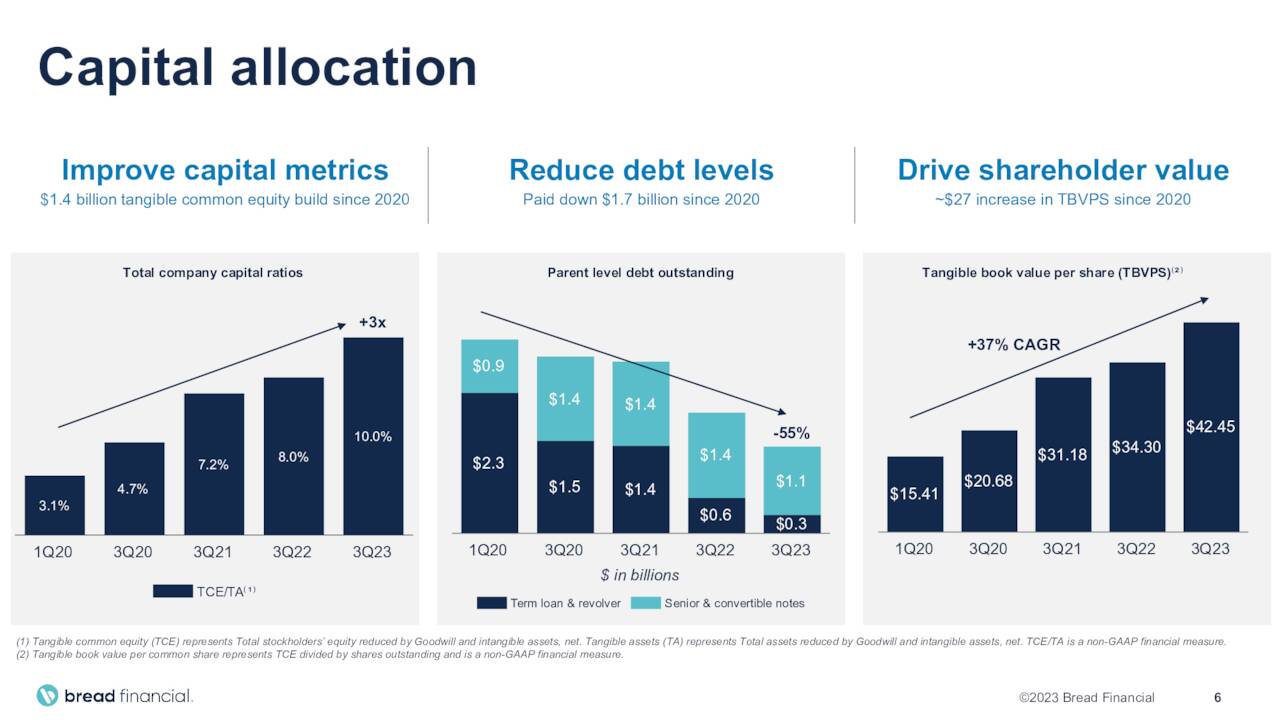 As you can see above, Bread Financial has consistently brought down its overall debt levels in recent years. Over the past three years, Bread has paid down some $1.7 billion, a 55% reduction. The firm ended the third quarter with $6.1 billion worth of consumer deposits versus $5.6 billion when we last looked at this company in June. The company has maintained a conservative loan loss reserve that has averaged 12.3% over the first nine months of this year. Bread Financial bought back $35 million worth of its own stock in the third quarter.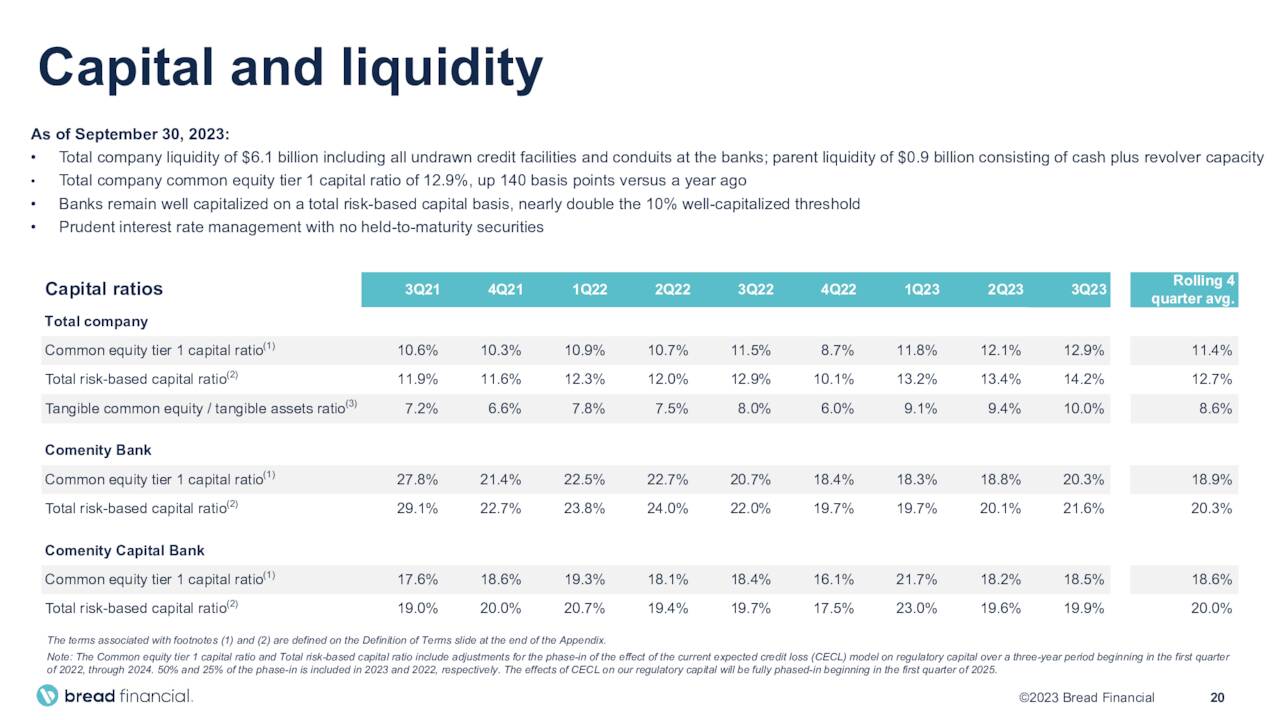 Verdict:
Bread Financial made $4.46 a share in FY2022 on $3.83 billion of revenues. The current analyst firm consensus has Bread's profits soaring to north of $13.00 a share in FY2023 even as revenues rise just 10%. The project earnings to fall to $8.34 a share in FY2024 as revenues fall slightly.
The stock is down a bit over 25% for 2023 to date. Valuation is currently dirt cheap at just over two times forward earnings, and the stock has just over a three percent dividend yield to boot. The shares also sell for substantially below book value.
If one believes the U.S. economy will skirt a recession in 2024, Bread Financial Holdings, Inc. stock seems a solid buy. A shallow recession puts it in "Hold" territory. A deeper economic contraction likely means significant additional downside for Bread and most of the financial sector. It should be noted that Bread's delinquency and net loss rates jumped significantly in October.
Therefore, I am not adding to my small holding in BFH. However, I am maintaining my small position in this name and will likely "roll" my covered call options when we get closer to their expiration date.
The need of the immaterial is the most deeply rooted of all needs. One must have bread; but before bread, one must have the ideal."― Victor Hugo.