Dear subscribers,
To say that Braemar Hotels (NYSE:BHR) has had a bit of a bad year would be an understatement. The company is down over 40% in less than 12 months, and currently, common shares of the company are trading hands at almost $2/share, which comes to an FFO multiple of less than 2.6x. This is a dirt-level valuation not seen since the COVID-19 crisis – and then it only lasted for a month or two.
My question when it comes to a REIT like Braemar is, is this justified? Obviously, this REIT has a significant risk profile. The valuation is illustrative of that.
But are we talking about bankruptcy risk? The company managed to survive a full year of negative results, and has actually, looking at 2021-2023E, improved its situation materially.
Am I, as of this article, saying that you should invest significant amounts of capital into Braemar and make it one of your core holdings?
I am not.
Am I saying that this is a safe company?
Again, I am not.
Am I saying this company is good enough to invest in, if you have the right risk profile and may be looking for a 5-9% yield with some significant appreciation potential?
Yes, that's what I am saying.
Let's look at this company.
Braemar – looking at what the company may offer us
To call Braemar a battleground stock would be wrong also. The last few articles on the company, especially after the 22% drop during the last day, have been negative. The negative sentiment about the company is certainly understandable given the results – and 3Q23 doesn't exactly add any feathers to the company's imaginary cap, given that we're seeing a negative EPS.
However, I would like to remind you at this point that one of the ways to become wealthy, and in my opinion one of the consistent ways to actually get "rich", is to go consistently against the grain and the herd. This is not the same as doing so willy-nilly or without logic. But if you apply conservative fundamentals and valuation logic to your investments, and you do so in a controlled and diversified manner, the amount of RoR you can get goes into the quadruple digits.
My best investment ever, a Swedish real estate company in the office sector, that started out as a spin-off without a dividend ended up netting me over 500% RoR on a respectable investment. That was a good year, especially given that Sweden in my account type does not have any sort of capital gains tax.
However, in order to invest in these businesses, you need to have the stomach of a billy goat (pardon my French). It's a set-and-forget sort of investment where you can't be bothered by any sort of downturn unless it's based on fundamental deterioration implying bankruptcy – because then you need to get out.
To say that Braemar doesn't have an appeal would be wrong. It's a 100-200M range market cap Hotel and Resort REIT with a management team with decades of hospitality experience under the belt. Like other sectors after COVID-19, the company is seeing a return to the norm in terms of relevant KPIs for its sector – this being ADR, Demand, and RevPAR. ADR, by the way, is the average daily rate in the hotel/hospitality industry.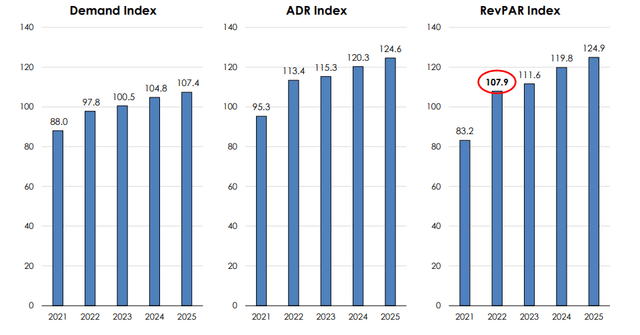 Also, ADR is climbing far faster than CPI – and even as early as the beginning of this year, RevPAR had already recovered to pre-pandemic levels in both the Resort and the Urban sector, with Urban at 106% as of the February 2023 period.
Braemar's portfolio composition is not without risk – and that's putting it mildly. While the company's areas and geographies certainly have high entry barriers, they're also found in areas where consumers and investors are asking themselves; "Do we want to be here?"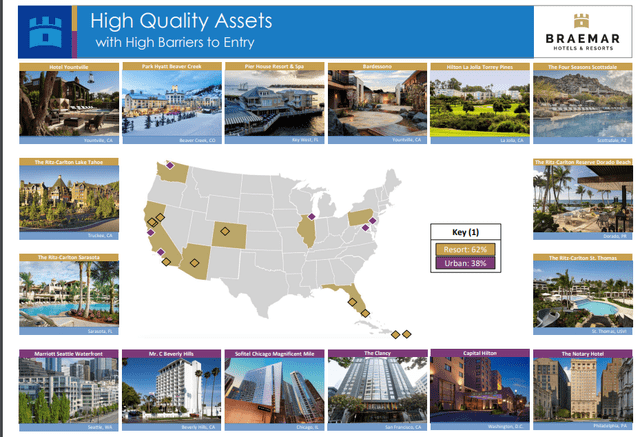 Just as with other west-coast investments, the locale doesn't make the assets uninvestable or bad, merely something that needs to be properly discounted for the future. The fear about the company's performance in a looming recession and an economic downturn may be well-founded, with over 60% of the company's portfolio being exposed to the resort sector.
However, the company's EBITDA has actually been recovering for parts of the year – and I argue that Braemar's exposure to luxury hotels and resorts, give it some protection.
The share price has been plummeting – so let's go through what the reason and the background for this deterioration is. Because, when you actually look over the results, it may at first glance be hard to see the problem. The urban hotel EBITDA is continuing its momentum, the company is actually actively M&A'ing further assets, and these M&A's are performing above original underwriting expectations. The company is also working through its refinancing targets, recently closing a $200M corporate financing and upsizing/extending a loan for the Scottsdale Four Seasons and an extension on a Lake Tahoe property.
Part of the justification is no doubt the 3Q23 quarter for the company, where the resort saw a decline of 13% YoY. However, it's important at this point to say that despite this decline, it's still a broader-scope increase to 2019 and pre-COVID, to which the results show an increase of 46% in ADR. The company, despite the share price deterioration, is clear that the assets, both urban and resorts, are performing above the 2019 levels and the housekeeping work in terms of debt is going according to plan.
A second concern for the REIT was the margin. The margins are somewhat down, and what we can find there is that as the urban part of the company's portfolio grows in RevPAR, this is going to impact the margin. Also, given that the company's properties are located (many of them) on the West Coast, and for the insurance industry in general, the company's insurance costs are going up. This is especially tough for Braemar's portfolio, and this pressure might not be over yet. This is about 100 bps of the company's EBITDA erosion for the quarter.
Another concern is obviously labor costs – and BHR has done some work to reduce its overall contract labor exposure, improving overall productivity. The company is very aggressive in terms of flexing labor, with a target of both maintaining and somewhat potentially improving ADR.
The company is expecting improvements going into 2024 because the industry forecasts is a RevPAR increase of 4-5% depending on the segment. The company expects the current growth decline to potentially turn in either 1Q or 2Q, so those are sort of the quarters to keep an eye on.
The REIT has proven that it will cut the dividend without a second thought if needed. It went to $0 during parts of 2021 but is now back to an annual dividend payout of $0.2 on the year, which comes to a 9.66% yield as of the current numbers. This dividend is currently covered by AFFO by a percentage payout of 26.6% – and that's to the 2023E level of $0.75 of AFFO. The company could substantially underperform for the year, and for the time being, the dividend would still be at a comfortable level. Remember, pre-COVID-19, this company paid out $0.63/share which at today's share price would be almost 31% – though this is obviously not a relevant number to consider for the near term future at this time.
Braemar is showing strong trends, even to the 2023E period. Occupancy is high, and the other numbers "work" as well. All of the relevant numbers, including Nominal ADR and RevPAR are either at ATH's or nearly recovered on a real basis. Current industry forecasts consider growth likely as well, especially in the luxury and upscale sector, where Braemar is the most active.
The company's current maturity schedule is perhaps the biggest concern. There are significant maturities in both 2024 and 2025E well in excess of the company's current total cash levels, as of 3Q23 at around $225M.
The bearish views on BHR are focused primarily, as I see it, on the more near-term trends, with a lot of understandable focus on the state of its balance sheet, with a debt of over $1B as of this time. The fact is that even with the recent injection of corporate financing, the company still isn't in a position to meet its 2024-2025E debt obligations, which is probably key here – and this confidence in terms of refinancing from the company hasn't changed from 2Q to 3Q – management is still confident in being able to do just this.
The core of the problem that investors seem to have with the company is that Braemar will not be able to meet its financing and debt obligations or be able to effectively refinance its debt. If that is the case, asset sales are expected, and the question then of course becomes what prices the company could expect in this market.
Let's look at the valuation here for a moment.
Braemar – The valuation implies that the risk could be worth it – and outperformance seems certain in the case of success
I would put it like this.
If Braemar is successful in attractively or even somewhat attractively refinancing its 2024-2025E upcoming maturities, then I expect the share price to reverse with a vengeance, delivering outperformance to risk-tolerant investors.
The reason is simple. It's all about valuation. Trading below 2.5x P/AFFO, even at a 3-3.6x AFFO reversal multiple, the company would generate over 20% annualized RoR. In the case of even a conservative historical AFFO multiple, the company would annualized RoR in the triple digits, hundreds of percent or 200-300% in 2-3 years.
Obviously, this is a risky prospect, and qualifying or estimating the realistic risk for failure here is incredibly difficult given the current macro. We can only look at the company's historical performance and successes to get a feeling for this.
I consider it unlikely that an operator with this luxury-oriented portfolio including both resorts and urban could fail to refinance these sorts of maturities. If I didn't believe that, I wouldn't be writing this article. But aside from the company's history, the management team's experience, and the quality of its portfolio, I don't have many other solid arguments for why this is the case. This is the reason the company is so cheap – at least that's my stance.
Braemar needs to be compared to other yields of 7-9%, and the fact is that you can get yields this size at a much safer risk profile – just look at many of the pref stocks available today in energy, utility, or even REITs and they'll give you safety you don't have in this company.
But that yield is also all you'll get (usually). You won't get a triple-digit RoR, which Braemar can provide you.
As I said initially – the recipe for significant market-beating outperformance is strategic risk-taking. I've done this for years, going against the grain, but doing so strategically. While I have had losses, I have not had losses that've gone into bankruptcy or complete capital loss – I don't expect Braemar to be the first such company either.
Other analysts agree with this assessment. Aside from the iREIT on Alpha targets for BHR, S&P Global targets go from a low of $3.5/share low to $12/share high, with an average of $6.5/share. One of these analysts has the company at a "BUY" here, with the remainder at a "HOLD". Clearly, risk-taking isn't part of many investors' plan at this time, which is understandable.
I allocate 1-2% of my portfolio to these sorts of investments. I recently after the crash added a small portion of BHR to my risk-oriented portfolio. Any position I add to this part of my portfolio comes with a significant, long-term plan – no different here.
Unless something fundamental changes or the company is wholly unable to refinance, I'm keeping this investment for years, and I expect massive returns.
But it will be both risky and long time.
Here is my thesis for Braemar.
Thesis
Braemar is not a "safe" investment. It's a high-yielding, high-risk-appetite REIT investment with a massive potential upside.
The risk is that the company is unsuccessful in refinancing the loans and debt for its luxury-grade or above-average tier hotels and resorts, resulting in asset sales. The company is facing maturities of over half a billion of its loans in the next two years, until the end of 2025.
I consider the likelihood of complete capital destruction here to be remote – the management team and the assets in the portfolio are, as I see it, financiable and able to be leveraged at "workable" rates, which the company has seen historically with the ability to refinance other loans.
Because the likelihood of complete capital destruction is remote, this dictates that the REIT is a "BUY" here, albeit a "SPEC BUY".
I give the company an initial PT of $4/share conservatively.
Remember, I'm all about:
1. Buying undervalued – even if that undervaluation is slight, and not mind-numbingly massive – companies at a discount, allowing them to normalize over time and harvesting capital gains and dividends in the meantime.
2. If the company goes well beyond normalization and goes into overvaluation, I harvest gains and rotate my position into other undervalued stocks, repeating #1.
3. If the company doesn't go into overvaluation, but hovers within a fair value, or goes back down to undervaluation, I buy more as time allows.
4. I reinvest proceeds from dividends, savings from work, or other cash inflows as specified in #1.
Here are my criteria and how the company fulfills them (italicized).
This company is overall qualitative. This company is fundamentally safe/conservative & well-run. This company pays a well-covered dividend. This company is currently cheap. This company has realistic upside based on earnings growth or multiple expansion/reversion.
This means that the company fulfills every single one of my criteria, making it relatively clear why I view it as a "BUY" here.
Thank you for reading.