Boston Omaha Corporation (NYSE:BOC) recently delivered a quarterly net sales surprise, and continues to report new acquisitions in different industries in 2023. Given the total amount of cash on hand and the know-how in the M&A markets, I believe that we could expect that further inorganic growth could bring acceleration in net sales growth. Additionally, advances in billboard technology or new investments like the new build for rent business recently initiated could bring FCF growth. I do see risks from goodwill impairments, lack of new M&A targets, or changing insurance regulations. With that, BOC does look undervalued.
Boston Omaha
Boston Omaha Corporation operates various lines of business, including billboards, surety insurance, broadband services, and asset management.
Its subsidiary, Boston Omaha Broadband, focuses on broadband services. Through strategic acquisitions, such as FibAire, Utah Broadband, and InfoWest, the company has strengthened its presence in high-speed Internet, spanning Arizona, Utah, and Nevada. With Fiber Fast Homes, it is partnering to build fiber-to-the-home infrastructure.
With 4,000 billboards across the Southeast and Midwest, outdoor advertising represents a $5.5 billion market. Regarding insurance, the company operates in a regulated sector, providing commercial and contractual surety bonds, contributing to a $7.3 billion market. With that about the diversification of the company, I believe that it is worth having a look at Boston Omaha Corporation due to various reasons, primarily because of its recent quarterly net sales surprise. Quarterly revenue stood at close to $24 million, which was better than expected.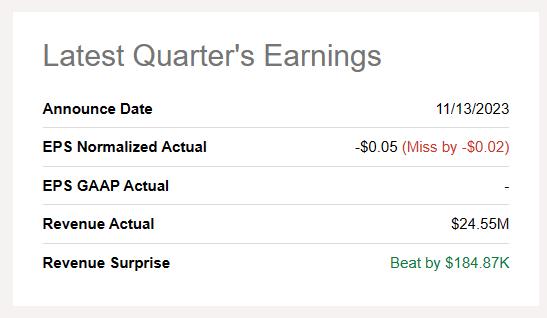 I think that the recent increase in net sales in all business segments in both 2022 and 2021 appears quite remarkable. In 2022, the company reported double digit net sales growth in the largest business segments.

With the previous information about net sales growth, the recent decline in the stock price and the current book value per share become very relevant. The company appears to be trading at close to the book value per share. Even without taking into account the cash flow statement, in my view, Boston Omaha Corporation does appear a bit undervalued.
Our book value per share was $17.28 at September 30, 2023, compared to $17.05 at December 31, 2022. Source: Press Release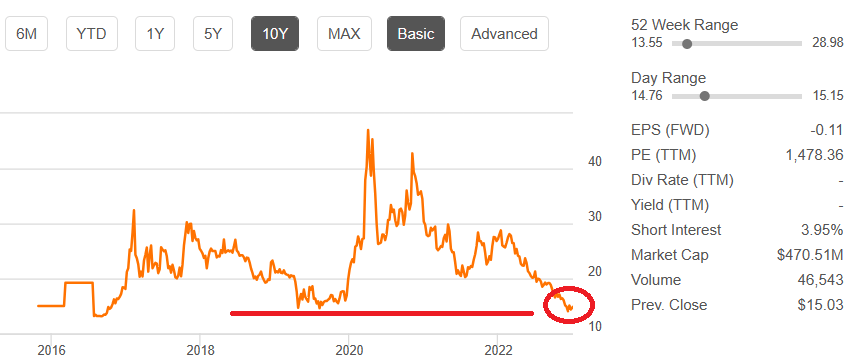 Balance Sheet
The balance sheet includes a significant amount of cash and U.S. treasury securities, which most investors would appreciate. With that, there are also many other assets like goodwill, properties, and investments in unconsolidated affiliates, which may be difficult to value. Having said that, I believe that the balance sheet appears quite healthy as the current ratio is over one, the total amount of debt is not significant, and asset/liability ratio is elevated.
In particular, on the asset side, we find cash and cash equivalents of about $30 million, with cash held by funds and others close to $6 million, short-term investments of $8 million, and marketable equity securities close to $4 million. U.S. treasury securities were equal to $53 million. Property and equipment stands at about $149 million, with goodwill close to $181 million, investments worth $67 million, and total assets of about $764 million.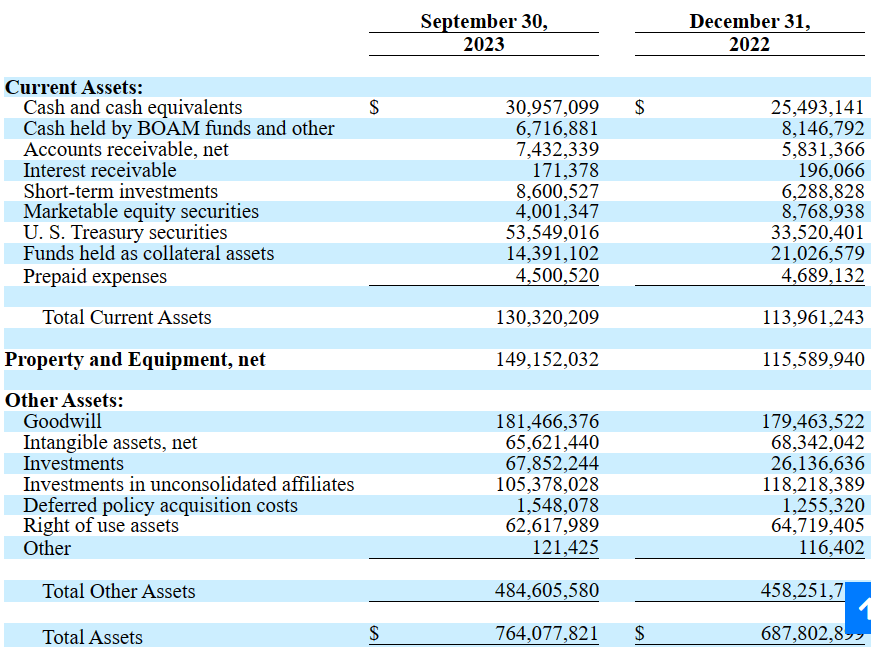 Among the liabilities we find accounts payable and accrued expenses close to unearned premiums worth $8 million as well as asset retirement obligations close to $3 million. Additionally, with lease liabilities of $57 million and long-term debt, less current maturities of about $26 million, total liabilities were equal to $149 million.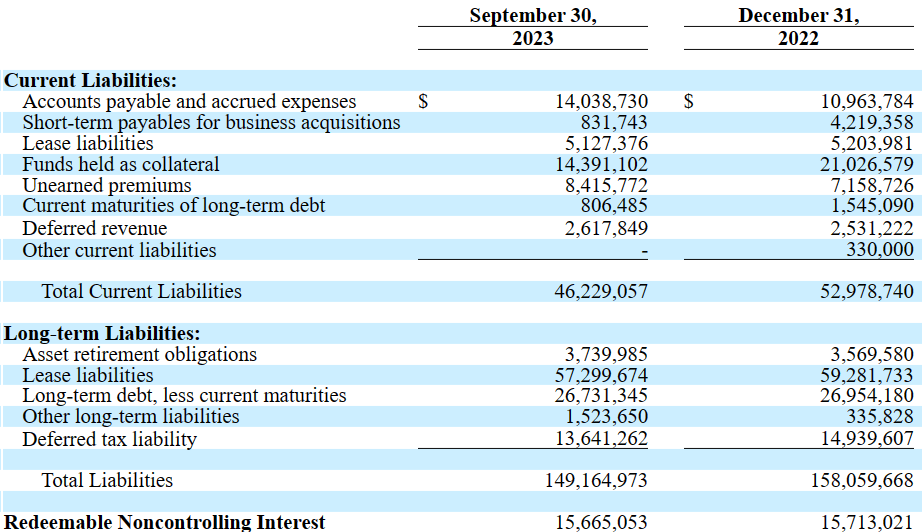 The company does not really use a lot of debt, so I believe that the interest rate being paid is not elevated. With that, it is worth noting that the company signed several covenant agreements, which may restrict the amount of leverage possible. Taking all this into account, I used a cost of capital of close to 5% to 9%, which I believe is quite conservative.
On December 6, 2021, Link entered into a Fourth Amendment to the Credit Agreement with the Lender which modified the original Credit Agreement by merging all outstanding principal amounts under both Term Loan 1 and Term Loan 2 into one term loan having a fixed interest rate of 4.00% per annum, and increasing the total Term Loan borrowing limit to $30,000,000.

A consolidated leverage ratio for any test period ending on the last day of any fiscal quarter of Link beginning with the fiscal quarter ended December 31, 2021 of not greater than 3.50 to 1.00, beginning with the fiscal quarter ended December 31, 2022 of not greater than 3.25 to 1.00, and beginning with the fiscal quarter ending December 31, 2023 and thereafter, of not greater than 3.00 to 1.0, and a minimum consolidated fixed charge coverage ratio of not less than 1.15 to 1.00 measured quarterly, based on a rolling four quarters. The Company was in compliance with these covenants as of September 30, 2023. Source: 10-Q
Valuation Multiples In The Sector
I did take a look at the trading multiples noted by Seeking Alpha in order to assess the exit EV/FCF. The sector median stands at close to 8.2x, with an EV/Sales of 1.7x and Price/Cash close to 8.9x. I doubt that other peers grow as fast as Boston Omaha, however I decided to use trading multiple close to that seen in the market.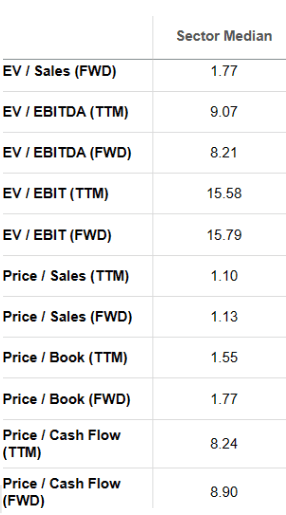 Recent Acquisitions And Expertise In M&A Will Most Likely Bring Net Sales Growth And FCF Growth
Boston Omaha is looking to expand through acquisitions and broadband services in residential developments. Geographical diversification and growth are key aspects of its business strategy. The geographical expansion includes advertising on outdoor billboards, with digitalization plans, and surety insurance, with an emphasis on mitigating risks. Additionally, the company is seeking to capitalize on growing demand for broadband services in previously unreached areas through acquisitions and construction of fiber-to-the-home infrastructure. Given previous expertise in the M&A markets, I believe that Boston Omaha Corporation will most likely find new targets that may bring net sales growth and FCF margin growth.
With all these strategic initiatives in mind, it is worth having a look at previous acquisitions executed by Boston Omaha. In 2023, the company acquired two entities, which may explain future net sales growth and FCF margin growth in the incoming quarters. Boston Omaha Corporation acquired 24th Street Asset Management LLC and Pro Communication and Construction Services, LLC. Most of the acquisitions were made in cash. In my view, paying not using a lot of equity is relevant. It means that management may believe that its shares are too cheap to use them for acquisitions.
On May 1, 2023, Boston Omaha Asset Management, LLC, our wholly-owned subsidiary, acquired 100% of the membership interests in 24th Street Asset Management LLC, from the members of 24th Street for cash and BOC Class A common stock valued at $5,016,494 in the aggregate. Prior to the transaction, BOAM indirectly owned 48% of the membership interests of 24th Street. Source: 10-Q

On June 16, 2023, our subsidiary, FIF St. George, acquired from Pro Communication and Construction Services, LLC, which we refer to as "ProComm," broadband construction equipment and related assets for a purchase price of $2,881,000 paid in cash. Source: 10-Q
Boston Omaha also acquired InfoWest and Go Fiber, and used cash and some equity, but the largest part of the acquisition contribution was cash. The total assets acquired included $51 million with goodwill of $18 million and customer relationships close to $16 million. In my view, showing the list of assets acquired could give an idea to investors about the type of companies being acquired by Boston Omaha.
Under the terms of the Agreement, FIF St George, LLC assumed only certain liabilities of InfoWest and Go Fiber. The total purchase price of $48,573,149 was paid 80% in cash, and the remaining 20% of the purchase price was paid by issuing to InfoWest and Go Fiber 20% of the outstanding equity of FIF St George, LLC. Source: 10-Q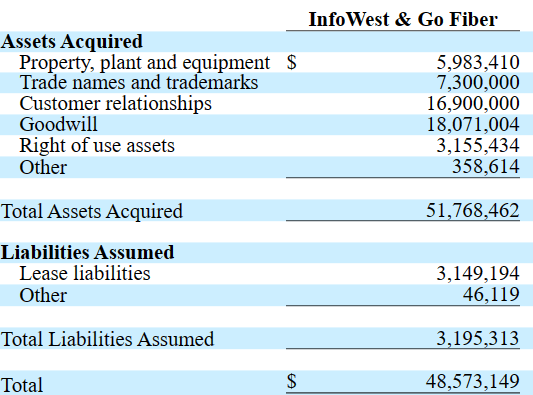 Advances In Billboard Technology And New Regulations In The Insurance Business Could Bring Net Sales Growth
At the same time, advances in billboard technology provide the opportunity to improve revenues through the use of digital display technologies and other new technologies.
In the surety insurance business, new insurance companies must be licensed by state agencies that impose capital, management, and other strict requirements on these insurers. These hurdles are at the individual state level, with statutes often providing wide latitude to regulators to impose judgmental requirements upon new market entrants. As a result, I believe that Boston Omaha could see growth in its target market, which may bring further net sales growth.
New Business Models Could Also Accelerate Revenue Growth And FCF Generation
With a significant amount of cash on hand and a lot of management know-how, Boston Omaha is constantly looking for new business models. As an example, there is the new proposed build for rent business, which may bring further net sales growth in the coming years. Note that the company already bought land, and is looking to collaborate with a third party to raise further financing.
We recently established a subsidiary within BOAM to operate a proposed build for rent business in which we would develop and own single family detached and/or townhomes for long term rental. We have bought parcels of land in Nevada which we hope to develop or repurpose for other uses. We have provided approximately $15 million of capital to finance the initial stages of these projects and are currently in the process of seeking to raise third party capital to be invested alongside our capital. Source: 10-Q
DCF Based On Previous Assumptions, And Previous Financial Figures
I ran a projection of the income statement with declining net sales growth, from 18% in 2025 to close to 7% in 2033, and net income growth. My numbers, trends, and net income growth are in line with previous results reported by Boston Omaha Corporation.
More in particular, I included 2033 billboard rentals revenue close to $124 million, with net sales from broadband services of close to $175 million, and premiums earned of about $43 million.
Besides, with 2033 cost of billboard revenues of $39 million, 2033 cost of broadband revenues worth $54 million, 2033 cost of insurance revenues of about $22 million, and 2033 employee costs close to $4 million, I obtained 2033 net income from operations of $99 million.
The cash flow statement would include FCF growth and net income growth like that of other investment analysts out there. I ran my cash flow statement from 2024 to 2033, and obtained positive FCF and positive EBITDA in 2033. However, financial expectations reported by other investment analysts include positive EBITDA in 2025 and positive FCF margin in 2025.

In particular, I obtained 2033 net income close to $111 million, amortization of right of use assets close to $15 million, and depreciation, amortization, and accretion worth $48 million, but no loss on disposition of assets, bad debt expenses, or gain on deconsolidation.
With changes in accounts receivable of about $10 million, changes in interest receivable close to -$5 million, and changes in prepaid expenses of about -$29 million, I also included changes in accounts payable and accrued expenses of -$54 million. Finally, with lease liabilities of about -$15 million and changes in unearned premiums worth $4 million, 2033 CFO would be $154 million, and with 2033 capital expenditures close to -$64 million, 2033 FCF would be about $91 million. Given previous cash flow statements and the investments made by Boston Omaha Corporation, I think that my numbers are quite conservative.


Assuming FCF ranging from $14 million to $105 million from 2025 to 2033, a WACC ranging from 5% to 9%, and an exit multiple of 6x-8.5x, the implied forecast price would be $22-$33 per share. The median forecast price would be $27 per share.


Risks
Boston Omaha grows through acquisitions, involving certain risks. If the company pays too much for targets, future FCF growth may be lower than expected. Besides, the company may have to report goodwill impairments, which would diminish the book value per share, and may push the valuation of the company down.
We monitor our equity method investments for factors indicating other-than-temporary impairment. We consider several factors when evaluating our investments, including, but not limited to the period of time for which the fair value has been less than the carrying value operating and financial performance of the investee, the investee's future business plans and projections, discussions with their management, and our ability and intent to hold the investment until it recovers in value. Source: 10-Q
In the future, management may have difficulties in finding new targets at appealing valuations, or financing may not be available. As a result, lack of M&A could diminish net sales growth, which would lower the trading multiples and stock price valuation.
I also believe that changes in the regulations of the insurance industry could lead to lower FCF margin growth. If there are new limitations in the investments that insurance companies can do, I believe that we may see lower net sales growth. In this regard, Boston Omaha provided the following commentary.
Insurance company investments must comply with applicable laws and regulations which prescribe the kind, quality and concentration of investments. In general, these laws and regulations permit investments in federal, state and municipal obligations, corporate bonds, certain preferred and common equity securities, mortgage loans, real estate and certain other investments, subject to specified limits and certain other qualifications. If certain investments fail to meet these criteria, these investments may be excluded or limited in calculating our compliance in meeting these and other testing criteria. Source: 10-k
Competitors
In the outdoor advertising industry, Boston Omaha Corporation competes with leading companies such as Clear Channel Outdoor (CCO), Outfront Media (OUT), and Lamar Advertising Company (LAMR). In surety insurance, the company faces competition from global providers, such as Travelers (TRV), Liberty Mutual, and specialized firms. In broadband services, the company competes with cable operators such as Comcast and other potential in-home 5G entrants. Technological evolution and ever-changing competition challenge existing business models.
Opinion
In my opinion, Boston Omaha presents a diversified business model, covering several profitable markets. It has a geographical expansion and acquisition strategy that positions the company in key markets. Given the recent know-how, net sales growth, cash on hand, and recent investments, I believe that future inorganic growth could justify larger stock valuations. The recent companies acquired in 2023 will most likely bring net sales growth in the coming quarters. Additionally, advances in billboard technology or new business models like the build for rent business could bring net sales growth. Even taking into account competition in outdoor advertising or impairment risks, Boston Omaha does appear undervalued.