Introduction
I reaffirm my "Buy" rating on Booking Holdings Inc. (NASDAQ:BKNG) following the company's Q3 results, underlying operational improvements, and significant visible progress in growth initiatives.
The company reported impressive Q3 results that surpassed both the Wall Street consensus and my projections. Despite a slight dip in growth rate from the previous quarter, Booking has defied expectations, sustaining strong demand and outperforming its peers in the online travel industry.
While reported revenue as a percentage of gross bookings fell in Q3, the company's underlying performance exceeded expectations, particularly in gross bookings growth. Booking reported $39.8 billion in gross bookings, surpassing both Airbnb (ABNB) and Expedia (EXPE) and reinforcing its market leadership with a 40% share in the online travel industry. Furthermore, management's strategic initiatives, including the connected trip vision, AI integration, and expansion into alternative accommodations, contribute to the company's long-term growth outlook and show great progress.
Looking ahead, despite a temporary growth slowdown in October, management anticipates a reacceleration in the coming quarters, supported by continued consumer prioritization of travel. Also, the company's long-term growth outlook remains solid, and combined with significant share buybacks, investors are poised for returns exceeding 13% annually. Meanwhile, shares remain attractively valued as the company is unfairly discounted, presenting an excellent opportunity to investors.
Booking Holdings is still firing on all cylinders.
Booking reported Q3 revenue of $7.34 billion, up 21.3% YoY and beating the Wall Street consensus by $80 million and my projections by $100 million. This growth rate is down from 27% in Q2, but this is as expected as global travel trends continue to normalize. In fact, few investors and analysts projected Booking's growth to remain this strong after the rapid recovery coming out of the COVID-19 crisis. However, so far, Booking is still reporting incredible growth as management continues to see strong demand, which once more came in above prior expectations.
Part of the above-expectations demand and a primary driver of the resilient growth rate is the recovery in the Asian travel industry, which is slowly starting to grow again. In Q3, Booking saw room nights grow 35% in Asia as a result, far ahead of other regions and offsetting a weakening US market. For reference, the rest of the world was up mid-teens, Europe was up low-double digits, and the U.S. was up low-single digits.
However, while this growth is great, and the fact that it beat expectations is positive, it only partially reflects just how strong this business is performing under the hood, largely due to revenue as a percentage of gross bookings falling due to a timing effect. Revenue as a percentage of gross bookings in Q3 was 18.4%, sitting below my 19% expectation. Meanwhile, the company's underlying performance was very impressive in Q3 and outperformed my expectations by a far margin across the board.
Most importantly, gross bookings growth sat far above its largest peers once again in Q3. Booking reported gross bookings of $39.8 billion, up a very strong 24% YoY, sitting far above the 14% growth reported by Airbnb and 7% reported by Expedia, while also sitting far above my estimate of 18% growth.
In terms of nights booked, Booking's gap to the competition is slightly less pronounced. Booking reported growth in nights booked of 15% to a staggering 276 million, much more in line with Airbnb and Expedia at 14% and 9% in their respective third quarters. Still, this was far better than the 11% I projected in August.
Across the board, Booking continues to outperform its largest peers, indicating that it is still taking market share. For many years, Booking has been trading at a significant discount to Airbnb as many believed the newcomer was going to take over the industry. However, by now, most of us will have realized that, for one, there is enough room for both of these companies (Airbnb and Booking) to flourish, and second, Airbnb has been unable to take market share from Booking over recent years after all, as the company is still unchallenged in its respective categories and while Airbnb is more attractive to travelers in certain areas, Booking's hotel offering remains incredibly popular.
In my own experience of using these platforms, both have their areas of strength, and which one is best highly depends on the length, location, and budget of your vacation. Moreover, in terms of global market share, Booking has been doing well in recent years, and the entire booking holding group comprised of multiple travel platforms still holds a market share of 40% in the online travel industry, far ahead of Airbnb at 23% and up a couple of percentage points from prior years.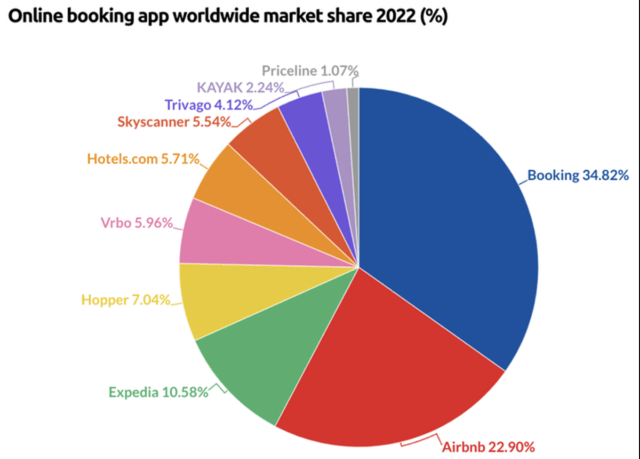 Overall, I see tremendous growth for both these companies in the longer term, but I firmly believe that the valuation difference between the two is unjustified, and Booking deserves to trade at higher multiples when considering its growth outlook and industry dominance, but more on this later.
For now, it is safe to say that Booking continues to fire on all cylinders, solidifying my belief that this company deserves to be valued at a premium that we often see for undisputed industry leaders with crazy strong cash flows.
Management is fully focused on driving long-term growth
While the company is seeing great demand for its legacy offering and holds a demandable market share, it remains ambitious in expanding its offering, improving its customer loyalty and engagement, and boosting margins and shareholder returns. The company's continued success on these fronts probably excites me the most.
The company's primary initiatives include advancing its connected trip vision, integrating AI technologies, growing alternative accommodations to compete with Airbnb and Expedia, and building direct relationships with travelers to increase engagement and revenue potential per user.
I discussed most of these points in my August article on Booking, but I will highlight one in particular and update the progress on some of these other points. First, I want to highlight management's connected trip vision as this is one of the key growth drivers in the medium to long term for Booking. This is what I wrote in an earlier article:
What this means is that Booking Holdings aims to improve the entire booking experience by making it easier, more enjoyable, more personal, and delivering better value. Booking aims to do this by focusing on bringing together and connecting all aspects of your desired traveling experience by expanding its offering of other travel verticals other than accommodations. Therefore, the company has been heavily focused on integrating flight opportunities and it released Priceline Experiences to enable customers to quickly search and book more than 80,000 activities in over 100 countries.

Ideally, Booking Holdings Inc. wants to offer a platform to its customers that allows them to arrange every aspect of their trip on a single platform to increase customer engagement and loyalty to the platform over time.
Simply put, Booking aims to become a one-stop shop for travelers to make this process more personal and more enjoyable while delivering better value to its supplier partners. In the end, through this strategic vision, Booking aims to increase the value per user, grow its TAM, and boost growth through expansion beyond its legacy offering. I have no doubt this is the best strategy for the company as it is perfectly positioned to leverage its user base and brand to successfully expand.
Today, the company is seeing great progress in realizing this vision as connected trips, defined as two or more travel components within a trip booked through its platform, continue to grow as a percentage of transactions, although today, it still accounts for only a small percentage. Management does not provide an exact number to monitor its growth but did confirm that it is seeing encouraging progress.
What we do know is that the company is seeing great growth in flight bookings, an important part of its connected trip vision. In Q3, flight bookings increased 57% YoY. For context, this brought the total of flight tickets sold to 9 million, up 5x from the same quarter in 2019, which is really impressive progress. In addition, the company also recently announced that it is launching a cruise platform on its website to allow customers to search for cruise options, further expanding its offering.
In alternative accommodations growth, the company is also seeing solid progress. In Q3, alternative accommodation room nights grew at about 24% YoY, outgrowing its legacy business. As a result, this now represents 33% of total room nights, up 300 basis points YoY, highlighting how significant this is as a growth driver for the company.
Meanwhile, Booking continues to grow its offering, with global listings up 9% YoY in Q3 to 7.2 million. Yet, while this is all looking good and Booking is seeing strong growth in this category, outgrowing peers, the company's offering is nowhere close to that of Airbnb, which is still the market leader in this category.
In terms of loyalty and engagement, Booking is very much focused on attracting travelers to its digital apps, and the company is seeing great adoption here. In Q3, over 50% of room nights booked came from its apps for the first time ever. This is up a very impressive six percentage points YoY and shows great progress, which will help the company increase user engagement, which, in turn, will support its growth goals in other categories like alternative accommodations and flights.
I strongly believe that across the board, this company is doing everything investors can wish for, and management is executing strongly, developing this company in all the right directions. This makes me confident in the company's future as a travel industry leader.
Booking's margin profile remains industry-leading.
Quickly looking at bottom-line developments, there is also little to complain about as Booking is using its growing top-line to improve profit levels. While revenue grew 21% YoY in Q3, marketing expense, the largest cost for Booking, was up only 13% YoY and therefore declined as a percentage of revenue, boosting margins.
The adjusted EBITDA margin reached 45%, beating my expectation of 44.3% and resulting in an adjusted EBITDA of $3.3 billion, up 24% and beating my projection by $100 million. This resulted in a Q3 net income of $2.6 billion, reflecting a margin of 35.4%, beating expectations by 70 basis points or $100 million. This translated into Q3 EPS of $72.32, up 36% YoY, supported by a share count reduction of 10% versus the same quarter last year.
Booking continues to report industry-leading margins across the board, blowing expectations away. As a result, its total cash on the balance sheet at the end of the quarter stood at $14.3 billion. This was down by $1.4 billion from Q2 as management bought back $2.6 billion worth of shares, partially offset by $1.3 billion of FCF. Meanwhile, long-term debt still stood at $11.9 billion at the end of Q3.
This excellent financial health allowed Booking to buy back shares aggressively. Adding the $2.6 billion of shares bought back last quarter, the YTD total stands at $7.7 billion or around 9% of outstanding shares. Moreover, management still has $16 billion remaining under its current authorization and plans to complete this over the next three years, lowering the share count by a further 15% based on the current market cap.
The company might not be paying a dividend today, but management still rewards investors handsomely. Of course, there are always mixed views on the value of share repurchases, but as a shareholder, I am quite happy with this. The company is meaningfully boosting EPS growth by retiring a significant number of shares, driving up value per share. No matter what way I look at it, I am reaping the benefits.
Furthermore, I would not be surprised to see management announce a dividend once this repurchase program is close to being finalized by FY25, assuming the company continues to see healthy growth. It is an FCF machine, reporting over $6 billion in FCF annually, so the company can easily afford it. For reference, paying out only 50% of its annual FCF based on FY22 levels would already result in a dividend yield of 2.5%, based on a payout ratio of below 25% of EPS.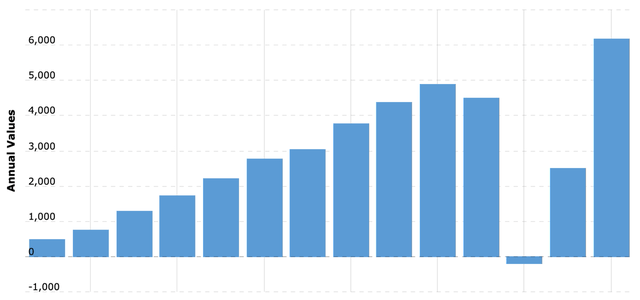 Yet, for now, investors will have to do with significant share repurchases. Still, in one way or another, I do expect Booking to keep handsomely rewarding shareholders by leveraging its excellent FCF generation, increasing the attractiveness of the shares.
Outlook & Valuation – Is BKNG stock a Buy, Sell, or Hold?
For the October month, management saw growth slowdown quite significantly, in part due to the Israel conflict, to room night growth of just 8% YoY. However, management expects growth to reaccelerate further into the quarter as customers and consumers will continue to prioritize travel over other discretionary spend in 2024.
This leads to the expectation for room night growth of 9% in Q4 and gross bookings growth of around 15%, slowing down further from previous quarters. However, this still sits above the growth levels reported by competitors in Q3. Do note that Q4 historically has always been a lesser quarter just like Q1.
Meanwhile, based on the current economic and travel trends, I am not sitting far from management's expectations and expect a 9.4% room night growth to 231 million, leading to gross booking growth of 14.6% to $31.3 billion. I expect demand to pick up by the end of November and December from a low in October. Furthermore, based on management's expectation of revenue as a percentage of gross bookings to sit around 15%, I am now guiding for revenue of $4.69 billion, up 16% YoY.
Moving to the bottom line, management expects Q4 marketing expenses as a percentage of gross bookings to be slightly lower than last year. Therefore, I expect margins to expand slightly from last year to 30.2%, resulting in an adjusted EBITDA of $1.42 billion. This should lead to a net income of approximately $1.13 billion or an EPS of $31.27.
Following this guidance, my expectations, and the company's Q3 results, I now expect the following financial results through FY26. I have slightly revised my near-term estimates upward as demand remains solid, driving additional growth for Booking. However, I have slightly lowered my long-term EPS expectation despite increasing the revenue guidance as I expect the great progress in the connected trip vision to be a drag on margins due to many of these new products, like flights carrying lower margins. As these start to increase as a percentage of revenue, this will drag on EPS growth. Don't get me wrong, I still expect Booking to gradually grow margins in the upcoming few years but at a slower pace.

Based on these estimates, Booking shares are now valued at a forward earnings multiple of 20.5x, sitting at a slight discount to historical averages. Furthermore, my stance toward its valuation compared to peers is unchanged from what I wrote in August:
Really, there is only one peer to which we can compare Booking, and this is Airbnb, which is valued much higher on every single metric. Granted, Airbnb has a better revenue growth outlook, but the EPS growth expectations are very comparable. Looking at the forward P/E for this year and three years forward, Airbnb's valuation premium over Booking increases from 57% to 87%, indicating that based on the EPS growth outlook, either Airbnb is incredibly overvalued or Booking is undervalued. Honestly, I believe it is a bit of both.
Booking deserves to be valued at more of a premium based on its incredible global market share, strong expansion strategy, incredible shareholder returns, and solid growth outlook. Yes, a slight discount is warranted, with the travel industry not known for its incredible consistency due to the heavy exposure to consumer health. However, even when considering this, a 22x multiple is more than fair for this company.
Based on this belief and my FY24 EPS projection, I calculate a target price of $3765 per share, leaving an upside of approximately 20%. Furthermore, based on a 21x multiple and my FY25 EPS, investors are poised for returns exceeding 13% annually, which should easily outperform most benchmarks.
Therefore, with shares offering plenty of upside and the company still firing on all cylinders, I remain bullish and rate shares a "Buy." Booking remains my top pick in the travel industry and should be a long-term winner.