Investment Overview – Arcturus From Listing To Present Day – mRNA Pioneer Fails To Cash In On COVID Vaccine Bonanza
Arcturus (NASDAQ:ARCT) is a messenger-RNA therapeutics pioneer that listed on the Nasdaq in late 2017, via a merger with failing central nervous system disease specialist Alcobra.
Headquartered in San Diego, Arcturus, founded in 2013, has had an eventful spell as a listed company. In February 2018, the company's long-time leader, who had played a key role in the Alcobra merger / Nasdaq listing, Joseph Payne was abruptly let go by Arcturus' Board of Directors, before Pad Chivukula, Chief Scientific Officer ("CSO") and Chief Operating Officer, stepped down from his role.
Payne took legal action against the board, and by May, he was back in the CEO position, after four board members who had been instrumental in Payne's removal resigned, and were replaced by 4 independent directors, paving the way for Payne's return. Dr. Chivukula also returned to his position as CSO / COO.
That year, Arcturus entered into partnerships with Japanese Pharma giant Takeda, and Germany-based mRNA drug developer CureVac, and in 2019, expanded an existing partnership with Ultragenyx (RARE) to develop mRNA, DNA, and siRNA therapeutics for up to 12 rare disease targets, which saw Ultragenyx acquire 2.4m Arcturus shares for $10 per share.
When the COVID-19 pandemic hit in 2020, Arcturus developed a vaccine candidate, LUNAR-COV19, and its share price began to gain rapidly. Shortly after the company announced it was in talks with "about a dozen" countries to supply doses of its vaccine, ARCT-201, being tested in Singapore, its stock price climbed >$100, albeit only briefly.
ARCT-201 could not match the >90% efficacy of Moderna's (MRNA) Spikevax or Pfizer (PFE) / BioNTech's (BNTX) Comirnaty COVID vaccines, and after multiple analyst downgrades, the stock price fell >$30 by mid-2021.
The company began work developing a potential booster candidate and announced an overall >95% efficacy readout from a Phase 1/2/3 clinical study in Vietnam in April 2022, and a ~$63m grant from the US Biomedical Advanced Research and Development Authority ("BARDA") in August 2022.
The company announced a strategic collaboration with Australian vaccine giant CSL Sequirus in November 2022, which paid out $200m upfront, and pledged a further $1.3bn in development milestones, and >$3bn in commercial milestones, but doubts around the achievability of the milestones meant shares gained little on the news.
2023 In Focus – New Hope For COVID Shot Set For Approval In Japan
Arcturus stock began 2023 priced at ~$16 per share. Fast forward to today, and shares trade ~$22, so in many respects it has been a good year for shareholders. Posting Q3 earnings this week, Arcturus reported a cash position of $312m, and $393m of current assets, which management believes provides a funding runway into 2026.
Total liabilities stood at $178m. Across the first nine months of 2023, Arcturus earned collaboration revenues of $133m, versus $45.7m in the prior year, primarily due to the CSL Sequirus deal. Net loss was reported as $18m, or ($0.68) per diluted share, compared with a net loss of $108.0 million, or ($4.09) per diluted share in the nine months ended September 30, 2022.
The most exciting developments reported by Arcturus in its Q3 updates are taking place in Japan. On the Q3 earnings call CEO Payne began "with an update on progress regarding our monovalent COVID-19 vaccine, ARCT-154", and went on to discuss progress as follows:
following favorable clinical results from the Phase 3 pivotal studies, the new drug application ("NDA") is currently under review by Japan's Pharmaceuticals and Medical Devices Agency ("PMDA").

The ARCT-154 Japan NDA submission is supported by an active-controlled Phase 3 booster vaccine study, which was conducted in Japan, and a placebo-controlled Phase 3 primary vaccination series efficacy and safety study, which was conducted in Vietnam.

The ARCT-154 Phase 3 booster vaccine study achieved its pre-specified primary endpoint, demonstrating the non-inferiority of an immune response against the SARS-CoV-2 ancestral strain as compared to Comirnaty. In addition, the superiority of ARCT-154 in neutralizing antibody response against the SARS-CoV-2 Omicron BA.4/5 variant was also demonstrated as a key secondary endpoint.
In Japan, and through its partnership with CSL Seqirus, Arcturus is working with Meiji Seika Pharma, a company that "provides antibacterial drugs, vaccines, central nervous system drugs, and generic drugs" according to a recent Arcturus investor presentation, and earning ~$1.4bn in net sales as of March 31, 2023.
Meiji is responsible for obtaining regulatory approval, distribution, sales and marketing of ARCT-154 in Japan, and it is also working alongside the contract development and manufacturing organisation ARCALIS in the country, which is 49% owned by Arcturus, and 51% owned by partner Axcelead. ARCALIS is responsible for domestic mRNA vaccine production, and a drug substance manufacturing plant was completed in Minamisoma City in July. In August, ARCALIS received ~$115m in grants from the Japanese government. On the Q3 earnings call, Arcutus Chief Finance Officer ("CFO") told analysts:
We expect this facility to become a leading manufacturer of mRNA-based vaccines and therapeutics with the ability to manufacture vaccines within 100 days of an emerging viral strain. We expect this entity to provide meaningful financial dividends to our company over the coming year due to our substantial equity position.
Arcturus submitted its NDA to Japan's Pharmaceuticals and Medical Devices Agency ("PMDA") for primary immunisation in April, and as a booster injection in June, and is expecting to hear whether the vaccine is approved next month. Furthermore, the European Marketing Agency has validated a marketing authorization application ("MAA") request from Arcturus and Seqirus, with an approval decision expected next year.
Arcturus Makes Meaningful Progress With COVID Vaccine Candidate – Understanding The Financial Opportunity
Arcturus has clearly been making meaningful strides forward in 2023 and is close to a first product approval and important validation of its approach to developing messenger-RNA candidates, which the company describes as follows in its Q3 10Q submission / quarterly report.
In addition to our messenger RNA ("mRNA") platform, our proprietary lipid nanoparticle ("LNP") delivery system, LUNAR, has the potential to enable multiple nucleic acid medicines, and our proprietary self-amplifying mRNA technology (Self-Transcribing and Replicating RNA, or STARR, technology) has the potential to provide longer-lasting RNA and sustained protein expression at lower dose levels as compared to conventional mRNA.
The LNP delivery aspect of the technology is almost as important as the mRNA aspect, as LNPs can be used to deliver mRNA to target cells without their being degraded by the immune system. LNPs were used in Moderna and Pfizer / BioNTech's mRNA COVID vaccines, and without them, the vaccines may never have been successful, or earned ~$100bn of revenues between them in 2021 and 2022. Arcturus says its vaccine delivers an 83% lower dose of mRNA than Comirnaty, easing some of the safety concerns associated with Pfizer's jab, such as cases of myocarditis.
From an investor's perspective, however, the key question relates to whether there is a genuine long-term revenue opportunity in play for the company within a COVID vaccine market no longer supported by government mass-buying, where individuals may have to pay >$100 for doses, or select insurance plans that cover such doses.
The likes of Pfizer and Moderna have been downgrading vaccine revenue expectations for 2024, with the latter suggesting it will earn ~$2bn in the US market. Pfizer CEO Albert Bourla predicted that ~17% of Americans will get a COVID vaccine in 2023, which amounts to ~56m people, or a ~$7bn market opportunity. Apply the same percentage to the larger EU population, where ARCT-154 could be approved next year, and the market opportunity could be as large as ~$9bn per annum.
On the Q3 earnings call, Arcturus CFO Sassine told analysts:
We have achieved approximately $365 million in upfront payments and milestones from CSL Seqirus, as of September 30, 2023. We expect to continue to receive future milestone payments from CSL that will support the ongoing development of the COVID and flu program and three additional vaccine programs by CSL.

With the anticipated 154 product approval in December in Japan, we look forward to beginning to report potential commercial share in the next few years.
It's hard to judge the likely scale of demand for Arcturus' vaccine in Japan if approved, and Arcturus management would not be drawn on the subject of size and regularity of CSL Seqirus milestone payments on the Q3 earnings call. CSO Chivukula told analysts:
So we typically don't guide specifically on the individual milestone because they're frankly very lumpy, right? And we don't know when they're going to start and initiate a certain program and when with the catalyst for that program be achieved, right? So in terms of not disappointing people, I'd rather announce those milestones when we achieve them and more freely be able to articulate how we were able to accomplish that feat.
The CSO highlighted the funding runway in place, which implies a $120m cash burn if no revenues are earned, and added:
So consequently you know the guidance that's going to be critical to understanding the timing of when these milestones come in. And they're pretty significant obviously those over $1 billion in development milestones that had over three to five programs. So they're pretty meaningful, they're going to have a significant impact on our operations. And as we achieve them, we will certainly be able to explain how we earn them and why we did.
By the terms of the Seqirus agreement, Arcutus is entitled to a 40% share of COVID vaccine product sales and "double-digit" royalties for "vaccines against flu, pandemic preparedness and three other respiratory pathogens".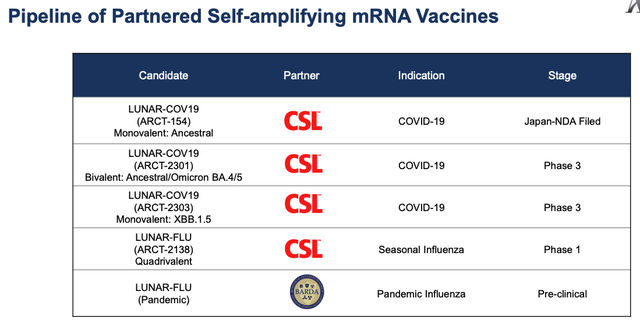 As we can see above, Arcturus has 2 more COVID vaccine candidates in Phase 3 studies, a bivalent and monovalent, plus a seasonal influenza candidate in a Phase 1. Potentially, these 2 candidates could be used to target the US and EU markets and circumvent the need to complete new studies each time a new strain of COVID is targeted, as is likely to happen on an annual basis.
What size of market share could Arcutus and CSL Sequirus expect to capture in the US and European markets? With Pfizer and Moderna still the dominant COVID vaccine suppliers, and Novavax (NVAX) also securing US approval for a vaccine, if we assume a combined US / European private COVID vaccine market is worth a maximum of $15bn per annum, and assume Sequirus, which apparently drives ~$13bn in annual revenues, and has >30k employees worldwide, through its 3 businesses CSL Behring, CSL Seqirus and CSL Vifor, can grab a 10% share of the entire market, generating $1.5bn of revenues, Arcutus share would be 40% of the net profits of ~$600m in revenues.
$600m is more or less the same as Arcutus' current valuation, and therefore, in a typically high margin vaccine market, that optimistic scenario suggests there may be an exciting upside opportunity in play for Arcutus. Let's qualify that, however with the company's statement that it expects to "report potential commercial share in the next few years" in Japan.
This is a guarded statement that seems to suggest management are not expecting a significant revenue contribution in the near term, and with management similarly guarded about the potential to earn milestone payments, and its cautious statements about its funding runway, we might conclude that neither Arcutus nor CSL Seqirus expects to make this kind of impact (i.e. a 10% market share) in Japan, let alone in Europe or the US.
Concluding Thoughts – A Tough Call On Buy, Sell, or Hold – The Best Option May Be To Wait 12 Months
Outside of its deal with Seqirus, Arcutus does have other projects ongoing. There is ARCT-810, indicated for Ornithine Transcarbamylase ("OTC") Deficiency, which has an addressable patient population of ~5k in the US. There is a Phase 2 study ongoing, but the financial opportunity may not be significant.
There is also an inhaled Cystic Fibrosis therapy, with a Phase 1b study ongoing, supported by a $25m grant from the Cystic Fibrosis Foundation. Unfortunately, however, there is also a market incumbent in Boston based Pharma Vertex (VRTX) that has an almost monopolistic control of the CF market, and virtually limitless R&D resources compared to Arcutus.
As such, the main opportunity in play for Arcutus to become a profitable company that can drive its share price and its market cap potentially towards the $1bn mark relates to CSL Seqirus and Japan, in my opinion, and possibly Europe also, with the COVID vaccine approval shot in play there.
If we combine the ARCALIS "dividend" opportunity, the 40% of vaccine net profits in Japan (any revenues will likely arrive in the back end of 2024 as the fall vaccine season kicks in), my (slightly downgraded) estimated $5 – $10bn addressable market for COVID vaccines in Europe, and the opportunity to win several billion in "biobuck" milestone payments, does it add up to a consistent enough revenue stream that would support long-term share price upside?
My concern would be that Arcutus' former partnerships i.e. with Ultragenyx, CureVac and others have not resulted in any approved products or much in the way of revenues, and also that mRNA drug development has stagnated post-pandemic, with the anticipated rush of new products failing to materialise.
With that said, in 2024 Arcutus may well be receiving milestone payments in relation to COVID vaccine approvals in Japan and possibly Europe, and given the significance of these, I do believe triple-digit-million revenues in 1H24 could be a possibility. With more revenues likely arriving in the 2H24 from shares of net profits on sales, Arcutus stock may look cheap based on price to sales and price to earnings in 2024, signalling a buy opportunity.
I have less faith in the company's in-house projects, however, and concerns around whether a private, endemic COVID vaccine market will truly emerge give me pause for thought. If Moderna expects to drive $2bn of revenues in the US in 2024, does CSL Seqirus – new to the COVID market – have any realistic chance of getting to >$1bn revenues in a combined US / European market? It does have the vaccine distribution infrastructure and experience, so perhaps we shouldn't rule it out.
With the current backlash against mRNA, the fact that it is tax loss selling season, and the uncertainty of what revenues may be on offer in 2024, I will award Arcutus a "Hold" recommendation for the time being, although if the stock price were to drift <$15 between now and the next earnings reporting season (it last traded that low in March last year), I would have given serious consideration to acquiring some shares.