Arcellx (NASDAQ:ACLX) surged in early November when the ASH abstract on CART-ddBCMA came out and showed that the previously reported positive data in late-line multiple myeloma patients continued to hold up very well. This puts the company, but also partner Gilead Sciences (GILD) in a good position to compete against Legend Biotech's (LEGN) and Johnson & Johnson's (JNJ) Carvykti, which is becoming an increasingly important treatment option for multiple myeloma patients and only supply issues are preventing it from growing much faster.
The data CART-ddBCMA generated in late-line multiple myeloma patients to date look strong and very competitive to Carvykti, especially if we consider that Arcellx has enrolled higher-risk patients compared to the CARTITUDE-1 trial of Carvykti. Arcellx claims CART-ddBCMA could be the best-in-class CAR-T therapy for multiple myeloma patients, but being similar to Carvykti should be sufficient for significant value creation.
CART-ddBCMA is partnered with Gilead and the partnership was further expanded this week. The economics are somewhat worse compared to what Legend is getting from J&J for Carvykti, and the path to the market is similar to Carvykti's. The deal with Gilead not only brings the much-needed cash infusion, it also significantly de-risked CART-ddBCMA on the manufacturing side given Gilead's successful ramp of cell therapies in the last few years.
Arcellx's technology platform and why CART-ddBCMA is different and potentially better than Carvykti
Most drug companies set out to create a new treatment that is either first-in-class or best-in-class. Arcellx's CART-ddBCMA cannot be the first-in-class, but the best-in-class potential is there based on theory and also the data it generated to date.
Arcellx has developed a novel synthetic binding scaffold called the D-Domain and it is designed to overcome the limitations of traditional CAR-T cells. Most existing cell therapies are biologic-based, tend to be difficult to manufacture, and are beneficial to a limited segment of patients. They also result in high toxicity and often have narrow applicability. Arcellx believes it can address these limitations with a new class of D-Domain powered cell therapies, including the classical single infusion CART-Ts it calls ddCARs and "dosable and controllable" universal CAR-Ts called "ARC-SparX" to address hematologic cancers, solid tumors, but also autoimmune diseases.
In preclinical studies, Arcellx has demonstrated that CARs with D-Domains exhibit higher transduction efficiency, higher surface expression, and lower tonic signaling than CARs with single chain variable fragment ('scFvs') which the company believes can lead to improved therapeutic benefit and reduced toxicity.
The preclinical theory is so far proving itself in the clinic. I covered Arcellx's data briefly in my previous article on Legend Biotech and noted the data looked good and largely in line with Carvykti's CARTITUDE-1 data and better than the data Bristol-Myers Squibb's (BMY) Abecma generated.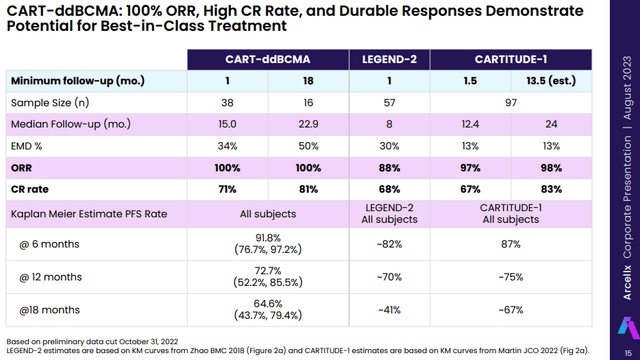 The ASH abstract shows the updated data from the same trial with a longer follow-up with a cutoff date of June 2, 2023. Median follow-up since infusion was 22 months, up from 15 months previously and while cytokine release syndrome ('CRS') occurred in 36 of 38 patients, only one patient had a grade 3 CRS and all the others were grade 2 or less. ICANS (Immune Effector Associated Neurotoxicity Syndrome) which is a known side effect of Carvykti, occurred in seven patients, of which five were grade 2 or less and two were grade 3. And importantly, there were no cases of off-tumor cell-mediated toxicity, delayed neurotoxicity events, or Parkinsonian-like symptoms.
The response rate was a very impressive 100% with 22 stringent complete responses and seven complete responses for a CR or better rate of 76%, and there were six very good partial responses ('VGPR') and three partial responses ('PR'). Similar to Carvykti, responses deepened over time, and conversion from CR to stringent CR was observed with longer follow-up.
Of the 29 patients evaluable for minimal residual disease ('MRD'), 25 (86%) were MRD negative.
Median progression-free survival had not been reached yet and the estimated PFS rates for 6, 12, and 18 months were 92%, 74%, and 67%, respectively. These numbers have slightly improved from 92%, 72%, and 64.6%, respectively after 15 months of follow-up. The table below from the ASH abstract shows the data are favorable across the board – patients older than 65 and those with high-risk features.

Overall, the updated data point in the same direction – that Arcellx and Gilead have a very competitive CAR-T therapy, that CART-ddBCMA is likely to be a strong contender in the multiple myeloma market against Carvykti, and that Bristol Myers-Squibb's Abecma will be marginalized further due to much worse efficacy compared to Carvykti and CART-ddBCMA. However, I am not seeing significant efficacy or safety differentiation from Carvykti to date, and more data and better data are needed to support any meaningful superiority claims.
Arcellx anticipates a commercial launch of CART-ddBCMA in late-line multiple myeloma patients in 2026. It is four to five years behind Carvykti and while Gilead may be able to ramp up manufacturing faster, I would anticipate a similarly difficult ramp to the one we saw with Carvykti and Abecma. The growth trajectory of Carvykti looks good, but I should add that manufacturing issues and lack of supply are keeping a lid on its growth.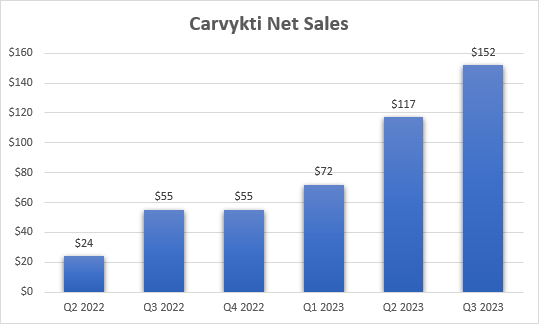 I continue to see Carvykti as a $5 billion+ drug for J&J and Legend Biotech, and based on the data CART-ddBCMA delivered to date, I see it as a $2.5 billion to $3 billion a year drug for Arcellx and Gilead. With an applied probability of approval estimate of 75% that includes earlier lines of multiple myeloma and the economics of the deal with Gilead in mind, this translates to a present value in the range of $73 to $88 per share (model available to subscribers). I would not give Arcellx credit for other pipeline efforts at this time.
The risks for Arcellx are the data of CART-ddBCMA worsening on either the efficacy or safety side, and the manufacturing risks are higher than for an average biotech company, although the presence of Gilead and its expertise greatly reduces this kind of risk for CART-ddBCMA. Any emerging competition in either the CAR-T space or other areas also needs to be considered, but as of today, I have not seen as strong results from other modalities, and I consider the ability to compete with Carvykti (in both the clinic and if/when approved) as the key risk for Arcellx in the medium and long-term.
Expanded deal with Gilead's Kite
Kite has exercised its option to license ACLX-001 in multiple myeloma. This candidate is comprised of ARC-T cells and SparX proteins that also target BCMA (as does CART-ddBCMA). The two companies also expanded the collaboration on CART-ddBCMA to include lymphomas.
Arcellx will receive a $200 million equity investment from Gilead at $61.68 per share and an $85 million upfront payment.
The deal confirms Gilead's continued enthusiasm and support for Arcellx's drug discovery and development capabilities.
Arcellx ended the third quarter with $483 million in cash and equivalents and the pro-forma cash position is $768 million. The company anticipates the improved cash balance will fund operations at least into 2027.
Conclusion
The results of CART-ddBCMA in late-line multiple myeloma have continued to impress. The ASH abstract shows slightly improved efficacy, good durability, and safety, and the results compare well against Carvykti in the same patient population, or even slightly better if we consider the worse shape of patients that were enrolled in the CART-ddBCMA trial versus the CARTITUDE-1.
I believe Arcellx is well positioned to compete and take share in the growing CAR-T multiple myeloma market and believe it can generate between $2.5 billion and $3 billion in annual sales by 2030.
The expanded deal with Gilead's Kite that was announced this week strengthens Arcellx's balance sheet and extends the cash runway into 2027, and I anticipate minimum dilution to existing shareholders going forward, or at least far below-average dilution for a biotech company that is more than two years away from having a commercial drug.