With the market rallying sharply again on the back of lower inflation and the hope of lower interest rates, I'm more interested in recent laggards that have the potential to beat the market in 2024. I'm not rushing to deploy a bunch of cash into equities at the moment, but building up a watch list of potentially undervalued stocks is a great strategy to be prepared heading into the new year.
Appian (NASDAQ:APPN) is one such stock. This business process management software company has declined nearly 30% from mid-summer highs above $50. The company's recent Q3 earnings release did little to assuage investors of the stock's trajectory, despite the beat and raise.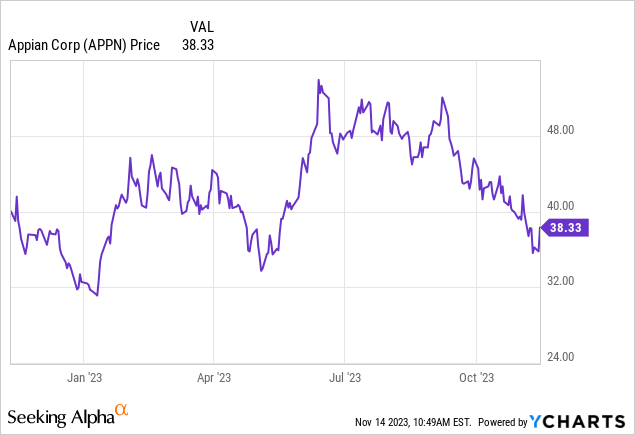 A balanced bull and bear thesis
I last wrote a bearish opinion on Appian in August, when the stock was trading at $48 per share. Since then, valuation has come down by around ~20%, while the company has also released strong quarterly results and shown progress in innovation, particularly around AI. In light of these circumstances, I'm upgrading my viewpoint on Appian back to neutral.
At current share prices, I see a number of positives that outweigh the risks to Appian, including:
Business process re-engineering has a natural tie-in to AI. Appian focuses on software that helps to eliminate manual processes, which is a core tenet of AI (and the company is developing its own take on AI automation through a product called Private AI).
Scaling gross margins. Though the company had poor gross margins at the time of its IPO, it has since reduced its reliance on low-profit professional services revenue. The result is a mid-70s gross margin profile that rivals most of its software peers, allowing Appian to scale toward its goal of adjusted EBITDA profitability in FY24.
This being said, however, we still have to be mindful of the potential pitfalls that surround this stock:
Large transformational projects are being delayed in the current macro climate. Efforts to automate entire business processes are large capital projects, which are being delayed until better times. In the software sector, it's the products that can generate quick wins and instant ROI that are winning out, and this tilt may hurt Appian, whose integration process may be more involved than other products.
Poor growth/profitability balance. If the so-called "Rule of 40" is one of the prime ways to measure a software company's efficiency, Appian scores rather poorly on that metric, with its mid-teens growth and negative single-digit pro forma operating margins comparing poorly to other software businesses.
From a valuation perspective: at current share prices near $38, Appian trades at a market cap of $2.79 billion. After we net off the $169.5 million of cash and $207.4 million of debt on Appian's most recent balance sheet, the company's resulting enterprise value is $2.83 billion.
Meanwhile, for next year FY24, Wall Street analysts are expecting the company to generate $616.9 million in revenue, representing 14% y/y growth (data from Yahoo Finance). This puts Appian's valuation multiple at 4.6x EV/FY24 revenue.
I'm adding this stock back to my watch list, but I'm not making a move until Appian drops below 4x EV/FY24 revenue – representing a price target of $34 (roughly where Appian was trading in May) and ~10% further downside from current levels. All in all, the recent dip in Appian stock has made it interesting again, but don't rush in just yet to buy.
Q3 download
Let's now go through Appian's latest quarterly results in greater detail. The Q3 earnings summary is shown below: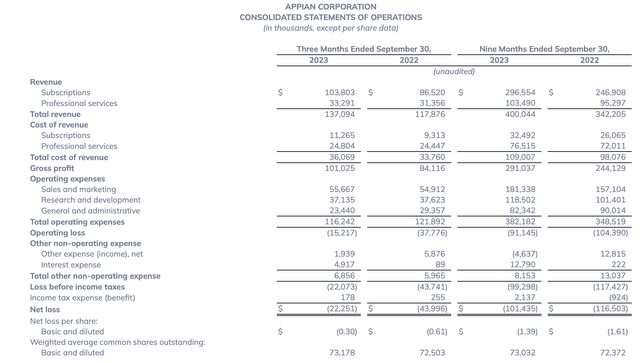 Appian's revenue grew at a 16% y/y pace to $137.1 million, ahead of Wall Street's expectations of $135.3 million (+15% y/y). Notably, revenue growth did not decelerate from Q2's total growth pace of 16% y/y. Overall subscription revenue growth was stronger at 20% y/y, and cloud subscription growth was 27% y/y (though the company is forecasting this to decelerate to a 19-21% y/y range in Q4; keep in mind, however, that Appian has been conservative at giving guidance in the past like most other software companies).
One notable metric to keep track of is Appian's net revenue retention rate, which clocked in at 117% this quarter – which indicates that the average customer is expanding/upselling their relationship by 17%. This indexes well above many peer software companies in the current macro climate, where paid seat reductions and higher churn have reduced net retention rates. Upsells will be a key catalyst for margin expansion here: as Appian will need to spend far less to upsell an existing client than to land new ones.
That's not to say, however, that growth opportunities don't exist. In particular, the company has over 100 customers on its new Private AI product. Per CEO Matt Calkins' remarks on the Q3 earnings call:
As you may recall, we're pursuing something we call Private AI. I don't believe that most customers will allow their data to be sent over the internet to a public AI service, nor do I think they wish to train an AI algorithm they do not own. Under Private AI, data stays entirely private, and we also achieve better compliance, auditability, and security levels […]

Over 100 customers used Appian AI in Q3. Here's an example: An Australian wealth fund manager processes inbound portfolio requests for tens of thousands of customers and brokers on our platform. The group receives requests through email. Before Appian, employees handled these emails, routed them to relevant parties, opened cases to process the requests. In Q3, this firm trained a Private AI model from Appian with its own data. The model ingests emails, classifies them, routes them to the appropriate person for follow-up. AI automates the intake-to-resolution process and eliminates the need for manual triaging. Now, the customer can resolve cases faster.

The AI market is still developing. It's too early to say which ideas and vendors will prevail. We're advocating this private data-centric approach to AI because we believe in it and also because we're getting strong support from buyers. AI won't be a winner-take-all game. Scores of different approaches will succeed by finding and satisfying specific markets. And it might yet be better to be agile than to be big. There's plenty of room for Appian. I'm optimistic about our future in AI."
From a profitability perspective, Appian shrunk its adjusted EBITDA losses to -$5.3 million in the quarter, representing a -4% adjusted EBITDA margin versus -19% in the year-ago Q3 as well as -19% in the most recent Q2.

The company notes that some of this was timing-related as a number of expenses were pushed out from Q3 to Q4, so this level of adjusted EBITDA margin is not natural. However, it did manage to hold pro forma operating expenses flat y/y (despite revenue growth), so we remain hopeful that the company can hit breakeven in FY24.
Key takeaways
The recent downturn has taken a lot of valuation risk out of Appian's stock, especially on the back of a relatively strong Q3 earnings print. That being said, I'd hold out for further downside in the low $30s before jumping in.