Air Transport Services Group (NASDAQ:ATSG) has lost a quarter of its value since providing third-quarter results missing analyst estimates on top and bottom lines. In this report, I will be discussing the results and why things are looking particularly bad for Air Transport Services Group.
Analysts and Investors Lose Confidence In Air Transport Services Group
That something ugly was about to be presented perhaps could already have been derived from the CEO transition announcement prior to the presentation of earnings and took effect immediately. It gave the impression that something was not up to satisfaction particularly about the third quarter and I can see why. Revenues of $523 million missed by $15.42 million and non-GAAP EPS of $0.32 missed by $0.17. A miss in earnings can of course happen. What made things painful for ATSG is that it hosted an Investor Day on the 27th of September and at that time there was no sign of results being weaker than expected.
All of that adds to the suggestion that management hosted an Investor Day upholding its outlook while not being even aware that September's performance was detrimental to the quarterly results. The frustration about the company seemingly having no visibility in the quarter at the time of the Investor Day, which was three days before quarter end, was best voiced by TD Cowen analyst Helane Becker during the call:
And then for my last question, to your point about Investor Day, which was September 27, being sure of what you were seeing in the business, I mean, how — I don't mean to be stupid. But how can that be? How can you not know that you were missing the quarter that close to the end of the quarter? I mean, I know that you're going to close the books after September 30. But things couldn't have just fallen apart in 3 days.
The response from Quint Turner, Chief Financial Officer of ATSG, was disheartening at best claiming that the company did not have the information available at the Investor Day to know that the environment had turned against ATSG. The company seemingly did not review preliminary results for September prior to the Investor Day and the fact they did not eroded trust in ATSG's mechanisms, its management and the Investor Day credibility. Seemingly after the board became aware of this, the CEO was sent out but little was done to inform investors and the market.
A Look At The Horrible Q3 Earnings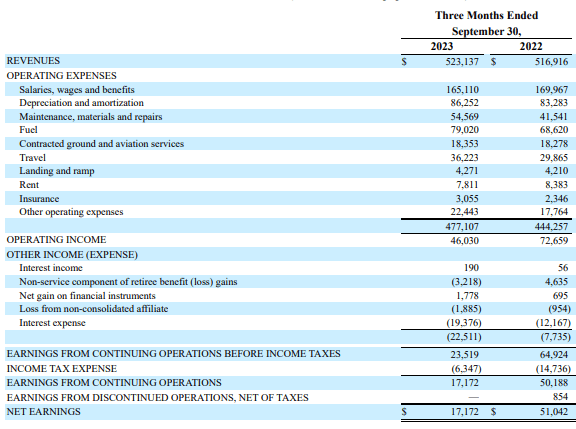 The revenues increased $6.2 million, but an operational cost increase of $33 million driven by higher maintenance costs, fuel costs and travel related costs did not help operating income while interest expenses increased by slightly less than $7 million. What we basically are seeing is higher input costs that did not translate to the top line.
The aircraft leasing business reported $14 million lower profits due to lower revenue from power by the hour revenue as well as less Boeing 767-200 freighters generating lease revenue and no gains on sale as no in-quarter sales occurred on flight equipment. The $7.3 million higher lease revenue due to the addition of more freighters to the lease portfolio did not offset that. In the ACMI (Aircraft, Crew, Maintenance and Insurance) segment, mix leaning more towards military charter flights and less commercial flying as well as fewer long-haul flights executed provided an operational pressure next to inflation and payroll costs bringing pre-tax earnings to $12.4 million.
ATSG Guidance Shows Tough Operational Environment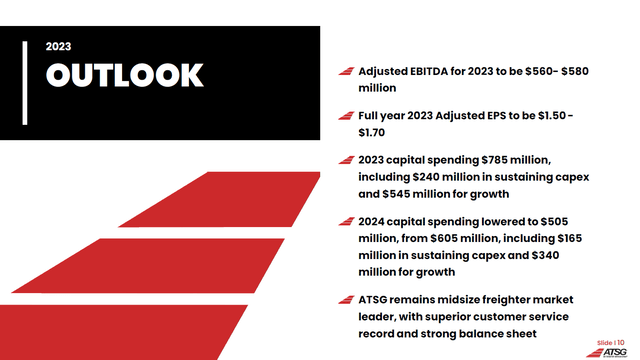 For the year, ATSG has decreased its EBITDA guidance by $45 million to the $560 million to $580 million range. This is driven by the weak performance at Omni which will stretch into the fourth quarter due to the situation in the Middle East affecting demand and driving down EBITDA estimates by $19 million. Furthermore, the Boeing 767-200 lower flight, lease and sales activity affects EBITDA by $14.5 million while demand shifts put a $9.5 million damper on EBITDA. So, generally we see a softer cargo environment which is making the Boeing 767-200 to Boeing 767-300 less smooth while Omni is suffering from the situation in the Middle East driving down demand and adds to cost.
ATSG Stock: Downgrade To Hold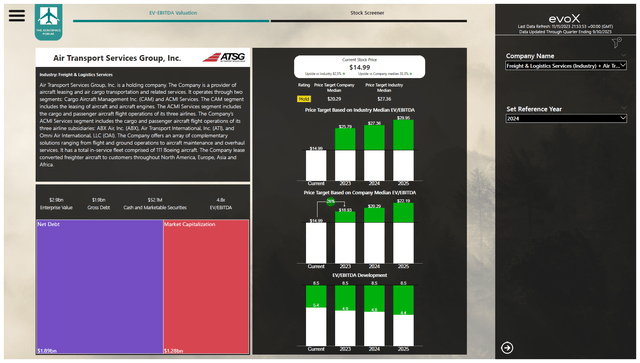 The shocking miss on the Q3 2023 sparked some downgrades for ATSG stock and I am also downgrading the stock from buy to hold as just dialing back CapEx is not going to cut it. EBITDA estimates through 2025 have now come down by around 10%. I believe the company's stock should be trading around 26% higher at $18.93, but the risk profile is not attractive to warrant a buy rating.
Conclusion: Horrible Miss Triggers Revisions For ATSG and Its Stock
The Q3 2023 miss on top and bottom line had far reaching implications with the stock tanking, but perhaps more importantly ATSG sent its CEO away and analysts rightfully questioned how this was possible following the Investor Day held just days prior to the quarter end and there was no indication of any form or sort that the third quarter would produce a dramatic miss. Going forward, the company continues to be plagued by the transition from Boeing 767-200 to Boeing 767-300 in a lower demand environment while the passenger transport operations by Omni are also under pressure.