Introduction
Phillips 66 (NYSE:PSX) is a fascinating energy play for a wide number of reasons. Although the company is a member of the energy sector, it provides investors with the opportunity to play a different angle of the industry: well-diversified refining and chemicals exposure.
These operations come with a well-protected dividend, which currently yields 3.6% and comes with a history (and potential future) of consistent dividend growth.
My most recent article was written on August 25, when I wrote an article titled Phillips 66 – What To Make Of Its 4% Yield.
Since then, the company has returned 3.7%, beating the S&P 500 by 170 basis points.
Although that performance isn't something to get extremely excited about, there's more good news. Since then, the company has reported stellar earnings, outperformed its energy peers, and improved its operations.
In this article, we'll discuss all of this as I explain why PSX may be the right choice for your portfolio.
So, let's get to it!
A Different Kind Of Energy Exposure
As most readers will know, I'm currently a huge fan of buying upstream oil and gas exposure. Companies that produce oil and gas. In most cases, I aim for special dividends, as I hope to get juicy yields if my bullish long-term oil bull case turns into reality.
That said, the energy sector is complex.
Essentially, we're dealing with three main segments.
Upstream – companies producing oil and gas.
Midstream – companies providing pipelines and storage facilities.
Downstream – companies turning basic commodities into value-added products. This includes gasoline, diesel, chemicals, and so much more.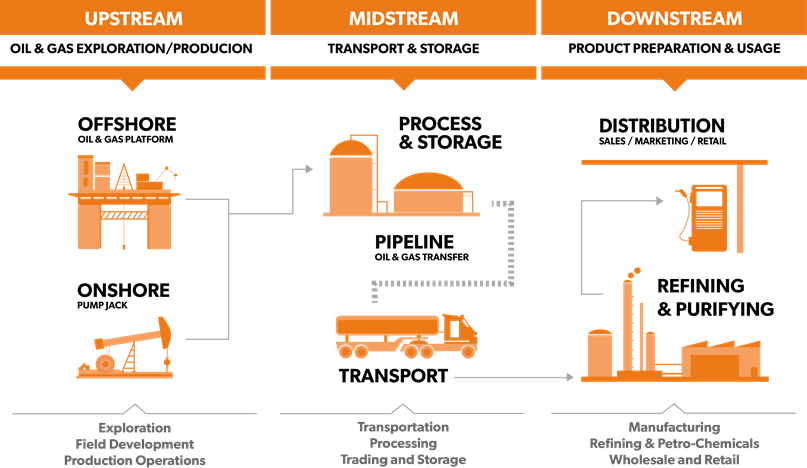 Phillips 66 is a downstream company with midstream exposure.
As a result, it's a different way to play the energy sector.
The chart below shows the company's stock price since ConocoPhillips (COP) spun off its refining, chemical, and retail assets in 2012, compared to the energy ETF (XLE). The black line shows the PSX/XLE ratio. I added the inverted price of crude oil (the red line).
While the correlation isn't perfect, it shows that in times of falling oil prices, PSX tends to outperform its energy peers, as it isn't relying as much on the price of oil.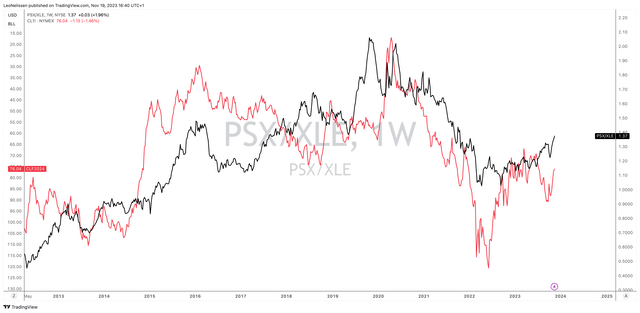 Since April 2022, PSX has consistently outperformed its peers.
That said, PSX is also different from its peers Valero (VLO) and Marathon Petroleum (MPC) – it underperformed both in recent years.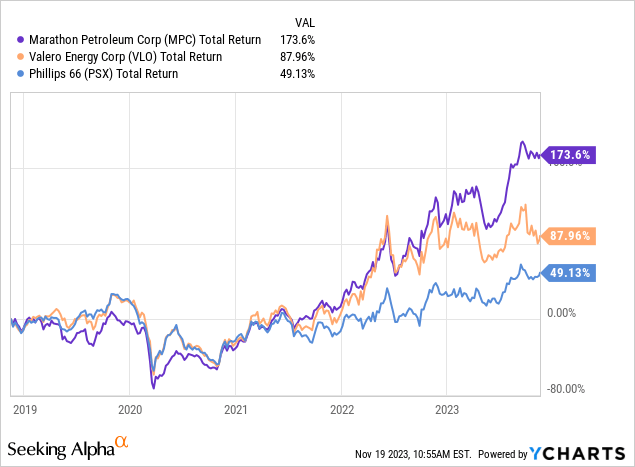 Here's the thing. Both MPC and PSX benefitted from a very tight global refined product supply. PSX also benefitted, but it has significant chemical exposure, something VLO and MPC do not have.
As I wrote in my last article.
One of the reasons why PSX has lagged behind its peers is its focus on other areas. As I wrote in my prior article, the company generated 66% of its full-year 2022 revenues in the Marketing & Specialties segment, followed by Refining (25%) and Midstream (9%).

As a result, it has one of the most well-diversified portfolios among its peers – anywhere in the world. This includes major operations on the Gulf Coast and a pipeline network connecting other facilities to customers. On the Gulf Coast alone, it has the capacity to process more than 520 thousand barrels of crude per day.
During this month's Bank of America Energy Conference, the company emphasized its product value chains. The company views its portfolio through value chains, including transportation fuels, refining, marketing, transportation, midstream, NGL value chain, and chemicals value chain.
The integration of these value chains is considered crucial for the business.
Here's an example the company gave (emphasis added):
We're big importers of Canadian crude, of Canadian heavy in particular. We've got storage in Alberta. And so we've got the ability to buy on a monthly basis, on a daily basis, on a term basis. And we can manage the flows with the inventory that we've got in Canada.

We've got pipeline capacity on Keystone and a number of other pipelines down into the Central Corridor, and so we'll optimize Canadian heavy in that area. But we've also got DAPL and other access to get it to the Gulf Coast. And so if Canadian heavy is more valuable as a Gulf Coast feedstock than a Central Corridor feedstock, we've got the flexibility to move between the 2 areas. And then the Bayou Bridge the Gulf Coast into Lake Charles, we can get Canadian heavy all the way into Lake Charles, and it really competes with the Gulf Coast crudes that are available there.
Essentially, the company's focus on an integrated approach, from crude to consumer, allows it to capture value across different market segments. This integration provides a competitive advantage, particularly in optimizing the Midstream segment for cost advantages and infrastructure efficiency.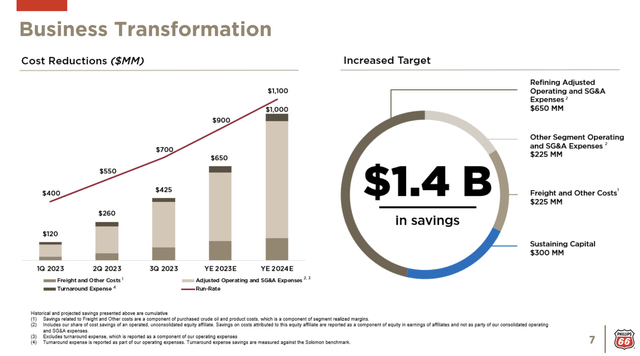 Furthermore, the company noted that the refining segment has experienced positive trends, especially considering the supply-side dynamics following the COVID-19 pandemic.
Worldwide capacity reductions, coupled with sustained demand, have led to a tightening of the supply side, particularly in the U.S.
Hence, the refining business has shown resilience, with distillate inventories remaining below 5-year averages.
The company is also actively engaged in market capture strategies, aiming to increase its market share by executing small-scale capital projects. The focus is on enhancing mid-cycle pricing market capture by 5%, equivalent to a substantial increase in EBITDA.
Looking at the data below, we see that the company is on pace to generate $14 billion in mid-cycle EBITDA by 2025. That would be almost twice as much as it generated per year in the 2017-2019 period.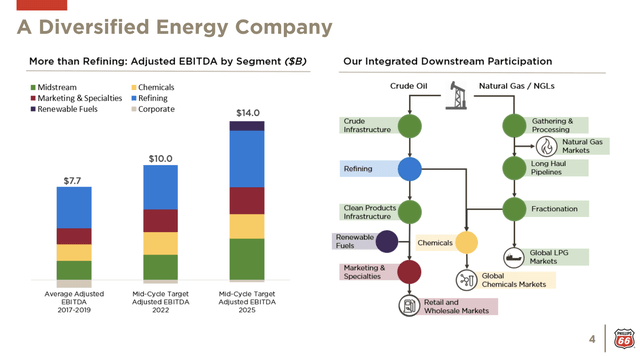 All of this is great news for shareholders.
Shareholders Are In A Good Place
Related to the aforementioned developments, the company has raised its mid-cycle adjusted EBITDA growth target from $3 billion to $4 billion by 2025. This includes additional value from business transformation, midstream synergies, and commercial contributions.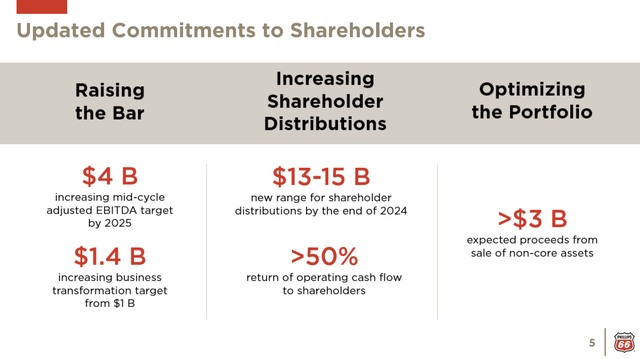 Furthermore, the business transformation target has been increased to $1.4 billion.
The company is committed to higher shareholder distributions, targeting $13 billion to $15 billion between July 2022 and year-end 2024.
Over 50% of the operating cash flow will be returned to shareholders.
As we can see in the chart below, over $6.7 billion has been returned to shareholders through share repurchases and dividends since July 2022, surpassing the original target.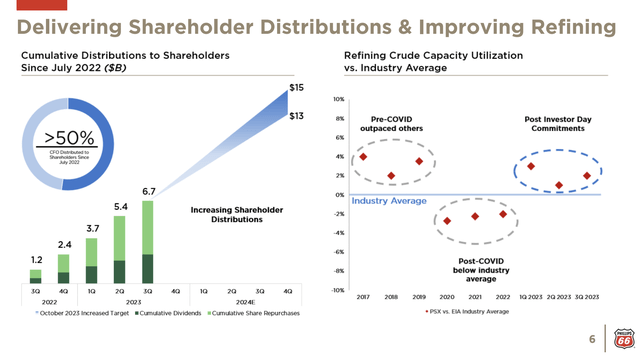 In the third quarter, shareholders received $1.2 billion through $752 million in share repurchases and $465 million in dividends.
The company currently pays a $1.05 per share per quarter dividend, which translates to a 3.6% yield. This dividend is protected by a 25% payout ratio.
The five-year dividend CAGR is 12.8%. On February 8, the company hiked by 8.2%.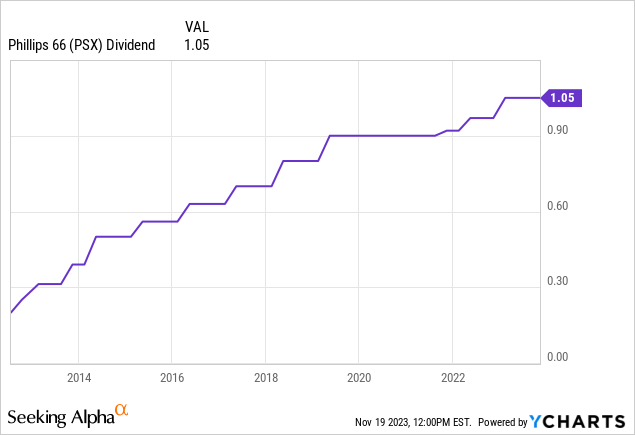 As we just discussed, going forward, we can expect dividend growth to remain juicy, as there's a lot of room left for higher dividends.
The net debt-to-capital ratio at the end of the quarter was 33%, and the annualized adjusted return on capital employed stood at 17%. It has a BBB+ credit rating, one step below the A range.
Valuation
PSX is attractively valued.
Using the data in the chart below, the stock is trading at 6.2x operating cash flow. Going back to its spin-off, the company has traded at a normalized 9.5x operating cash flow multiple.
This valuation has guided the company very well until the pandemic hit. The aforementioned refined product shortages caused profits to surge.
However, the company's stock didn't keep its valuation, as investors were already preparing for a normalization in earnings (PSX should have traded much higher under "normal" circumstances).
As the lower part of the chart below shows, operating cash flow is expected to decline until at least 2025, caused by a normalization in global refinery margins.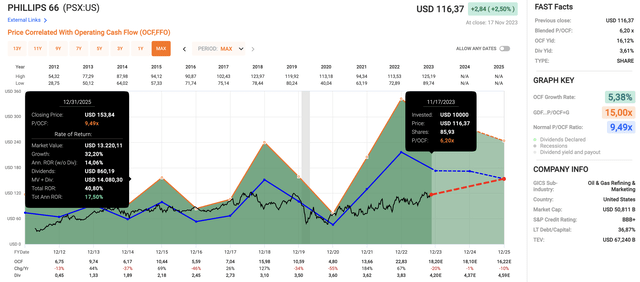 While I agree that the ongoing decline in economic growth poses a risk, I believe that PSX is attractively valued.
A return to 9.5x operating cash flow by incorporation of operating cash flow growth expectations could result in a 17.6% annual return through 2025, including its dividend.
This is obviously a theoretical performance forecast, but I believe it shows the company's potential.
This would imply a $154 stock price target. That's 33% above the current price. The current consensus price target is $131.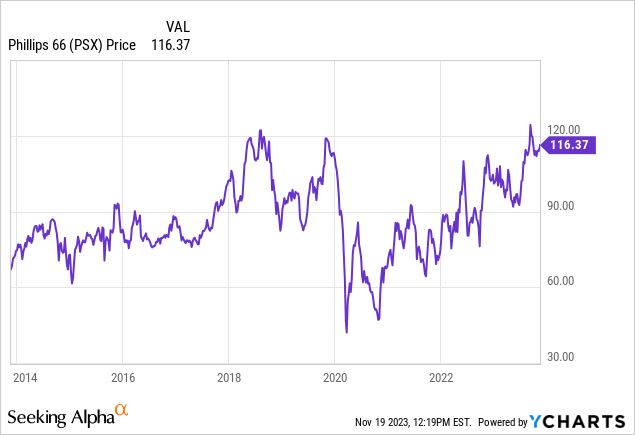 Needless to say, investors need to be aware that we could encounter some stock price downside.
Economic growth is not in great shape, which could prevent PSX from reaching its "fair value" over the next two years.
So, please keep that in mind if you believe that PSX is right for you. Energy stocks can be cyclical and often need to be handled with care.
Takeaway
Investing in Phillips 66 provides a distinctive energy play with diversified refining and chemicals exposure.
The company's integrated value chains and focus on market capture contribute to positive trends, reflected in increased shareholder value.
With a 3.6% dividend yield and a commitment to higher distributions, PSX stands out as an attractive investment for income-seeking investors.
Despite economic uncertainties, the stock's current valuation and growth potential make it a compelling choice, offering investors a unique perspective within the energy sector.
Needless to say, economic risks and volatility are reasons for caution.