S&P Global Ratings upgraded Ford Motor Co.'s rating to BBB- late Monday, restoring it to investment grade after it was lowered into junk in 2020.
Fitch already returned its rating on Ford to investment grade in September, while Moody's continues to rate it as speculative grade. The company needs two of the three ratings agencies to deem it investment grade to fully return it to that status.
"We expect Ford Motor Co.'s
F,
+1.65%
EBITDA margins will exceed 8% (our previously stated target) with adequate cushion in 2024 and 2025 given strong momentum in its commercial vehicle franchise and gradual cost reduction," S&P said in a statement.
S&P also highlighted the company's cash balance of about $29 billion as of Sept. 30, overall liquidity of about $51 billion, and said that gives it ample leeway to compete in its end markets.
Ford has "also addressed its overcapacity and higher costs in Europe and completed restructuring its loss-making South American operations by shifting the business toward a more profitable asset-light model," said S&P.
The news comes just days after Ford struck a deal with the UAW union, agreeing that base wages would rise by 25% through the life of a four-year contract.
The agreement would increase top wages at Ford by more than 30% to more than $40 an hour and push up starting wages by 68% to over $28 an hour once cost-of-living adjustments are factored in, the union said last week. The deal ended a strike and sent Ford workers back to their jobs.
Ford last week also reported lower-than-expected quarterly earnings and withdrew its guidance for the year, citing the pending agreement with the United Auto Workers. But its core electric vehicle business had an adjusted loss of $1.3 billion, which was wider than Wall Street was expecting, as it warned that consumers interested in EVs are "unwilling" to pay the vehicles' premium prices. The company paused billions of long-term investment in EVs due to that disconnect.
Ford has about $72.4 billion in outstanding bonds, with the bulk of that total, or $15.9 billion worth, due to mature in 2026, as the following chart from data solutions company BondCliQ Media Services shows.
Trading over the last 10 days has been mixed, apart from the 7.20% notes that nature in 2030, which have been heavily sold.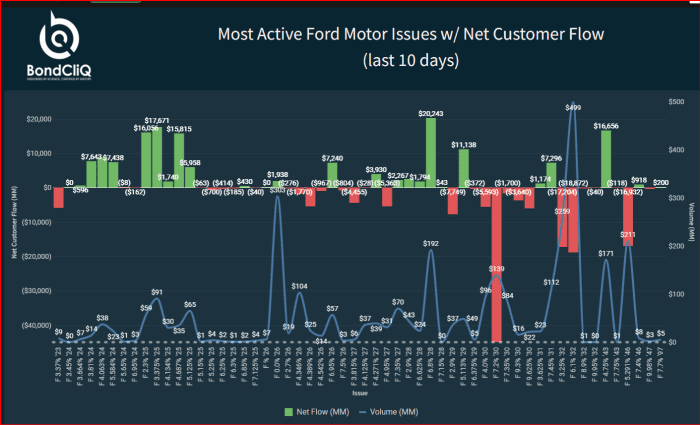 The bonds were being net sold on Tuesday, most likely because high-yield bond funds may need to sell them if they're no longer eligible for inclusion. The selling was beginning to ease by 10.00 a.m.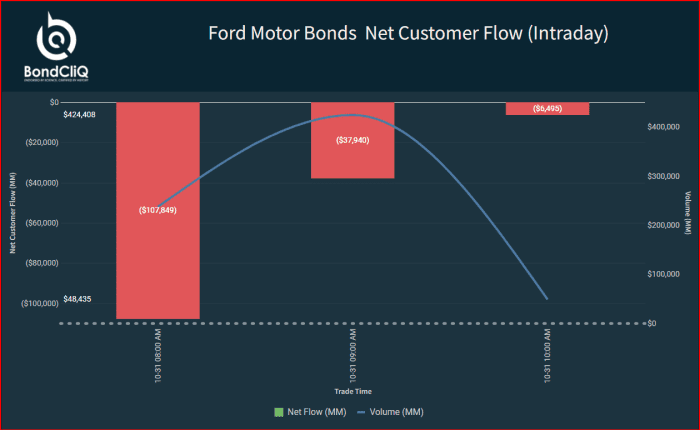 The following chart shows the bonds' two-week price performance. Depending on the maturity, bonds are 1 to 2 cents higher on the dollar since S&P's upgrade, but that's returning them to levels see two weeks ago.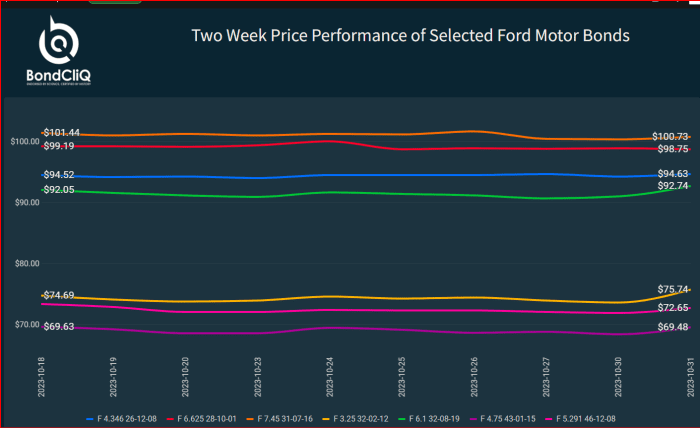 Ford's stock, meanwhile, was up 1.1% Tuesday, but has fallen 15% in the year to date, while the S&P 500
SPX
has gained 8.5%.