Meta Platforms Inc.'s stock was down 5% Thursday to lead the Magnificent Seven group lower, but its bonds were again holding up, thanks to their juicy yields.
Meta
META,
+2.56%
was the latest tech giant to offer an earnings report late Wednesday that beat consensus estimates but to then talk of weak ad demand in the current quarter due to the hostilities in the Middle East. The Facebook parent echoed comments from Snap Inc.
SNAP,
+0.71%
a day earlier, sending its stock lower.
Google parent Alphabet Inc.
GOOG,
+1.80%
GOOGL,
+1.80%,
meanwhile, which avoided answering a question about its ad business on Tuesday, suffered a loss of market capitalization on Wednesday of $166.6 billion, its biggest one-day loss on record.
For context, that's more than the market cap of Nike Inc.
NKE,
-0.83%,
Advanced Micro Devices Inc.
AMD,
+4.49%
or Walt Disney Co.
DIS,
-2.29%.
Alphabet beat overall revenue and earnings expectations, although its cloud-computing business underwhelmed and analysts left feeling less upbeat about the company's margin potential going forward.
Read: Google earnings just crushed two big bullish hopes for Alphabet's stock
Amazon.com Inc.
AMZN,
+2.11%
will be the next tech giant to test sentiment when it reports its third-quarter numbers later Thursday.
The Nasdaq is now in correction territory after closing below the 12,922.216 threshold on Wednesday, marking a drop of a least 10% from its prior peak, which was set in mid-July at 14,358.02, according to Dow Jones Market Data. It's the Nasdaq's 70th close in correction territory since its inception in February 1971, weighed down by the recent spike in long-term Treasury yields.
For more: The Nasdaq just fell into a correction. Now what?
As the following charts from data-solutions provider BondCliQ Media Services show, bonds issued by the Magnificent Seven — or six, since Tesla Inc.
TSLA,
+2.22%
no longer has any — have seen better buying over the last two weeks.
It's not surprising given the quality of all seven names, which have ratings that range from strong single-A for Nvidia Corp.
NVDA,
+2.95%
to AAA, the highest possible rating, for Microsoft Corp.
MSFT,
+2.49%.
And they are currently offering yields in the low to mid-5% range.
For more, read: Apple bonds are yielding more than 5%. The stock has a 0.5% dividend yield.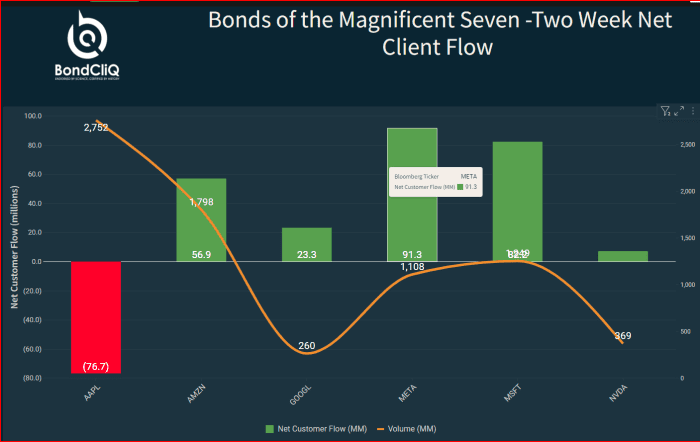 Credit spreads, meanwhile, have remained steady.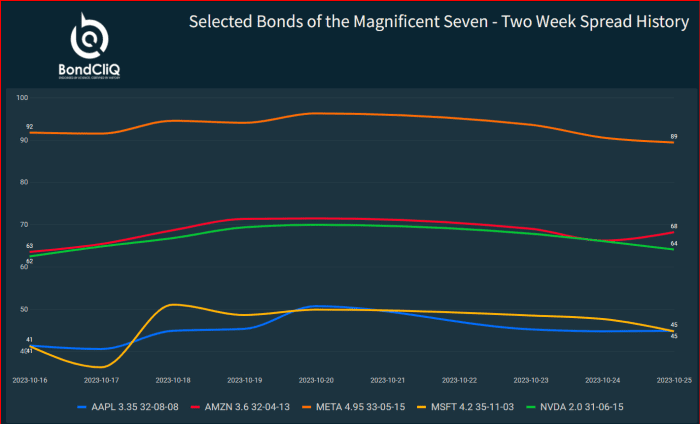 Apple Inc., which has the most outstanding bonds of the group, was recently yielding about 5.2%. By comparison, the implied dividend yield on Apple's stock at current prices is 0.6%.
Apple's stock is down 1.7% on Thursday, while Nvidia is down 1.9%, Microsoft is down 2.2%, Tesla is down 0.8%, Alphabet is down 2.7% and Amazon is down 2%.
Read also: Corporate bonds are on sale. How to add cheap Apple, Disney and Microsoft bonds to your portfolio.