Inflation may be cooling, but the average American is still shelling out a lot more money for everyday necessities. 
The typical U.S. household needed to pay $205 more a month in October to purchase the same goods and services it did one year ago because of still-high inflation, according to new calculations from Moody's Analytics chief economist Mark Zandi. 
Americans are paying on average $680 more each month compared with the same time two years ago.
The analysis suggests that while inflation has fallen from the highs of mid-2022, many families have yet to see material relief.
OCTOBER INFLATION BREAKDOWN: WHERE ARE PRICES STILL RISING THE FASTEST?
The Labor Department reported Tuesday that the consumer price index, a broad measure of the price of everyday goods including gasoline, groceries and rents, was unchanged in October from the previous month. Prices climbed 3.2% on an annual basis. 
But when compared with January 2021, shortly before the inflation crisis began, prices remain up a stunning 17.62%. 
Inflation has created severe financial pressures for most U.S. households, which are forced to pay more for everyday necessities like food and rent. The burden is disproportionately borne by low-income Americans, whose already-stretched paychecks are heavily impacted by price fluctuations. 
The consumer price index is still running well above the typical pre-pandemic rate, and the cost of necessities like food, gasoline, rent and child care remain far more expensive than they were just one year ago. 
Americans saw some reprieve in October as the cost of gasoline plunged and the price of used cars and trucks ticked lower, but many other price gains proved more persistent. 
401(K) HARDSHIP WITHDRAWALS ARE SURGING AS HIGH INFLATION SQUEEZES AMERICANS
Shelter costs, which were the largest contributor to core inflation last month, rose 0.3% on a monthly basis and are up 6.7% over the past year. Rising rents are concerning because higher housing costs most directly and acutely affect household budgets.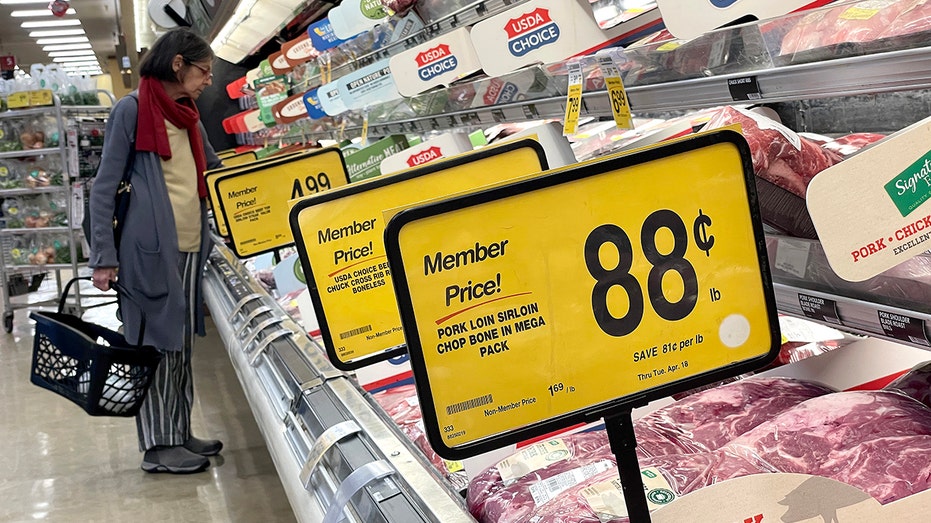 "The shelter component of inflation is still sticky high," said Rick Rieder, BlackRock's chief investment officer of global fixed income. 
Food prices, a visceral reminder of inflation for many Americans, also inched higher in October. Grocery costs rose 0.3% in October – up from 0.1% in September – and are up 2.1% compared with the same time last year. Consumers are paying more for staples like bread, breakfast cereal, beef and veal, pork, ham, chicken, milk, cheese, citrus fruits and butter. 
As they spend more on everyday goods, Americans are burning through their savings, and are increasingly turning to credit cards to cover those basic expenses.
Credit card debt surged to a new record high at the end of September, according to recent New York Federal Reserve data.
In the three-month period from July to September, total credit card debt rose to $1.08 trillion, an increase of $48 billion, or 4.6% from the previous quarter, according to the report. It marks the highest level on record in Fed data dating back to 2003 and the eighth consecutive annual increase.