Can Republicans finally find a strategy to cut spending and kickstart the economy?
That's the question now that the House has funded the government through early next year, setting up another shutdown showdown in January and February. Instead of trying to come up with a brand-new plan in a fractious conference, Republicans should rally around pro-growth policies that already unite them.
It's time to bring back the best parts of the Limit, Save, Grow Act.
House Republicans passed this bill in April, putting them in a strong position to negotiate with Senate Democrats and President Biden over raising the debt ceiling. It helped Republicans get some tangible victories in the debt ceiling deal that passed in June, with modest limits on federal spending and modest work requirements for food stamp recipients.
THE FUSE ON AMERICA'S DEBT BOMB JUST GOT SHORTER
More – and better – victories are possible. With the election of Mike Johnson as speaker of the House, Republicans have adopted a more conservative stance. To get Republican votes on a spending deal, Senate Democrats and President Biden will have to give more concessions than they have to date, but only if Republicans demand the real solutions they included in the Limit, Save, Grow Act. 
If those solutions aren't the heart of the debate, then Republicans have zero chance of getting them passed.
That bill had three main reforms Republicans should demand. None made it into the debt ceiling deal, and while that agreement made some progress, Republicans must push for significantly more. These policies won't just put federal spending on a more sustainable path. They'll also spark much greater growth at a time when the economy is sputtering.
The first reform is simple. Republicans should limit federal discretionary spending to 1% growth per year over the next decade. That's significantly more than the debt ceiling deal, which set much more generous limits on spending for a mere two years.
A 1% annual cap on spending increases would save a staggering $3.8 trillion over 10 years, according to the Congressional Budget Office. These savings are especially important given ballooning federal deficits, which hit $2 trillion in fiscal year 2023. 
US NATIONAL DEBT HITS $33T FOR FIRST TIME IN HISTORY
Without reform, annual deficits are now on track to be well over $1 trillion on a permanent basis. As such, Republicans demanding $3.8 trillion in spending cuts (while still letting spending grow every year) is the definition of common sense. Democrats should be grateful if Republicans don't demand more.
The second reform: work requirements for welfare recipients. The Limit, Save, Grow Act required childless able-bodied adults under 55 years old to work as a condition of receiving food stamps or Medicaid.  While the debt ceiling deal took a more limited approach with just food stamps, it was filled with loopholes, lessening its impact. Republicans should make clear that's not good enough.
The work requirements in Limit, Save, Grow Act would save taxpayers $154 billion over 10 years. But Republicans could also go even further, increasing the age range for work requirements while including more able-bodied adults, including those who are more able to work because they don't have young kids. 
The strongest possible work requirements for able-bodied adults would ultimately cut federal spending by more than $500 billion, according to unpublished research from the Foundation for Government Accountability, while strengthening the economy by pushing tens of millions of people off the government dole and into the workforce – where they should have been all along.
Third and finally: Republicans should limit the Biden administration's ability to regulate without representation. The president has already added more than $400 billion in costs to businesses and consumers through red tape – an enormous drag on the economy. 
But this regulation is also an enormous boost to federal spending. All told, Biden has tried to spend more than $1 trillion via regulation, from his student loan bailouts to his unilateral expansions of the welfare state.
Congress never had a say in this spending spree, which is what Republicans should solve. They should pass the REINS Act, which was also in the Limit, Save, Grow Act. This policy would require Congress to approve every major regulation before it can go into effect. That's basic accountability in a representative democracy. 
And if Congress shoots down proposed overregulation, it will save taxpayer money and save job creators and consumers from painful mandates, boosting the economy in powerful ways.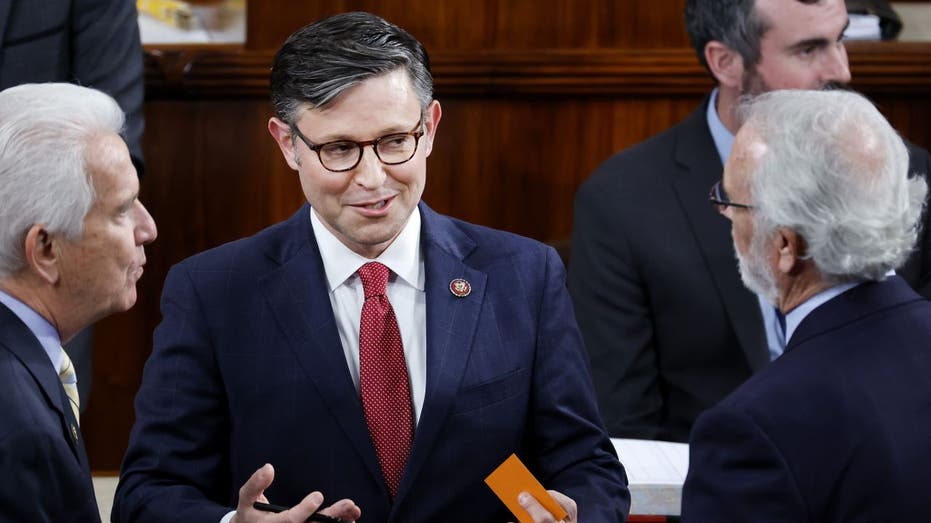 These reforms – spending caps, work requirements, and the REINS Act – enjoy universal support among congressional Republicans. Yet they won't be enacted unless Republicans make them the centerpiece of their strategy in spending negotiations.
President Biden and Senate Democrats are hoping that Republicans once again descend into chaos, giving the Left all the leverage and leading to even more spending, deficits and welfare. Under Speaker Johnson's leadership, Republicans should instead unite around the commonsense conservative reforms they already support – and Americans need.
CLICK HERE TO READ MORE FROM ARTHUR LAFFER
CLICK HERE TO READ MORE FROM TARREN BRAGDON
Tarren Bragdon is CEO of the Foundation for Government Accountability.