The morning after the bombshell announcement in March that UBS was buying its failing crosstown rival Credit Suisse to avert a global banking crisis, Sergio Ermotti saw a surprising name pop up on his phone.
The caller was UBS (UBS) chairman Colm Kelleher. Ermotti had left the bank barely three years earlier and was at the time chair of a Swiss insurance company.
"I was definitely not expecting the phone call," Ermotti told CNN on the sidelines of a conference in Geneva last month. "When he called me and said we should see each other … I understood that it must be something very serious."
UBS wanted Ermotti back as CEO to steer the emergency takeover of Credit Suisse — a deal his former employer had reluctantly agreed to at the behest of Swiss authorities, despite stiff opposition from some shareholders and local lawmakers.
Ermotti agreed to return, signing up for a high-stakes undertaking with no historical precedent: combining two so-called global systemically important banks. That list of just 30 lenders includes Bank of America (BAC), JPMorgan (JPM) and HSBC (HSBC), and denotes banks whose failure could trigger a worldwide financial crisis.
If the merger proves unsuccessful, confidence in UBS could be impacted, which has the potential to trigger instability in the wider financial system, said Anke Reingen, a banking analyst at RBC Capital Markets.
There are several reasons why it could be difficult to execute, she told CNN, from IT systems migrations and cultural differences between the two banks to the danger that the integration absorbs too much of management's focus at the expense of growing the business. Still, Reingen's outlook on the deal is positive and RBC currently expects UBS to deliver better returns than its peers.
Investors are similarly bullish, sending the stock nearly 30% higher since the deal was announced.
Regardless of its merits, however, the merger has caused controversy in Switzerland, where Credit Suisse had a long and illustrious history until a string of scandals and losses drove customers and investors away. There's a lot at stake for the country, home as it is now to a combined bank with assets double the size of its annual economic output.
The pressure on Ermotti to succeed is such that strangers frequently approach him in Switzerland to wish him luck, thank him — or weigh in on the merger.
If the deal goes wrong, not only will it stain Ermotti's otherwise sterling career in finance, it will also mean a very public failure for him personally. The straight-talking banker is said to be as recognizable in Switzerland as tennis great Roger Federer, and perhaps now subject to even more attention.
Tellingly, Ermotti took a day or two to consider whether to take on such a weighty responsibility. A sense of duty to Switzerland and loyalty to the bank were driving factors behind his decision to return. But so was his competitive streak, and the chance to execute a deal he had set his sights on long ago, during his initial tenure as the bank's CEO.
"I always felt that the next chapter I wanted to write back then was a chapter of doing a transaction like this one," Ermotti said at the press conference announcing his return. "It would be a little bit of a contradiction from me not to accept the job … to basically execute on what I believed was the right next move for UBS."
The appeal is understandable. The deal has made UBS the world's second-largest wealth manager overnight — behind only Morgan Stanley (MS) — delivering, according to Ermotti, seven years' worth of new client money in one go.
And in some respects it was a bargain. UBS paid 60% less than the beaten-down value of Credit Suisse shares just before its last-ditch rescue over a weekend.
But there are strings attached. UBS is taking on a bank that Ermotti recently described as "structurally loss-making." It also comes with a mountain of outstanding legal cases following years of scandals and compliance failures. As of September, UBS had set aside more than $4 billion for litigation and regulatory matters — 50% more than the amount earmarked at the same time last year.
Even if Credit Suisse had none of that painful baggage, the sheer size of the two banks makes the merger an enormous undertaking.
"I cannot emphasize (enough) how big this deal is in terms of financial history and financial engineering that's required," Kelleher, the UBS chairman, said in March. "There's a huge amount of risk in integrating these businesses."
If anyone can do it, it's Ermotti, according to multiple former colleagues. In conversations with CNN, they described a confident leader with a formidable intellect, also often guided by a sharp intuition that helps him make the right calls.
"What really sets him apart is the clarity with which he leads," said Katrin Koch, who was Ermotti's chief of staff during his first tenure at UBS. Ermotti does not shy away from making tough decisions and takes full responsibility for his actions, she added. He makes "no excuses… I think this is rare these days."
Equally valuable for the job at hand is his ability to inspire others to tackle challenging tasks. Ermotti is "able to bring out that extra in people," according to Tom Naratil, who was chief financial officer at UBS during Ermotti's previous term.
"If you had to write the job description, only one person would come up… He is the perfect guy for that job," he told CNN.
Ermotti decided on a career in finance at an early age. He left school at 15 with dreams of becoming a professional soccer player and took up an apprenticeship at a bank in his hometown of Lugano in the Italian-speaking part of Switzerland.
The idea was to gain some work experience while studying toward becoming a sports teacher — his "plan B" should the football dream not work out. But once at the bank, Ermotti quickly became interested in financial markets.
"I decided that my plan B was no longer sports teacher… plan B was to be a trader," he told CNN. "I wasn't good enough to be a football player, then I went for plan B."
From Cornèr Banca in Lugano, where he ended up spending more than a decade, Ermotti moved to Citi before joining Merrill Lynch at the age of 27. He would spend 16 years with the American investment bank, including as co-head of its global equities business, honing critical analytical and decision-making skills.
Those would later prove invaluable, both at Italian bank UniCredit, which he helped steer through the global financial crisis as deputy CEO, and during his first stint at UBS — a nine-year spell that bears striking similarities to what he faces now.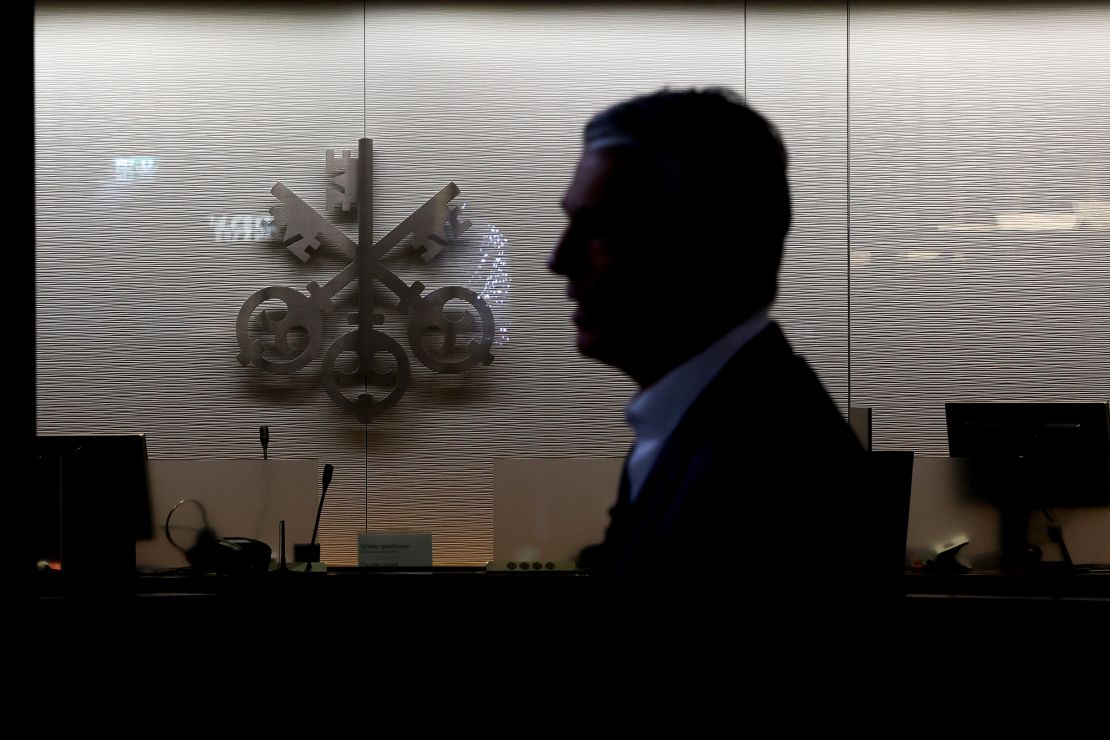 Then, as now, Ermotti's appointment to the top job came at short notice and in the midst of a crisis. It was September 2011 and he had joined the bank's top brass in Singapore for meetings as head of its Europe, Middle East and Africa division.
UBS was scrambling to stem the fallout of a $2.3-billion loss from unauthorized trades by an employee that it had uncovered days earlier. By the end of that week, then-CEO Oswald Gruebel resigned over the loss and Ermotti replaced him — a rapid ascent for someone who had joined the bank just five months earlier.
Ermotti had even less time to prepare for what came next. In November that year he was due to face shareholders in New York who would press him on the strategy of the group, which was still struggling following bruising losses during the 2008 crisis.
Even before the rogue trading scandal, UBS had resolved to downsize its investment bank in response to declining trading revenue and tougher post-crisis regulation. It would instead focus on growing its more lucrative wealth management arm.
Ermotti was laser-focused on that goal and was prepared to make unpopular and risky decisions to reach it — even if that meant losing some revenue in the short term.
Analysts and shareholders were at first skeptical of the plan. "What they are trying to do has never been done before," Christopher Wheeler, then a Mediobanca analyst, told the New York Times in October 2011. "They want to shrink the investment bank by choice, which means unwinding (trading) positions without loss and running down their books while keeping the morale among staff."
Back then, the shift, though drastic, paid off and by the end of Ermotti's nine-year tenure UBS was one of Europe's most profitable lenders.
In his view, though, his crowning achievement came long after he left. "The fact that UBS was asked to be part of the solution (to Credit Suisse), that was the ultimate success," Ermotti told CNN.
How will he measure success this time round? "When I know that our people and our clients are proud to be associated with us, I know that, then, we are going to have success."
The pressure on Ermotti is immense. He is excited by the challenge although acknowledges how "intense" it is. "This is definitely in all my career the most demanding time I've ever had — by far," he said.
"We are facing a huge amount of complexity. There is a complexity coming from the integration, there is a complexity coming from having to run the bank… you know, serve clients."
And there is the question of what comes next for UBS, once the task of absorbing its former rival is complete, likely by the end of 2026. Ever with one eye on the horizon, Ermotti is already thinking about the type of bank he wants UBS to be when his primary job is done. "It has to be a bank that has not just completed an integration, (but) a bank that is already working towards growth," he said.
"We can create something unique. This generation can do something that will last in history… not as an event but as a base for the next chapter of UBS."